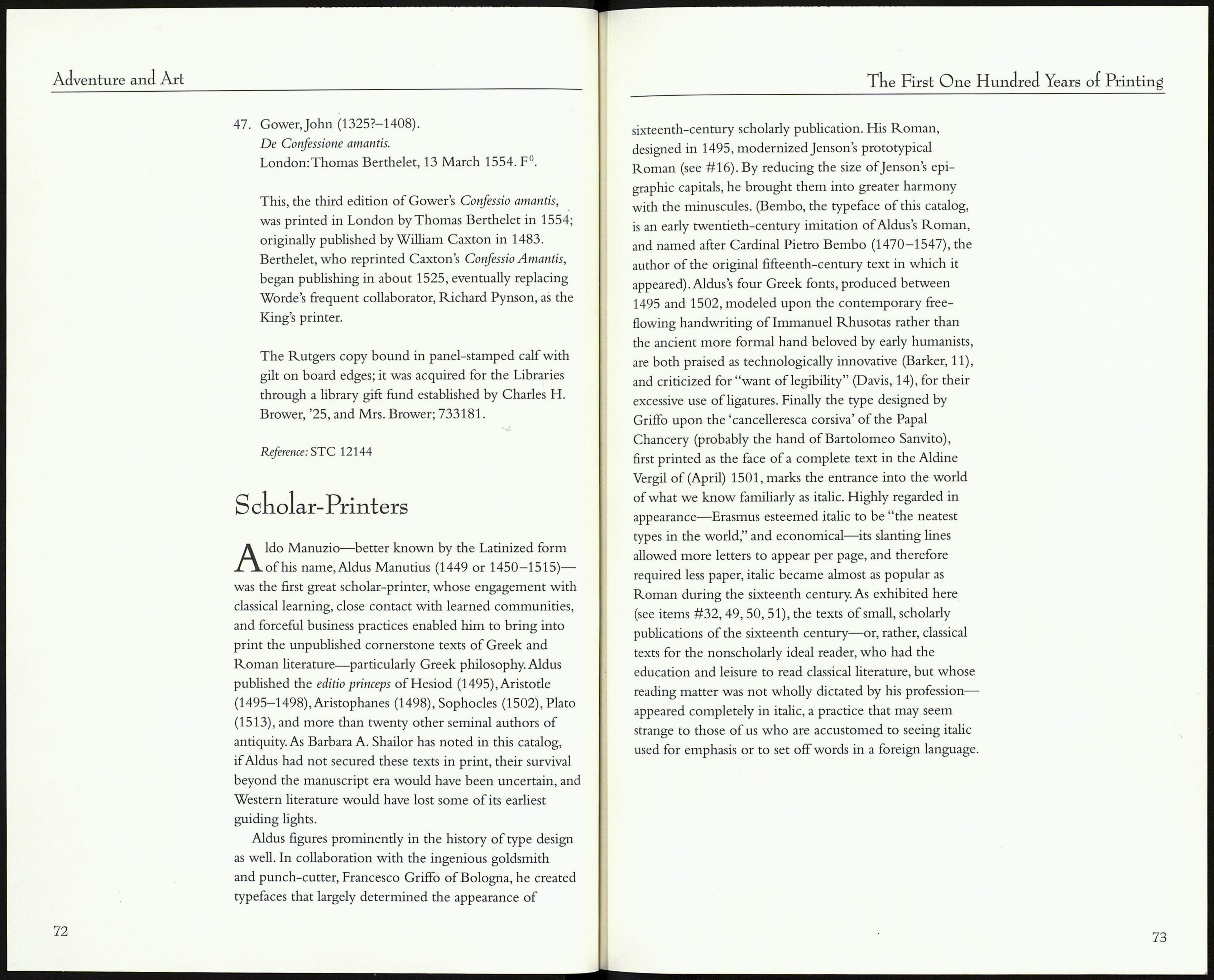 Adventure and Art
Entry 45, Figure 25.
Dives and Pauper.
London: Wynken deWorde, 1496.
Actual size of block 18.0 x 11.3 cm.
The type in Worde's Dives and Pauper is a
condensed textura, which Alfred Forbes
Johnson calls one of the "best productions
ofthat generation" (151). In 1528,Worde
became the first English printer to employ
an italic face (see also #49), importing it
from The Netherlands.
45. Dives and Pauper.
London: Wynkyn de Worde,
3 December 1496. Chancery F".
Second edition, reprinted from
Richard Pynson's first edition of
5 July 1493 (Goff P-l 17). Incunable
catalogs continue to attribute the
Middle English devotional tract Dives
and Pauper (Rich Man and Poor Man),
a dialogue structured on the Ten Com¬
mandments, to one Henry Parker, a
Carmelite who flourished in the
1460s. In fact it has long been estab¬
lished that the still-anonymous Dives
and Pauper was written long before
Parker was born—probably between
about 1405 and 1410, as it contains ref¬
erences to specific events in England
during those years. Pynson's edition,
for which the manuscript printer's
copy is preserved in the Bodleian
Library, was nonillustrated. Wynkyn's
reprint added three woodcuts, two
from his existing stock, and one, repre¬
senting the disputants Dives and Pauper,
which was made for the edition. A
third and last edition in octavo format
was printed in 1536.
70
The First One Hundred Years oi Printing
The Rutgers copy was formerly in the collection of
Sir Henry Mildmay, Bart., with the Dogmersfield
Library bookplate.
Reference: Goff P-l 18
46. Chronicles of England and Description of Britain.
London: Wynkyn de Worde, May 1502. Chancery F°.
Wynkyn de Worde's second edition.The Chronicles of
England, based on the fourteenth-century French Brut
d'Angleterre with continuations going to the year 1461,
were first published by William Caxton in 1480. He
produced the Description of England, an extract from
the English version of Ranulph Higden's Polycronicon,
several months later as a topographic supplement. In
about 1485 the still-mysterious schoolmaster-printer
in Saint Albans produced an enlarged version of the
Chronicles, with a prefatory chapter starting with Adam
and Eve, and supplementary chronicles and events
going into the 1470s. In 1497 Wynkyn de Worde
reprinted this Saint Albans version, which from that
point onward replaced Caxton's version. Seven more
editions of the Saint Albans Chronicles appeared
through 1528. In the words of the historian Antonia
Gransden, the Brut Chronicles thus "reached the
Tudors, to be plundered by the historians Edward Hall
and Raphael Holinshed and through them to provide
Shakespeare with copy." (—pn)
The Rutgers copy bound in diced Russia, with
marble text edges, gilt spine, marbled endpapers;
provenance: ex libris Marquises of buton, with Luton
Library bookplate; acquired for the Libraries through
the Curlett N.Wilhelm Book Fund; 733524.
Reference: STC 9997
71