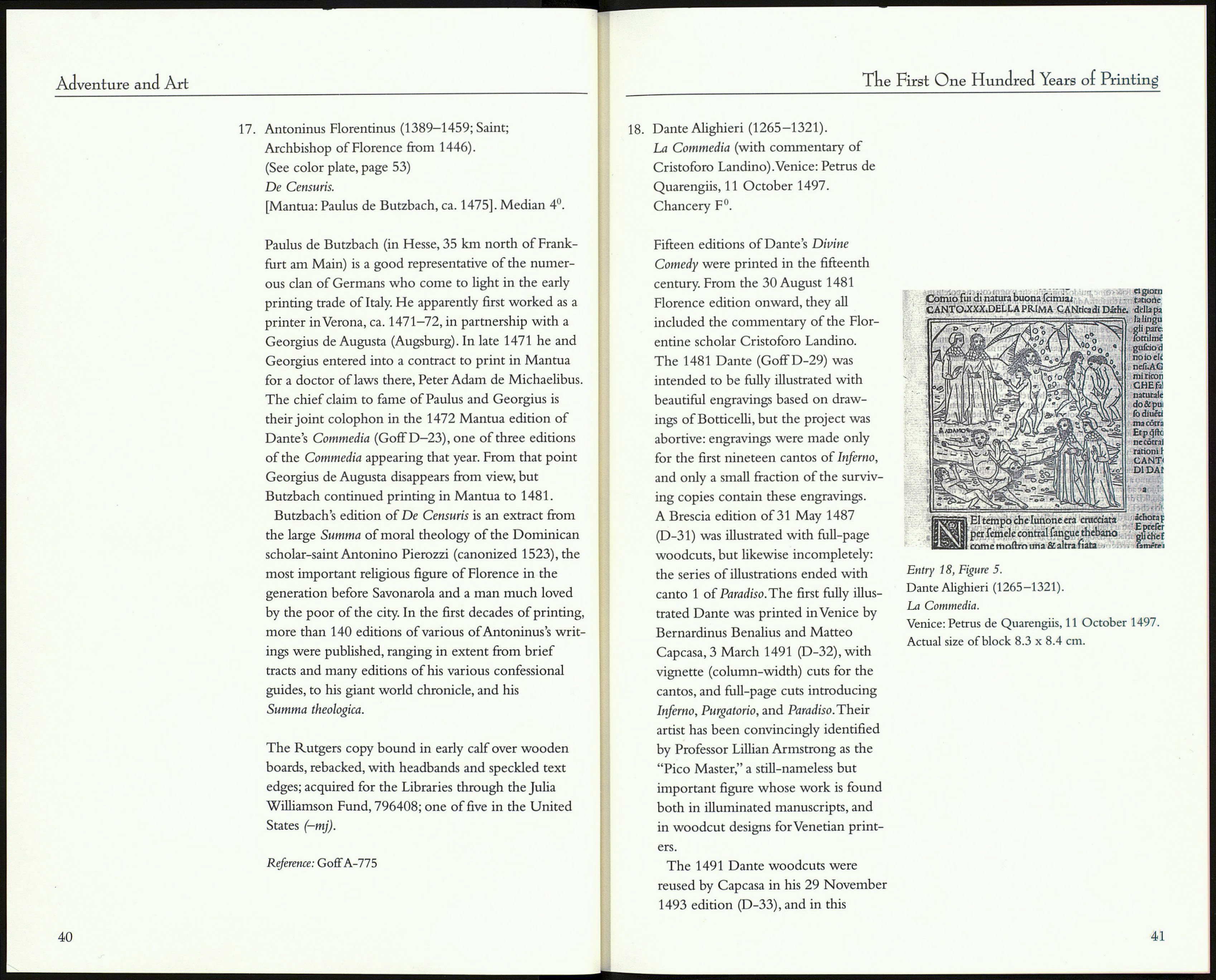 Cologne. After that monastery was dissolved, it was
acquired by Dr. Georg Kloss, a physician of Frankfurt,
whose enormous collection of incunables was sold at
Sotheby's in London, 1835.
Reference: GoffJ-98
Loaned by Leonard Hansen, Class of '43
Printing in Italy
15. [Leaf 2] Nicolaus de Lyra (ca. 1270-1340).
Postilla super totani bibliam.
[Rome: Conrad Sweynheym
& Arnold Pannartz, 1471]. Royal F°.
Conrad Sweynheym and Arnold Pannartz are widely
accepted as the first to bring typography to Italy,
where the new art soon flourished even more strongly
than in Germany. Sweynheym was a cleric of Mainz,
and it is likely that he and Pannartz migrated to Italy
in the aftermath of the Mainz Cathedral War of 1462
(see #1).Their first printing shop (1465) was in the
ancient monastery of Subiaco, 70 km east of Rome—
the cradle house of the Benedictine order. In the
course of 1467, they moved to Rome, where over the
next five years they undertook an ambitious program
of editions of classical texts and church fathers, spa¬
ciously laid out and printed with a fine Roman (anti¬
qua) type. Their production overran their market, and
reached a crisis as they produced a five-volume edi¬
tion of the giant Bible commentary of the Franciscan
Biblical scholar Nicolaus de Lyra. The last volume of
the Lyra contains an appeal for financial aid to Pope
Sixtus IV, to which is joined a list of thirty-seven edi¬
tions printed to date by Sweynheym and Pannartz.
The First One Hundred Years or Printing
It appears that they were at least partly successful in
their petition, being granted several ecclesiastical
benefices. Their printing partnership continued into
the spring of 1473, after which Sweynheym disappears
from historical record. Pannartz continued to print on
his own in 1474 and after.
Reference: Goff N-131
16. Suetonius (b. ca. A.D. 69). (See color plate, page 52)
Vitae XII Caesarum.
[Venice]: Nicolas Jenson, [first half of ] 1471. Royal 4°.
Nicolas Jenson (birthdate unknown, d. fall of 1480)
stands alongside Gutenberg, Caxton, and Aldus
Manutius as one of a select group of fifteenth-century
printers whose names still enjoy a wide general recog¬
nition. Jenson was a native of Sommevoire, near
Troyes. He first appears to public view as a printer in
Venice, 1470, but there is a plausible, though not fully
authenticated, record of the French mint stating that
in the fall of 1458 he had been sent to Mainz by King
Charles VIII, to learn the arts of printing and bring the
knowledge back to France. It is noteworthy that in his
Venice years, Jenson had close business connections
with several German merchants. Jensons chief article
of fame is the beautiful Roman font he designed,
shown to good advantage in the present volume. The
opening, displayed where Jensons font is comple¬
mented by a beautifully drawn faceted initial G in the
manner of the best Roman inscriptions, is an example
of perfect book design.
Jensons Roman font was famous both in its own
day and today. But it should be recalled that he also
designed several rotunda Gothic fonts for law printing
that were likewise highly influential, and were for
their purpose equal in quality to his Roman.
Reference: Goff S-817
39