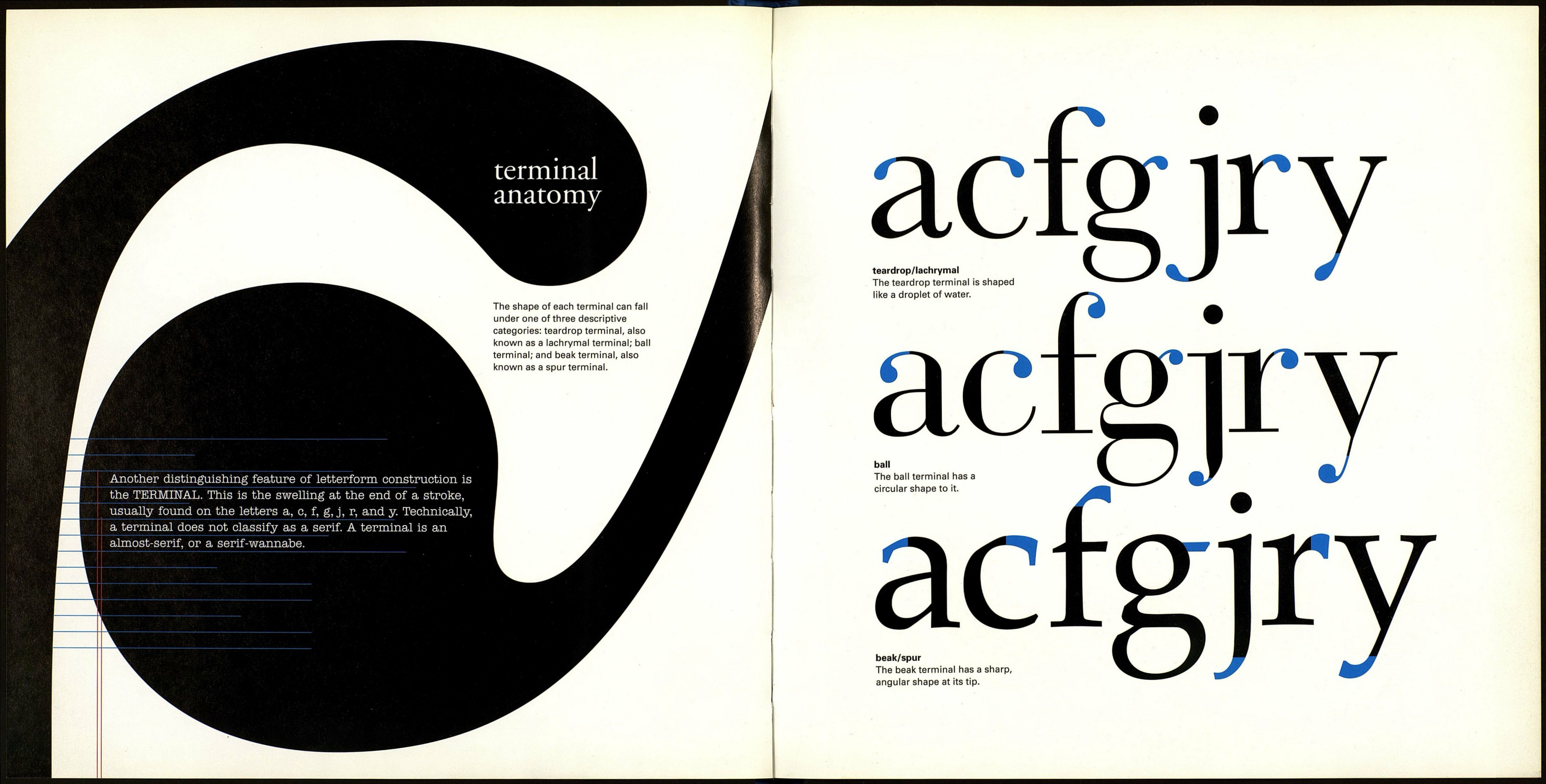 (
head serif
serif-stroke joint
foot serif
The serif most likely originated as a way
to formally end a stroke in hand-drawn
letters. When the broad-tipped quill pen
finished a stroke, a slight pause produced
an extra amount of ink that eventually
developed into the serif. This visual
characteristic was eventually designed
into printing typefaces.
15th C.
16th C.
serif anatomy
serif-stroke joint
sans (without) serif
Letterforms who proudly wear serifs can
often be traced to the specific historic
contexts from which they came.
17th С
One of the main identifying characteristics of a letterform
is the SERIF. Tins unassuming appendage has become a mark
of dignity in what has devolved into a digitally-intoxicated,
image-conscious, superficial world.
joinery
The serif-stroke joinery is the intersection
of a stroke with a serif. Generally, the
joinery is either transitive, with a smooth
transition, or abrupt, with a distinct
corner angle.
transitive joint (fillet)
abrupt joint
angle
The serif angle refers to the angle, or
pitch, of the serif. Generally, a serif
either has a distinct angle in relation to
the stroke, or is flat, or perpendicular,
to the stroke.
proportion
Serif proportion is the relationship of the
serif to the stroke. Generally a serif will
be bilateral: equally present on both
sides of a stroke; or it may be unilateral:
present on only one side of a stroke.
dp
T
bilateral
unilateral
dp
oblique
dp
■J- flat
flat
dp
dp
shape
Serif shape is the general shape of the
serif. This is the main characteristic that
can distinguish one type style from
another.
pointed -
rounded-
wedged -
dp dp
dp dp
dp dp
block
(slab, squared)
hairline (thin)
18th C.
19th C.
20th C.