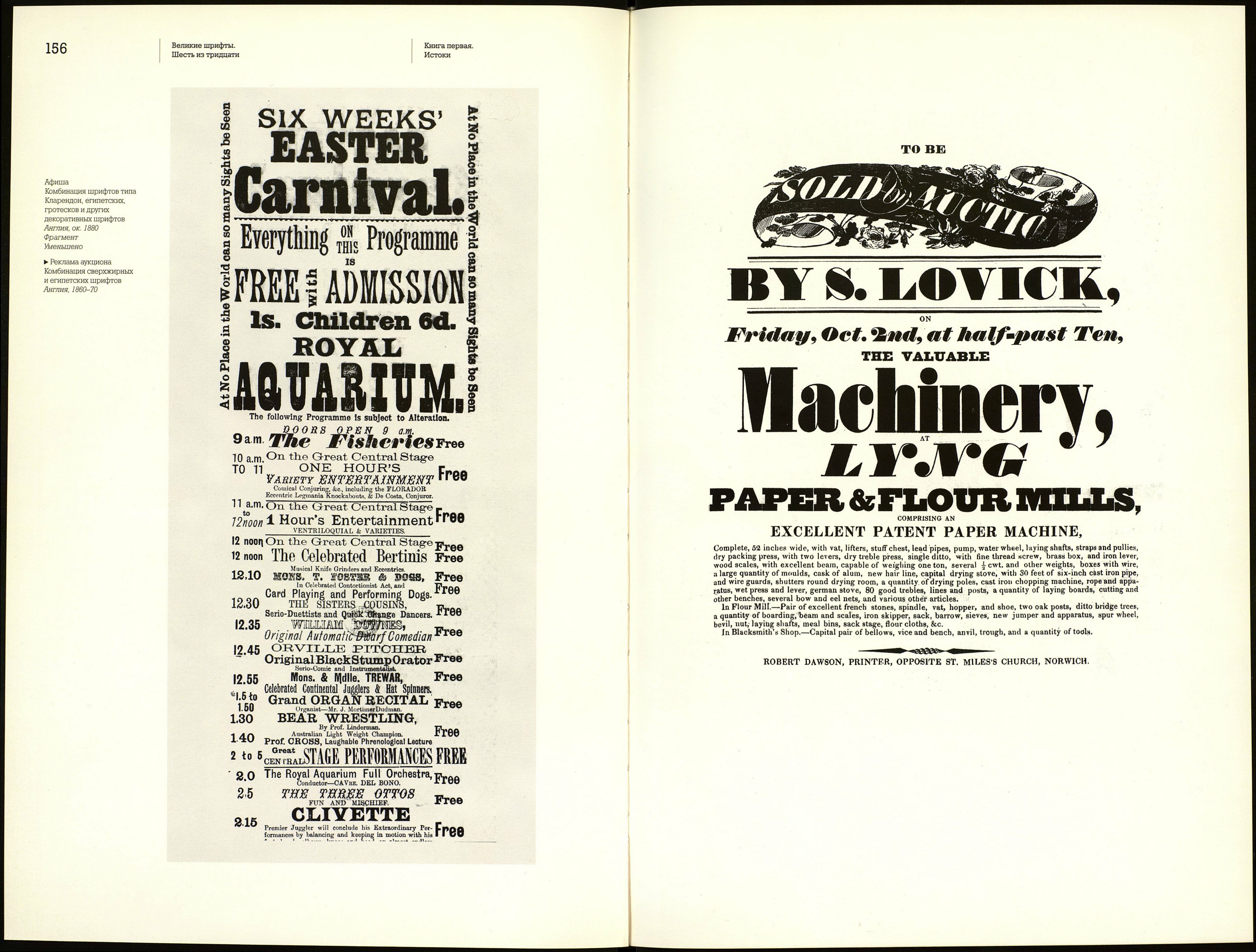 154
Великие шрифты.
Шесть из тридцати
Книга первая.
Истоки
Декоративный брусковый
шрифт (Antique)
Из каталога
Caslon & Livermore
Лондон, 1830
FIVE-LINE PICA ANTIQUE OPEN.
Г ortiin atu
1
SIX LINES PICA ANTIQUE,
Брусковый и декоративный
плакатные шрифты
Из каталога Blake & Stephenson
Шеффилд, 1831
ORNAMENTED.
РПТГѴЯТТТТ Фирма Monotype (Англия) j Геометрический
I 1934 I брусковый шрифт
FÓU
0,00
G ru in. e a sf з
Next FRIDAY,
Alili IN ONE PAY,
July 15,
4 »г £*21.000
AND MANY OTHER CAPITALS ; TOGETHER WITH
64 Pipes of Old Port Gratis!
Prosentad by HAZARD A Co- « ал Addition to 0»« Poor Prit» of One Thousand Cuinea»—beta;
SIXTEEN PIPES for EACH TICKET, Share* in Proportion, ю that EACH SIXTEENTH
will rocero ONE PIPE.
NO BLANKS! As every Number is sure of £5.
HAZARD & C°
STOCK-BROKERS,
AT ТНЕ1П OLD-ESTABLISHED AND FORTUNATE OFFICES,
Keyot Exchange Gate ; 26, Cornhill ; ami 32*. Oxford Street, end of Reçctt* Street :
Who Shared and Sold on the 31st of last May,
No.1,804 €30,000 1 No. 3,627 £5,000
ДІмІЬ UtaLaet Year's Lotteries alone FI YE Prtaro of £50,000 ai»d £tO,OOOj and fee Mkwriaf
Prise» drawn oo the Itfth of A poi lost.
1,185, £30,100—9,379» ¿'3,000, and Eight other Capitale.
Реклама лотереи
Строчные и прописные
египетские шрифты и знак фунта
стерлингов из сверхжирного
Лондон, 1817
Уменьшено