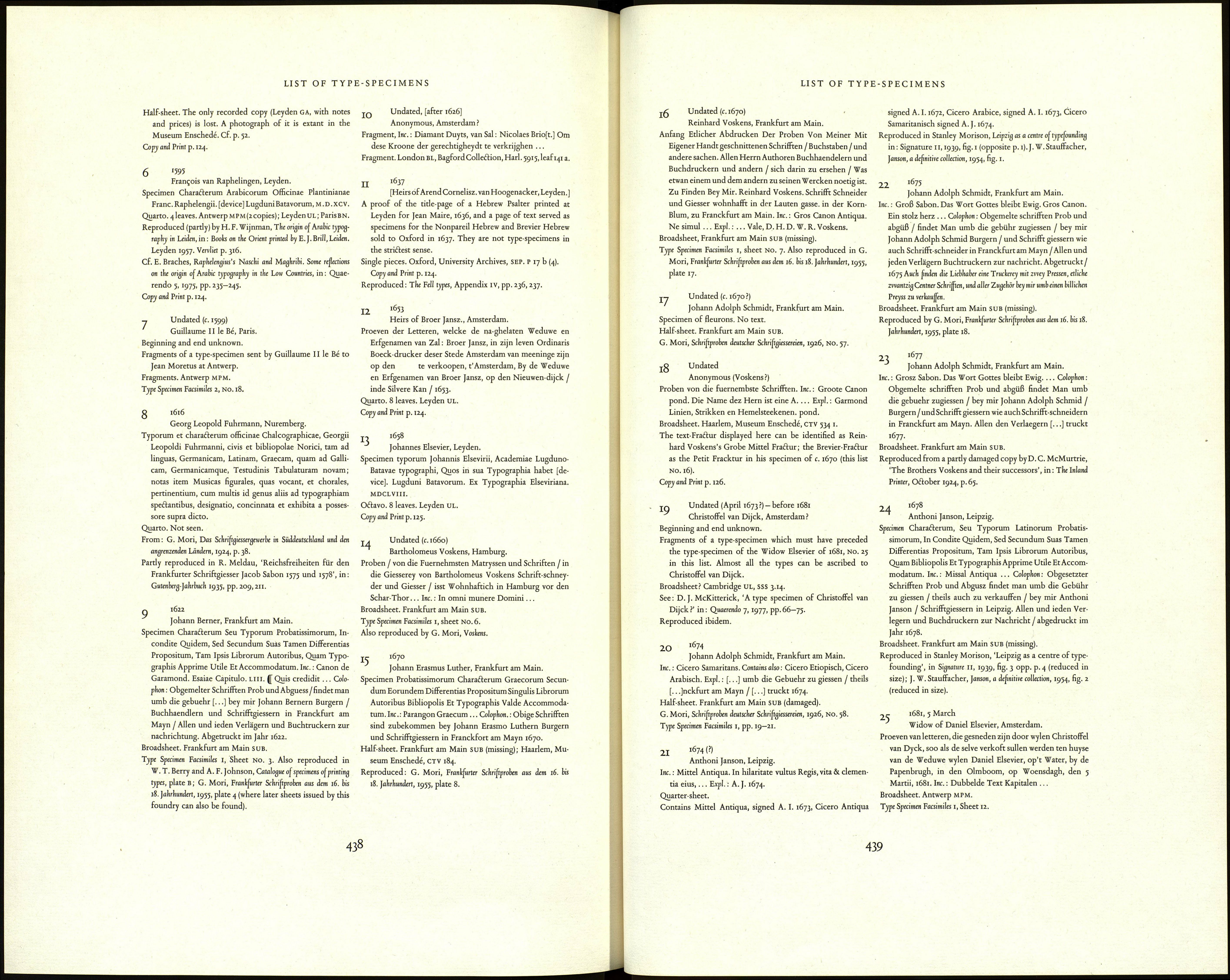 BIBLIOGRAPHY
Wijnman, H. F., 'The origin of Arabic typography in Leiden',
in : Boots on the Orient, printed by E. J. Brill, Leiden. Leiden
1957-
Willems, A., 'Christophe van Dyck, le graveur des poinçons
des Elzevier', in: L'art. Revue hebdomadaire illustrée 4, vol. 1,
1878, p. 43.
Willems, A., 'Christoffel van Dijck de lettersnijder voor de
Elzeviers', in : De Nederlandsche Spectator 1878, pp. IO—11.
Willems, A., Les Elzevier. Histoire et Annales typographiques. Brussels
1880.
Wolf, С. de, see Bray, D. de.
Wolf, J. Chr., Monumenta typographica quae artis hujus praestantissimae
originem, laudem et abusum posteris produnt. 2 vols. Hamburg 1740.
Worman, E. J., Alien members of the boot-trade during the Tudor period.
Being an index to those whose names occur in the returns of aliens,
letters of denization, and other documents published by the Huguenot
Society. London 1906. The Bibliographical Society.
Wurzbach, A. von, Niederländisches Künstler-Lexicon. 3 vols.
Vienna 1906—11.
Zedier,G., 'Der holländische Frühdruck und die ersten Ver¬
suche Gutenbergs in Strassburg', in: Gutenberg-Jahrbuch 1930,
pp. 53-66.
Zesen, F. von, Beschreibung der Stadt Amsterdam. Amsterdam
1664. W. Nijhoff, Bibliographie van Noord-Nederlandsche plaats-
beschrijvingen tot het einde der i8de eeuw. 2nd ed. no. 350.
436
LIST OF TYPE-SPECIMENS
The following list comprises all type-specimens quoted in Charles Enschedé's text and in the
notes, arranged in chronological order as far as possible. For a complete list of type-specimens
printed in the Netherlands before 1801 the reader is referred to that in copy and Print, pp.
124—132. Locations are given where known, and I have supplied shelf-marks only when they
form an addition or correction to those in Copy and Print. There are undoubtedly more copies of
many of the type-specimens in existence which further research would reveal, and therefore the
list of locations does not claim to be exhaustive.
Line-endings are not indicated in the transcriptions; punctuation follows that of the original;
italics are represented by italics, while capitalized words are represented by the use of an initial
capital, the rest of the word being lower case. This has the drawback that the reader will not be
able to distinguish between words that are in capitals or with only an initial capital in the
original, but I have done it for visual effeft and ease of reading. The system, if I may call it so,
has its obvious weakness, and in consequence there have been occasional lapses.
I have not attempted to give collations, as there are considerable variations in copies of
type-specimens in book form. I should have needed to do more research than I could do for
the present purpose in order to establish ideal copies and deviations. It seemed sensible,
therefore, to limit a statement on collation to a record of the number of leaves of the most
complete copy I examined. The format is indicated according to the Principles of Professor
Fredson Bowers. (L. H.)
1 1567
Christopher Plantin, Antwerp.
Index Sive Specimen Characterum Christophori Plantini.
[device] Antverpiae, m.d.lxvii.
Quarto. 16 leaves. Antwerp mpm (3 copies, one with a variant
state of leaf d 4).
Type Specimen Facsimiles 2, no. 16. Also reproduced in D. C.
McMurtrie, Plantin's Index characterum of 1567. Facsimile reprint
with an introduction. New York 1924.
Copy and Print p. 124.
2 Undated (c. 1575)
Hendrik van den Keere, Ghent.
Inc. : Henric vanden Keere de Jonghe / Lettersteker / wenscht
alien beminders van goeden Letteren /in alles voorderinghe
ende verstant met God. Eersame ende lieve Leser / aenge-
sien datter alreede vele ende verscheyden gheschreven
Letteren by Drucke int licht ghecomen zijn ... wiens ghe-
nade wy u bevelen. [followed by display of typecase].
Oblong octavo sheet. Antwerp mpm.
Reproduced : Tijdschrift voor Boet- en Bibliotheetwezen 5,1907, p. 255.
Het Boet 18,1929, p. 363. Carter-Vervliet, fig. 39.
Copy and Print p. 124.
2 Undated (c. 1585)
Christopher Plantin, Antwerp.
Inc. : La plus grande Romaine. Heraclitus Ephesius. Interrogatus...
Folio. 6 leaves. Antwerp mpm (2 copies and fragments).
See for the format Type Specimen Facsimiles 2, p. 6.
Type Specimen Facsimiles 2, no. 17.
Copy and Print p. 124 (where the two copies, which are differently
made up, are erroneously distinguished as two editions).
4 !59>
Konrad Berner, Frankfurt am Main.
Specimen Characterum Seu Typorum Probatissimorum, ...
Tam Ipsis Librorum Autoribus, Quam Typographis Ap-
prime Utile Et Accommodatum ... Colophon : Verfertiget
durch Conrad Berner Anno 1592.
Broadsheet. Frankfurt am Main sub, present whereabouts un¬
known.
Type Specimen Facsimiles 1, Sheet no. 2.
Also reproduced in W. T. Berry and A. F. Johnson, Catalogue
of specimens of printing types, 1935, plate A; G. Mori, Frantfurter
Schriftproben aus dem 16. bis 18. Jahrhundert, 1955, plate 3.
See further : G. Mori, Geschichte und Entwicklung des Schriftgiesserei-
gewerbes in Frantfurt a. M., in: Archiv für Buchgewerbe 44,
1907, pp. 401—408; G. Mori, Eine Frantfurter Schriftprobe von
Jahre 1592, 1920; F. Meynell and S. Morison, Printers' flowers
and arabesques, in : The Fleuron 1,1923, pp. 1—43, reprinted in
Fleuron anthology, 1973, pp. 1-22 ; P.Beaujon (Beatrice Warde),
The 'Garamond' types, in: The Fleuron 5,1926, pp. 131—179, fig.
27, reprinted in Fleuron anthology, 1973, pp. 181—211.
,- Undated (1593-97)
Jan van Hout, Leyden.
Inc. : Ascendonica. De gerechtige sal zijn herte geven om
vrouch te waecken tot den Heere ...
437