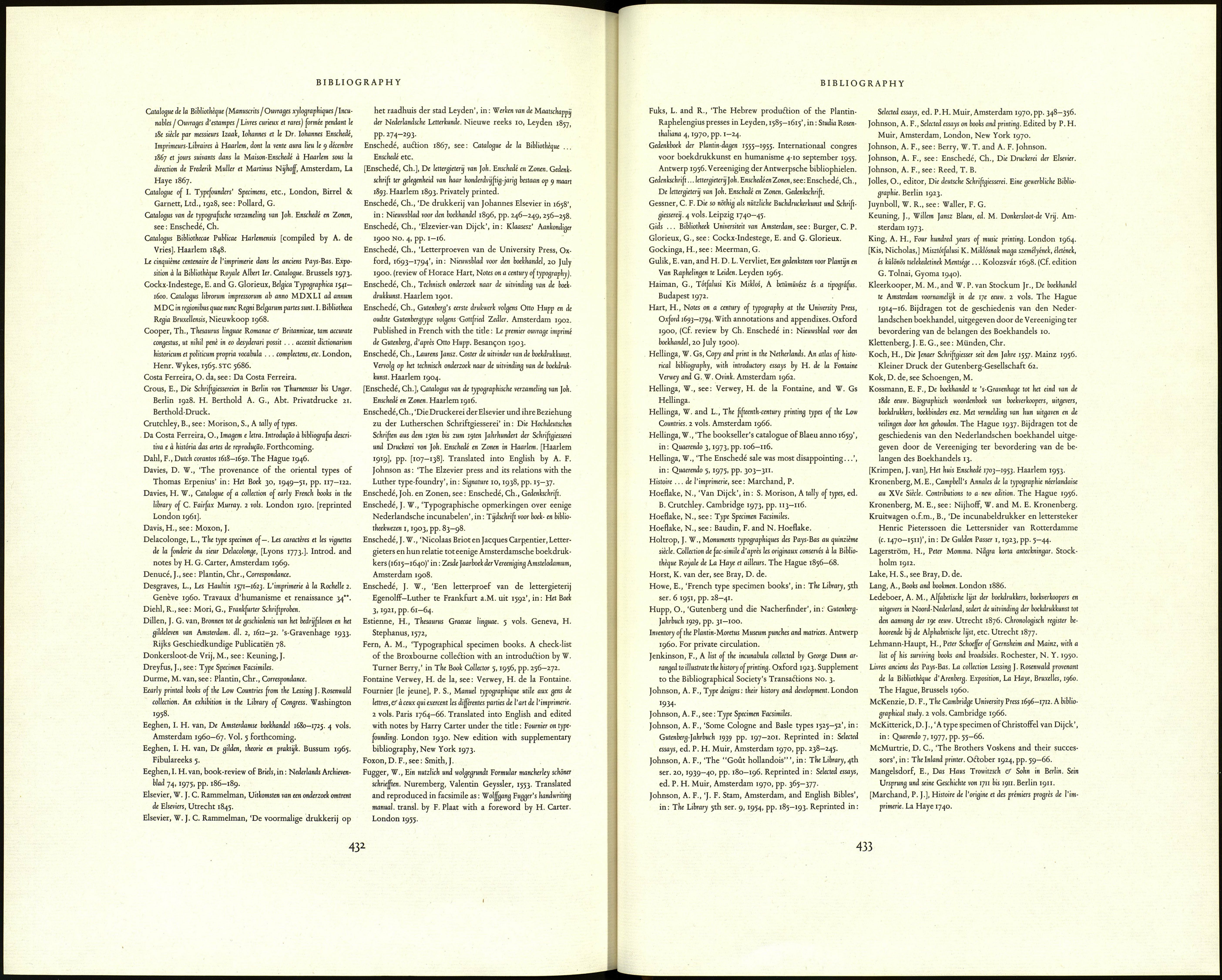 APPENDIX
in several sizes, is unquestionably a remarkable technical success. First of all, it is completely
current, comparing very favourably in this respect with Moreau's type of 1648 which was the
first of the kind. Technically it surpasses the caractère de Finance of Fournier (1749), and, though
it depends upon the design of the script cut by J. F. Rosart in 1753, it is greatly superior in
verisimilitude. Fleischman's script type was first cut in 1756, three years after Rosart had cut his
first size. The technical ability of Fleischman, however, is no compensation for his pallid design,
and Fournier's fount remains the best of the Continental scripts.
The vogue of Fleischman's founts, the new tendencies brought into type-designing by the
Romain du Roi cut by Grandjean for the Imprimerie Royale, and some of the founts of Fournier,
combined to create a taste unfavourable to any appreciation of the old faces of Van Dijck and
of Voskens. The name of Fleischman was so powerful that all typefounders in Holland used
the name whether their punches were or were not cut by him. The old classic Aldine letter
disappeared, not merely from the specimen books, for the punches and matrices were destroyed.
In England, however, the Dutch monopoly had been so considerably reduced, first by the es¬
tablishment of Caslon and, secondly, by the successors of Baskerville, that henceforth English
type-designing pursued an independent course. After the middle of the eighteenth century
no new Dutch influence is discernible, although the large stocks of Dutch founts in the hands
of English printers continued to do duty for many years. French, rather than Dutch, influences
produced the first English modern face in the type of John Bell.
It follows that the interest of Dr Enschedé's book is greatest at the very point at which
English documents are so few. Mention has been made of the specimens issued by the University
Presses of Oxford and Cambridge and of a number of houses in London and Edinburgh. Alto¬
gether, these specimens according to W. Turner Berry and A. F. Johnson's Catalogue of specimens
of Printing Types by English and Scottish Printers and Founders 1665—1830 (Oxford 1935), do not number
more than thirty for the period from 1665 to 1786.
Dr Enschedé's book, therefore, makes an invaluable addition to our knowledge of the sources
of the types used by the English printers, and, in this new edition, the student is further assisted
by references to literature which has appeared since the publication of the original work. [...]
In this connection it should, of course, be borne in mind that the Dutch foundries were the
source resorted to not merely by the English and Scottish printers, but also by the printers
established in the American Colonies. It is felt, therefore, that with the additional notes and
text, [...] Dr Enschedé's painstaking work in its English dress will reach a wider public.1
[ 1 ] Passages have been omitted in which the author refers has been superseded by the publication of the Type Specimen
to the plan to include reproductions of a number of type- Facsimiles,
specimens in the Bagford collection and elsewhere. This plan
43О
BIBLIOGRAPHY
Abramishvili, A. Z., \z istorii gruzinstogo pechataniya za predelami
Grttzii. Kniga, issledovaniya i marerialy. Sbornik i960.
Adams, H. M., Catalogue of boob printed 011 the continent of Europe,
1501-1600 in Cambridge libraries. Cambridge 1967.
Anleitung, kurze doch nützliche- von Form- und Stahl-Schneiden, wie Buch¬
staben, Zierrathen, und alie vorkommende Figuren in Holz zu schneiden,
den Riss zuvor auf unterschiedene Art darauf zu bringen, auch von einem,
der nicht zeichnen Ігапп. Erfurt, Elias Sauerländer, 1754. (the first
edition of 1740 printed by J. M. Funckter not seen).
Backer, A. de, see: Ruelens, Ch. and A. de Backer.
Barker, N., Stanley Morison. London 1972.
Baudet, P. J. H., Leven en werten van W. J. Blaeu. Utrecht 1871.
Provinciaal Utrechts Genootschap van Künsten en Weten-
schappen.
Baudin, F., 'Jacques-François Rosart, graveur et fondeur typo¬
graphique belge', in : Cahiers Bruxellois. Revue historique trimes¬
trielle 2, 1957, pp. 192-212.
Baudin, F., and N. Hoeflake, The type specimen of Jacques-François
Rosart, Brussels 1768. A facsimile with an introduction and notes.
Amsterdam 1973. (Cf. review by H. G. Carter, 1975).
Baudrier, H. L. and J., Bibliographie lyonnaise, Recherches sur les im¬
primeurs, libraires, relieurs et fondeurs de lettres de Lyon au XVIe Siècle.
12 vols. Lyon 1895—1921.
Bauer, F., Chronik der Schriftgiessereien in Deutschland und den deutsch¬
sprachigen Nachbarländern. 2nd ed. Offenbach a.M. 1928.
Beaujon, P. [Beatrice L. Warde], 'The "Garamond" types. Six¬
teenth and seventeenth century sources considered', in:
The Fleuron 5,1926, pp. 131-179. Reprinted in Fleuron antholo¬
gy, ed. F. Meynell and H. Simon, 1973, pp. 181-211.
Berry W. T. and A. F. Johnson, Catalogue of specimens of printing
types by English and Scottish printers and founders 1665-1830 .London
1935-
[Berthold, H.], Beiträge zur Lebensgeschichte Johann Friedrich Ungers.
Berlin 1924. Privately printed by H. Berthold Messing¬
linienfabrik und Schriftgiesserei A. G., Berlin.
Björkbom, C, 'Nigra anteckningarangaende Ryskt boktryck
i Sverige', in: Nordist Tidstrift [ór Bol¡-och Bibliotetsväsen 21, 1934,
pp. 121—130.
Björkbom, С, 'Hendrik III Keysers georgiska stilprov', in:
Nordist Tidstrift för Bot-och Bibliotetsväsen 22, 1935, pp. 93-102.
Boeren, P. C, see Schoengen, M.
Braches, E., 'Raphelengius's Naschi and Maghribi. Some re¬
flections on the origin of Arabic typography in the Low
Countries', in: Quaerendo 5, 1975, pp. 235—245.
Bray, D. de, A short instruction in the binding of boob. Followed
by a note on the gilding of edges by Ambrosius Vermerck.
Introd. and paraphrase by K. van der Horst and С. de Wolf.
Transi, into English by H. S. Lake. Amsterdam 1977.
Briels, J. G. С A., Zuidnederlandse boetdrutters en boetvertopers in de
Republiet der Verenigde Nederianden omstreets 1570-1630. Eeu bijdrage
tot de tennis van de geschieden« van het boet. Met in bijlage bio-biblio-
grafsche aanteteningen betr. Zuid- en Noordnederlandse boetdrutters,
uitgevers, boetvertopers, lettergieters etc., en andere documenten. Nieuw-
koop 1974. (Cf. review by I. H. van Eeghen).
Bruckner, A., Schweizer Stempelschneider und Schriftgiesser. Geschichte
des Stempelschnittes und Schriftgusses in Basel und der übrigen Schweiz
von ihren Anfängen bis zur Gegenwart. Basel [1943].
Buday, G., 'Some more notes on Nicholas Kis of the 'Janson'
types', in : The Library, 5th ser. 29, pp. 21-35.
Buday, G., See Carter, H. G. and G. Buday.
[Burger, С P.], Gids voor de Bibliotheet der Universitcit van Amsterdam,
met catalog« van incunabelen en andere verzamelingen. Amsterdam
1919.
Burger, С P., 'Het Abecedarium als algemeen verbreid Ieer-
boekje', in Het Boet 16, 1927, pp. 17-32, 191-204, 225-224,
295-306.
Burger, С P., 'Jan Theunisz', in Het Boet 17,1928, pp. 115-126.
Burger, K., Monumenta Germaniae et Italiae typographica. Deutsche und
italienische Intunabeln in getreuen Nachbildungen. 3 vols. 1892-1916.
(continued by E. Voulliéme).
Caille, Jean de la., Histoire de l'imprimerie et de la librairie où l'on
voit son origine er son progrès jusqu'en 1689. Paris, Jean de 1a
Caille, 1689.
Campbell, M. F. A. G., Annales de la typographie néerlandaise au
XVe siècle. With 4 supplements. The Hague 1874-1890.
Campbell, M. F. A. G. 'Christoffel van Dijck', in De Neder-
landsche Spectator 1878, no. 15, pp. 115—116.
Camus, A. G., Histoire et procédés du polytypage et stéréotypage. Paris
1802.
[Carter, H. G.], The house of Enschedé, Haarlem 1953.
Carter, H. G., and G. Buday, 'Nicholas Kis and the Janson
types', in: Gutenberg-Jahrbuch 1956, pp. 207—212.
Cfarter], H. G. and J. S. G. S[immons], A specimen of types cast at
the University Press, Oxford, in matrices believed to have been bought
at Leyden in 1637. Oxford 1957.
Carter, H. G., 'The script types of Robert Granjon', in:
Gutenberg-Jahrbuch 1962, pp. 44—49.
Carter, H. G., see: Tvpe Specimen Facsimiles.
Carter, H. G. and H. D. L. Vervliet, Civilité types. Oxford 1966.
Oxford Bibliographical Society Publications, N.S. 14.
Carter, H. G., Sixteenth-century French typefounders: the Le Bé Memo¬
randum. Paris 1967.
Carter, H. G., A view of early typography up to about 1600. Oxford
1969. The Lyell lectures 1968.
Carter, H. G., book-review of: F. Baudin and N. Hoeflake,
The type specimen of Jacques-Francois Rosart, Brussels 1768 : A facsimile
with an introduction and notes, Amsterdam 1973, in : The Library
5th ser. 30, 1975, pp. 137-139.
Carter, H. G. and G. Buday, 'Stereotyping by Joseph Athias.
The evidence of Nicholas Kis', in: Quaerendo 5, 1975, pp.
312-320.
Carter, H. G., A history of the Oxford University Press. Vol. I to the
year 1780. With an appendix listing the titles of boots printed there
1690-1780, Oxford 1975.
Carter, H. G., see: Delacolonge, L.
Carter, H. G., see: Fournier [le jeune] P. S.
Carter, H. G., see: Fugger, W.
Carter, H. G., see: Mores, E. Rowe.
Carter, H. G., see: Morison, S., John Fell.
Carter, H. G., see: Moxon, J.
Carter, M., see: Type Specimen Facsimiles.
Casaubon I, Epistolae. éd. Th. Janson ab Almelovecn. Rotterdam, C.
Fritsch and M. Böhm, 1709.
431