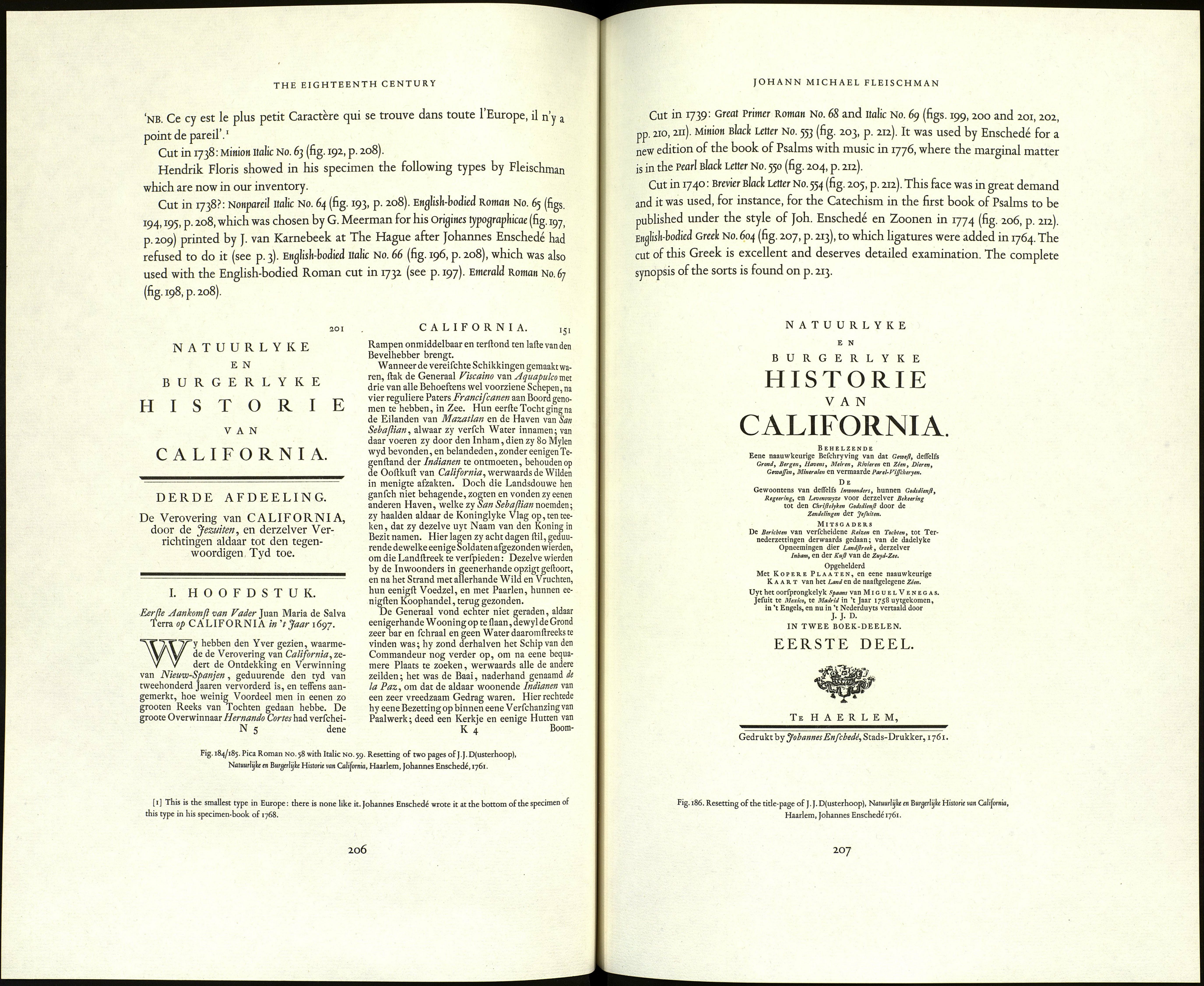 THE EIGHTEENTH CENTURY
Garmond Romyn.
Lors qu'Aspafie étoit concubine d'Artaxerxès. On ne fau-
roit lui donner moins de vingt ans à la mort de Cyrus: die
avoit donc foixante-quinze ans lors qu'un nouveau ^ Roi la
demande comme une grace particulière, & lors qu'un Roi
à qui elle avoit appartenu cinquante-cinq ans ne put fe ré¬
foudre à la céder; il fàloit donc qu'à cet àge-là elle eût
encore beaucoup de charmes. Cela n'eft-il pas extraordi¬
naire? Peut-on s'imaginer fans rire qu'une femme de près
de quatre-vingts ans foit faite Prêtrefl'e, afin qu'aucun hom¬
me n'en puifTe iouïr? A-t-on befoin alors d'être engagée à
ABCDEFGHIJKLMN0PQRSTVUWXYZ7E.
abcdefguijklmnopqrstvuwxyzjE. 1234566890
Fig. 179. Long Primer Roman no. 56, cut by Fleischman in 1736.
Resetting of part ofthe type-specimen of H. F. Wetstein,
c. 1742, reissued in 1743 by Izaak and Johannes Enschedé.
Mediaan Romyn.
COLONNA (Victoria) Dame illuftre &
favante. Voiez Victoria Colonna. André
cite méprife à Rivet. Nous marquons une Lettre
ce Га copié en plufieurs endroits. Voffius ne croit
point prétend que cet Archevêque de Florence.
Jaques Columna, Dominicain & Hiftorien
a Florence, Га citée quelquefois. PoiTevin parle
Antonin, Archevêque de d'un & il jusqu'à l'an
Colophonienne. La nomme auffi attribuelle de
quelques Oracles en Vers &c. 1 234567890
ABCDEFGHIJKLMNOPQRSTVUWXYZiE
ABCDEFGHIJKLMNOPQRSTUVWXYZ.ffi
Fig. 182. Pica Roman no. 58, cut by Fleischman in 1736.
Resetting of part ofthe type-specimen of H. F. Wetstein,
с 1742, reissued in 1743 by Izaak and Johannes Enschedé.
Garmond Curßf.
eut, celle qu'il aima le plus fut Aspa ft a, qui efloit fort âgée
& toutes/bis très-belle, qui avoit eflé putain de fon feu frère'.
Darius fon fils en devint fi fort amoureux, tant elle eftoit
belle nonobftant Г âge, qu'il la demanda à fon pere en par¬
tage, auffi bien que la part du Royaume. Le pere, pour ¡a
jaloufie qu'il en eut, & qu'il participât avec lui de ce bon
boucon, la fit Prêtre fe du Soleil; d'autant qu'en Perfe cet-
j'entens mieux la Magie, je bois mieux que lui, ci? U poro_
mieux le vin que lui (29). Cefi un efféminé, c'eft un pa¬
tron, il ne monte pas à cheval lors même qu'il va à la challe
ABCDEFGHIJKLMNOPQKSTFUlVXTzk'.
Fig. 180. Long Primer Italie no. 57, cut by Fleischman in 1736.
Resetting of part ofthe type-specimen of H. F. Wetstein,
с 1742, reissued in 1743 by Izaak and Johannes Enschedé.
Mediaan Curfyf.
Il s'en informa à Pomponius Atticus qui ne put
Ten bien infiruire. II vouloit favoir fi Rutilie
étoìt morie avant ou après fon Fils. Rutilia vivo
ne C. Cotta filio fuo mor tua fit, an mor tuoi Per
tinentadeum Ubrum quem de luclu minuendo fcrip-
fimus. Dans une autre Lettre il fe fert de ces pa¬
roles; de Rutilia, quoniam videris dubitare, ¡cri¬
bes ad me cum fcìes, fed quam primum. La No¬
te de Corradus e fi trop curieufe pour ne devoir pas
être rapportée: Mortuo mortila efi quod minimil
A В С D E F G H1J КL MN О P О RST
VUWXr ZM. â êiôû cl ë Û и
Fig. 183. Pica Italie no. 59, cut by Fleischman in 1737.
Resetting of part ofthe type-specimen of H. F. Wetstein,
с. 1742, reissued in 1743 by Izaak and Johannes Enschedé.
Mediaan Curcyf, Kleine Capitalen.
ANIMUS HOMINIS NUNQUAM EST ТАМ AVIDUS
AD ACCIPIENDUM, QUIN DEUS MULTO AVIDIOKSIT
AD DANTUM. ABCDEFGHIKLMNOPQKSTUVWX'ÏZAl'J.
T. M. Fleifchman fculpfit. 1752.
Fig. 188. Small capitals added by Fleischman in 1762 to his Pica Italic no. 59,
as they appear in the type-specimen of Johannes Enschedé, 1768.
wetstein s types
cut by Fleischman
Besides the types already mentioned the specimen of 1740 showed more faces
that Fleischman had cut for Wetstein by the beginning of 1738. These are, as
numbered in our inventory :
Cut in 1736: Long Vrimer Roman No. 56 and Italic No. 57 (figs. 179,180), which were
used later for printing the Gazette de Cologne (fig. 181, p. 203). Pica Roman N0.58 (fig. 182).
Cut in 1737: Pica italic No. 59 (fig 183), which was with its Roman in great demand
in the eighteenth century. Johannes Enschedé often used them in his own printing
(figs. 184—187, pp. 205—207) and in 1762 he got Fleischman to add small capitals
to the Italic which are separately displayed in Johannes Enschedé's specimen-book
of 1768 (fig. 188). Rubv Italic No. 60 (fig. 189, p. 208) probably meant originally to
go on the smaller body named Robijn (Pearl). Pearl Roman No. 61 (fig. 190, p. 208), the
same as the Diamond Roman No. 62 (fig. 191, p. 208), except that it had different figures
and longer ascending and descending sorts. Ofthe Diamond Enschedé boasted:
204
К E U R E N
Pag. i
DER S T A D
H A E R L E M.
ORDONNANTIEN
RAAKENDE DE
JUSTITIE.
MANIER VAN PROCEDEEREN
in Civiele en Crimineele Zaaken; gearrefteerd
den и van September 1751.
YNE HEEREN VAN
DEN GERECHTE
DERSTADHAER-
L E M ondervindende, dat
de Manier van Procedee-
ren, zo in Crimineele als
Civiele Zaaken, binnen
deeze Stad, op geenen een-
paarigen voet word behandeld; dat de Zaa¬
ken 00k niet met behoorlyke Expeditie worden
voortgezet; en ver der in acht genomen hebben¬
de, dat het Reglement op het fiuk van de
Adminifiratie van de Jufiitie, den 7 van de
Maand February 1662 gearrefieerd, 'twelk
tot nu toe heeft gefubfifieerd, niet ailes con-
tineerd, het geene daar toe behoord; ende
willende tegen al het zelve voorzien, mits-
gaders verder Verval, zo veel doenlyk is,
prœvenieeren, hebben, na Deliberane, met
te-niet-doening van alle voor ige Ordres, op
dit Subjecl gefield, goedgevonden en ver-
fiaan te arrefieeren en va fi te fiellen, zo
als haar Ed. Achtb. arrefieeren en vafifiel-
len by deeze, de Pointen en Articulen, in de
volgende Ordonnantie vervat. Ordonnee-
rende de rejpetlive Procureurs, voor haar
Ed. Achtb. pofiuleerende, en voorts een y der,
I. Deel.
wien het aangaan mag, zig fiiptelyk na den
inhoude van dien te reguleeren.
CAPITTEL I.
Van de Advocaten en Procureurs.
Articul I.
Dat niemand als Advocaat binnen deeze
Stad zal mögen praeiifeeren, dan by
den Hove van Holland alvoorens zynde
geadmitteerd en beëedigd.
Dat 00k niemand als Procureur zal mö¬
gen oecupeeren, het zy voor de Heeren
van den Gerechte of voor de Heeren Sche-
penen deezer Stad, als die daartoe by ge-
melde Heeren van den Gerechte zal wezen
geadmitteerd, en den Eed, achter deeze
Ordonnantie volgende, zal hebben afgelegd.
III.
Dat de voorfz. Eed door alle de Procu¬
reurs j'aarlyks, by de verandering van het
Collegie van de Heeren Schepenen, voor den
eerften Rechtdag zal worden vernieuwd,
ten ware dezelve door ziekte of ander wet¬
tig belet verhinderd wierden; dewelke
A ech-
Fig. 187. Pica Roman, No. 58 and Italic, no. 59.
Resetting of the opening page of Keuren en ordonnantïén der stad Haarlem,
Haarlem, Izaak and Johannes Enschedé, and Jan Bosch, 1755.
205