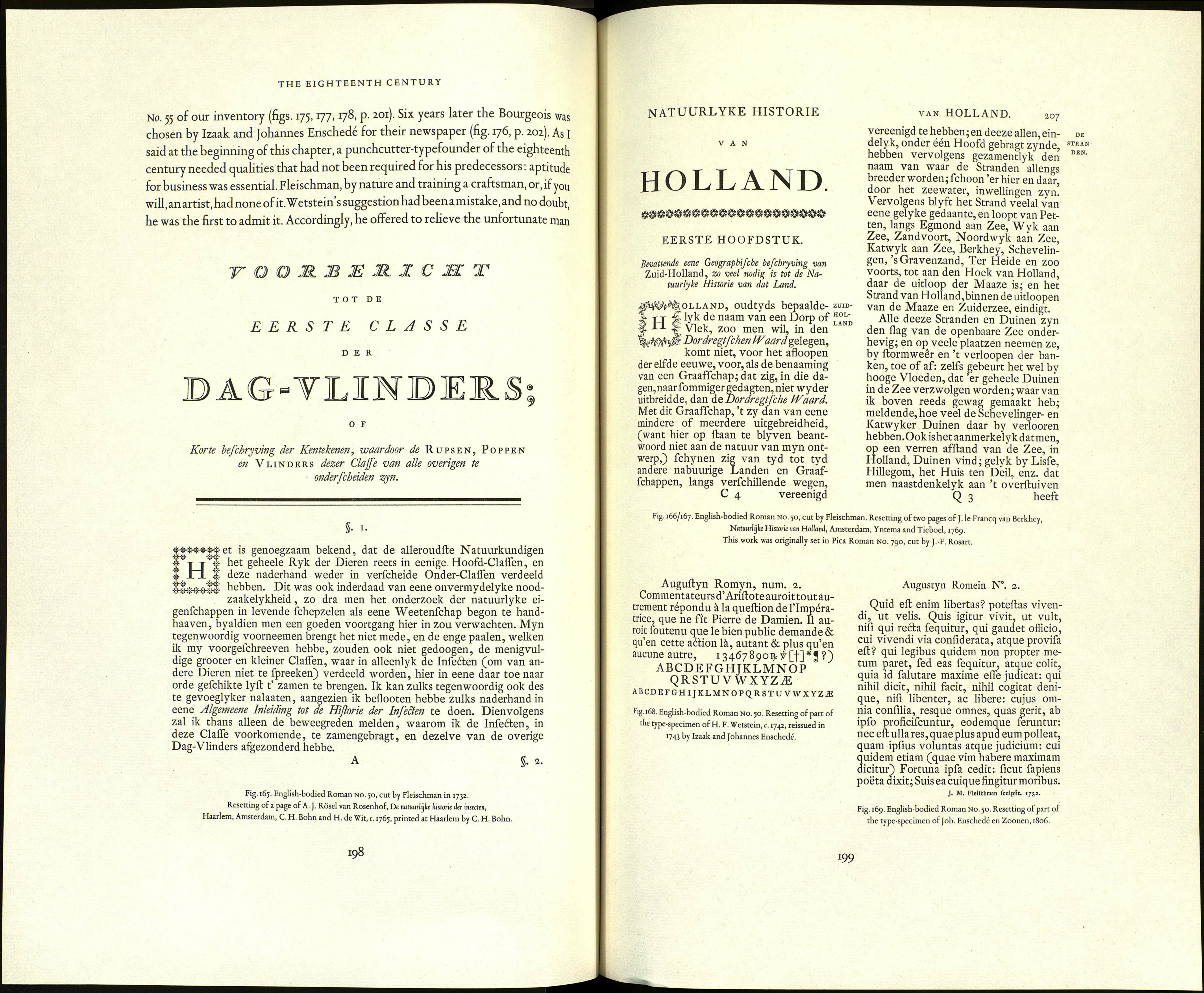 THE EIGHTEENTH CENTURY
EEN HONDERDTAL
NIEUWE GEESTRYKE
RAADZElLSc
л--------#— —*
No. I.
Myn Vriend, indien ge zyt wat elk door
my verftaat,
Zult gy, gantfch vruchteloos, uw herfens <Щ
¿welling baaren,
Zoo ge onderneemen mögt deez' Raadzels
te verklaaren :
Dus doet ge belt zo gy 't aan and'ren
overlaat.
Twee lettergreepen zal myn naam u doen
befchouwen ;
Zoo gy de voortíle leest, noemt ge een
bekende vifch,
Dien gy meermaalen hebt zien plaatzen
op uw difch :
De tweede is zeek're dragt voor mannen en
voor vrouwen.
Een Logogriphe heeft eenige overeen-
komst met het geen wy Letterkeer dicht noe-
men, en is doorgaans moejelyker, dan een
ander Raadzel. optelosfen. In het zelve
worden, niet zo zeer de eigenfchappen en
hoedanigheden van een zeker onderwerp be-
fchreeven, maar wel inzonderheid, welke ma¬
men het voorgeftelde woord, door het ver-
plaatzen of uitwisfchen van eenige letters,
kan opleeveren. By voorbeeld: op dusdanige
wys kan men van het woord Kaart, maken,
kaar, kat, kar, tak, ark, raa, aart &c.
dewyl dit woord alle de daar toe benoodigde
letters bevat.
Indien ik mag verneemen, dot deeze Raad¬
zels aan de jeugd aangenaam zyn, en in
haare oogenblikken van uitfpanning, eenig
vermaak kunnen toebrengen, zal ik het eeni¬
ge doel, dat ik my, met ze in 't licht te
geeven, heb voorgefteld, getroffen hebben.
Fig. 163/164. Long Primer Roman N0.48 with Long Primer Italic N0.49, one ofthe earliest types cut by Fleischman.
Resetting of two pages of Een honderdta! nieuwegeestryk Raadzels, Utrecht, Widow S. de Waal, 1788, printed by P. Muntendam.
term of two years beginning on this day, 20 May 1730, and expiring on 20 May 1732 the said
Fleischman will not directly or indirectly whether for himself or for another cut, strike, justify,
or cast save only for and in the house of the aforesaid Uytwerf.
Uytwerf, for his part, covenants to pay Fleischman wages at the rate of ten florins a week so
long as he is engaged upon cutting punches or work relating thereto, but whilst he is engaged
upon casting he will be paid the wages ordinarily paid to journeymen for that work.
For the performance whereof we pledge our persons and goods, nothing excepted, and cove¬
nant one with another in good faith; witness this contrae!; drawn in duplicate.
Actum at Amsterdam this 20 May 1730. r . " __ T T c
1 [signed] Hermanus Uytwerr
During the two years Fleischman cut a Pica and a Long Primer Roman and
Italic which appear with the Small Pica previously mentioned (see p. 194) in a type-
specimen issued by Uytwerf in 1733.1 After the death of this owner the foundry
became the property of Brouwer & Weyer,2 whose specimen shows the six types
cut by Fleischman.3 However, when in later years the stock of Brouwer & Weyer
[ 1 ] Vervolg o'er froeven van fetteren, Die Gegooten werden by Hermanus
Uytwerf, l'Amsterdam, List of type-specimens No. 65, with the
colophon: NB. Alle de bovenstaande Letters zyn nienw aesneden door
J. M. Fleischman (N.B. All the types shown above are recently
cut by J. M. Fleischman). This small sheet showing three
Roman types and three Italics is undated. Johannes Enschedé
says in the foreword to his specimen-book of 1768 that it was
issued in 1733 (leaf A 3 verso).
[2] See p. 231.
[3] Letter-proef van de gieterye van Brouwer en Weyer, List of type-
specimens No. 90. This sheet is undated but it must have
been issued before 1754 when Fleischman was dealing with
Mr. Martin Weyer only (Fleischman's account-book in the
Museum Enschedé at Haarlem, стѵ 298 f).
I96
JOHANN MICHAEL FLEISCHMAN
was acquired by the Brothers Ploos van Amstel, the Small Pica seems to have disap¬
peared. It is not in the specimens of Ploos van Amstel ; and when their material was
bought by our firm in 1799, the inventory made at the time does not include the
Small Pica by Fleischman. ' His Pica Italic and Long Primer Roman and Italic were
there; and as early work by the great master we show them in figs. 157—162, p. 195,
as they were in the specimen by Uytwerf2 and in the first specimen-book issued
by Ploos van Amstel.3 They are now listed in our inventory as Pico Italic No. 47, Lona
Primer Roman No. 4S, and Long Primer italic No. 49. In the latter part of the eighteenth cen¬
tury these types were altered to some extent: some ofthe Italic letters were reçut,
¿as h, v as v, w as w, J as/, Q as Q, Г as IJ. They are shown in figs. 163,164, as they
were in a book of 1788.*
The agreement between Uytwerf and Fleischman was not renewed. The latter
set up on his own in Amsterdam as a punchcutter. In 1732 he finished a Roman,
now the English-bodied Roman No. 50 of our inventory (figs. 165—169, pp. 198,199), a
type much favoured in its day.4 Fig. 168, p. 199, shows this face as it was set in the
specimens of Wetstein5 and of Izaak and Johannes Enschedé,6 and fig. 169, p. 199,
as it was in those of our firm early in the nineteenth century.7 In the next year
Fleischman was cutting a Black Letter, now the Pearl Black Letter No. 550 of our inven¬
tory (figs. 170-172, p. 200), the first of his range of Black Letters, which was in
great demand throughout the eighteenth century and is still in occasional use
for jobbing. With proofs of his recent work he went to call on Rudolph Wetstein,
who received them enthusiastically and advised Fleischman to set himself up as a
typefounder.
Fleischman did as he was advised. In 1734 he made the necessary tools and
moulds and cut a Roman and Italic for Small Pica, the body in the greatest demand.
They are now the Small Pica Roman N0.51 and the Small Pica italic N0.52 of our inventory
(%s- 73. V4> P-201)- He opened for business a year later; but whilst he made pro¬
digious efforts to furnish himself with the necessary types he was weighed down
by the cares of commerce. During 1735 he cut the punches for three Roman faces.
They are now the Bourgeois Roman No. 172, the Minion Roman No. 54, and the Nonpareil Roman
[*] J. de Passius, Een honderdta!, nieuwe gcestrybe raadzels, Utrecht Gracht after having had it in operation during 7І year at the
1788. This is the second edition and it was printed by house of the said widow). It is in the Museum Enschedé at
P.MuntendamforthefirmoftheWidowofS.deWaal&Son. Haarlem, стѵ 318 b.
[1] This is the inventory written by Govert Jan van Rijswijk, [2] See note 1 on p. 196, List of type-specimens No. 65.
the last owner of the Ploos van Amstel Foundry. It is headed [3] See List of type-specimens No. in.
Lyst van Stempels, Matryzen en Vormen, zynde de Lettergietery onder de [4] It was used for the text of the original edition of this
Firma Gebroeders Ploos van Amstel ; 31 July 1784, van Sara Troost book in 1908. .
We Jacob Ploos van Amstel M Dr gelocht, en 1° Mai 1792, verplaatst [5] See List of type-specimens No. 73.
opde Leydsche Graft; na dezelve ji ¡aar ten hiiize van gemeldc Wed«? ge- [6] Proef vande lettergietery van Izaak en Johannes Enschedé te Haerlem.
«cerceerd te hebben (List of Punches, Matrices, and Moulds, being List of type-specimens No. 74.
the typefoundry under the style of Brothers Ploos van Amstel ; [7] Proeve van letteren, Joh. Enschedé en Zoonen, Haarlem 1806. List
31 July 1784 bought from Sara Troost, widow of Jacob Ploos of type-specimens No. 146.
van Amstel, Med. Dr., and 1 May 1792 conveyed to the Leidse
!97