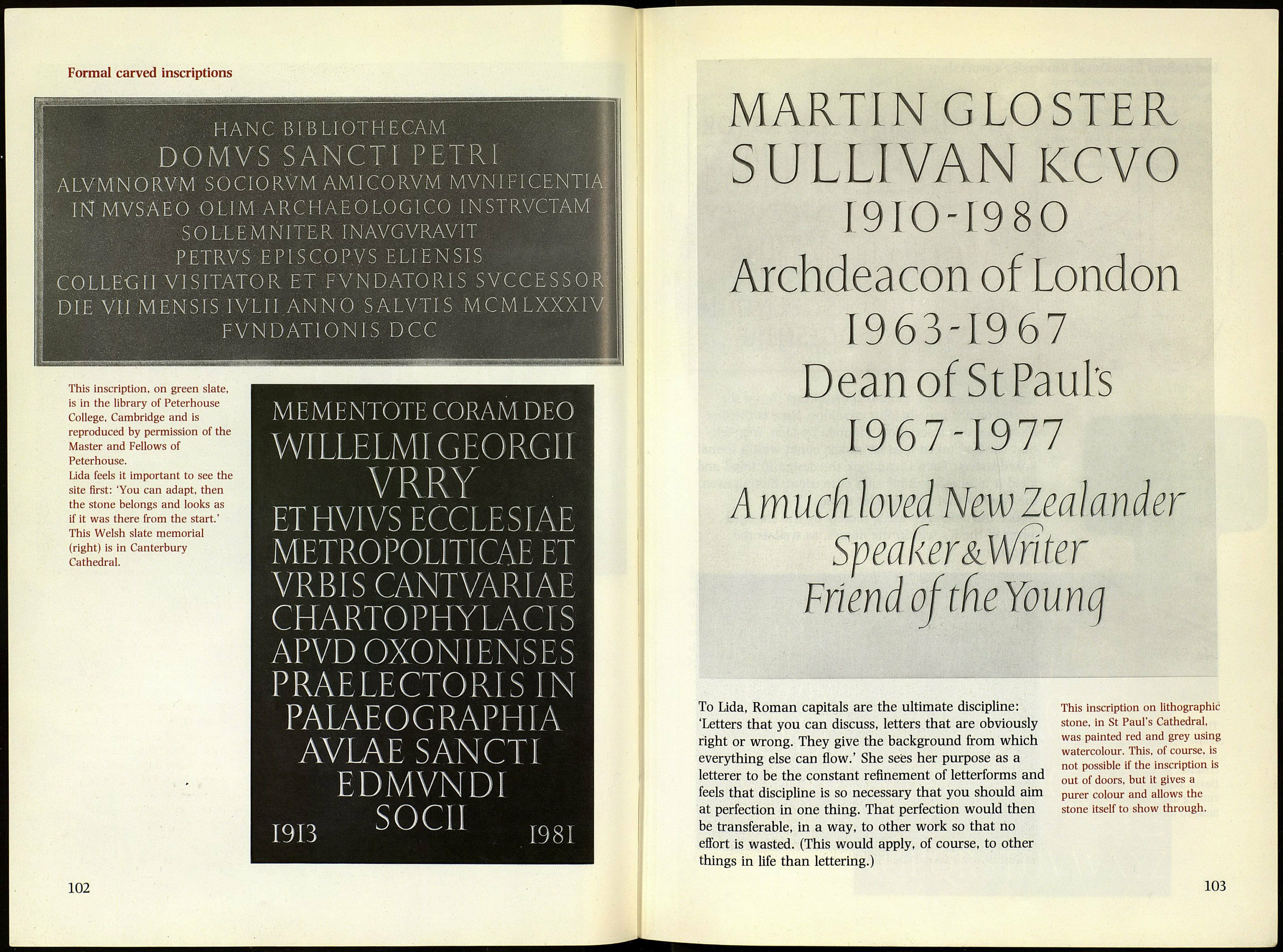 Formal carved inscriptions
HANG RIBLÍOTHECAM
î - DOMVS SANCII PETRI
ALVMNORVM SOCLORVM AMICORVM MVNÍFICENT1A]
IRMVSAEO OLIM.ARCHAEOLOGICO INSTRVCTAM
SOLLEMNÍTER INAVGVRAVIT
■PETRVS EPÍSCOPVS ELÍENSIS
COLLEGI! VISÍTATOR ET FVNDATORIS SVCCESSOP|.
DIE VHMENSÌS ÏVLII ANNO SALVTÍS MCM LXXXiVf
FVNDATIONIS DCG
This inscription, on green slate,
is in the library of Peterhouse
College, Cambridge and is
reproduced by permission of the
Master and Fellows of
Peterhouse.
Lida feels it important to see the
site first: 'You can adapt, then
the stone belongs and looks as
if it was there from the start.'
This Welsh slate memorial
(right) is in Canterbury
Cathedral.
MEMENTOTE CORAM DEO
WILLELMI GEORGI!
ETHVIVSECCLESIAE
METROPOLITICAE ET
VRBIS CANTVARIAE
CHARTOPHYLACIS
APVDOXONIENSES
PRAELECTORIS IN
PALAEOGRAPHIA
AVIAE SANCTI
EDMVNDI
soni
I9I3
981
102
MARTIN GLOSTEFl
SULLIVAN K.CVO
1910-19 80
Archdeacon of London
I963-I967
Dean of St Paul's
I967-I977
A much loved New Zeal ander
Speaker &Wrìter
Friend of tfieYouncj
To Lida, Roman capitals are the ultimate discipline:
'Letters that you can discuss, letters that are obviously
right or wrong. They give the background from which
everything else can flow.' She sees her purpose as a
letterer to be the constant refinement of letterforms and
feels that discipline is so necessary that you should aim
at perfection in one thing. That perfection would then
be transferable, in a way, to other work so that no
effort is wasted. (This would apply, of course, to other
things in life than lettering.)
103
This inscription on lithographic
stone, in St Paul's Cathedral,
was painted red and grey using
watercolour. This, of course, is
not possible if the inscription is
out of doors, but it gives a
purer colour and allows the
stone itself to show through.