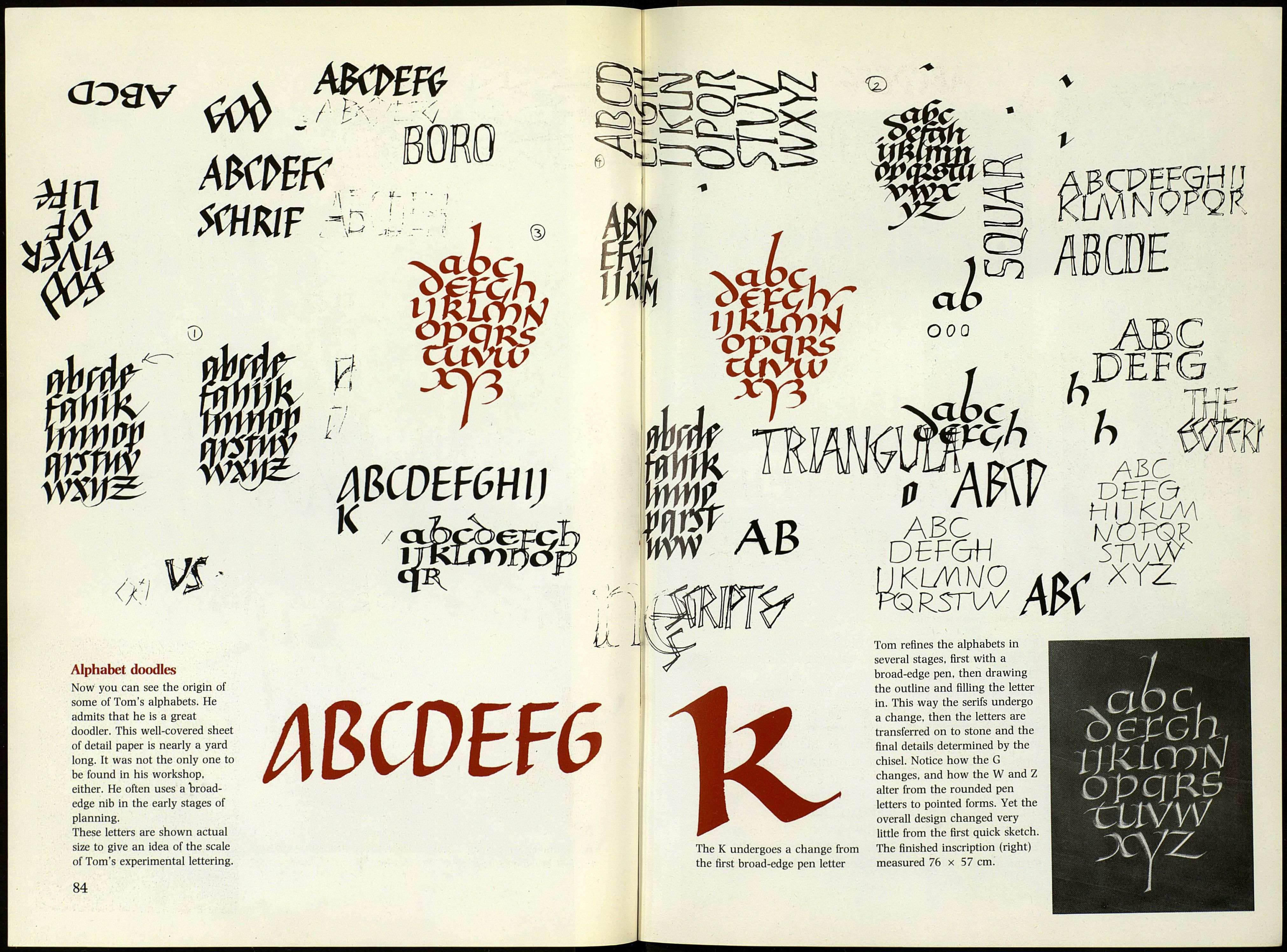 aD*v ^ J^№*
mm
}\
v~ r ■■ I
mm
0
Í-/
ABCDEFOHl)
'■. ■/ ¡
о
«¿
^Ä*
ЙГ AB
u.
Alphabet doodles
Now you can see the origin of
some of Tom's alphabets. He
admits that he is a great
doodler. This well-covered sheet
of detail paper is nearly a yard
long. It was not the only one to
be found in his workshop,
either. He often uses a broad-
edge nib in the early stages of
planning.
These letters are shown actual
size to give an idea of the scale
of Tom's experimental lettering.
84
ABCDEF6
The К undergoes a change from
the first broad-edge pen letter
CPEFSHÜ
OVWPQP.
mm.
OOQ
ABC
■ j ,DEFG_
ffhH/& fr
DEFG-H 5TVW
Tom refines the alphabets in
several stages, first with a
broad-edge pen, then drawing
the outline and filling the letter
in. This way the serifs undergo
a change, then the letters are
transferred on to stone and the
final details determined by the
chisel. Notice how the G
+ abc,
oezGh.
TiKlCO'N
changes, and how the W and Z
alter from the rounded pen
letters to pointed forms. Yet the
overall design changed very
little from the first quick sketch.
The finished inscription (right)
measured 76 x 57 cm.
орсцгѳ
'ШѴѴѴ
xsrz.