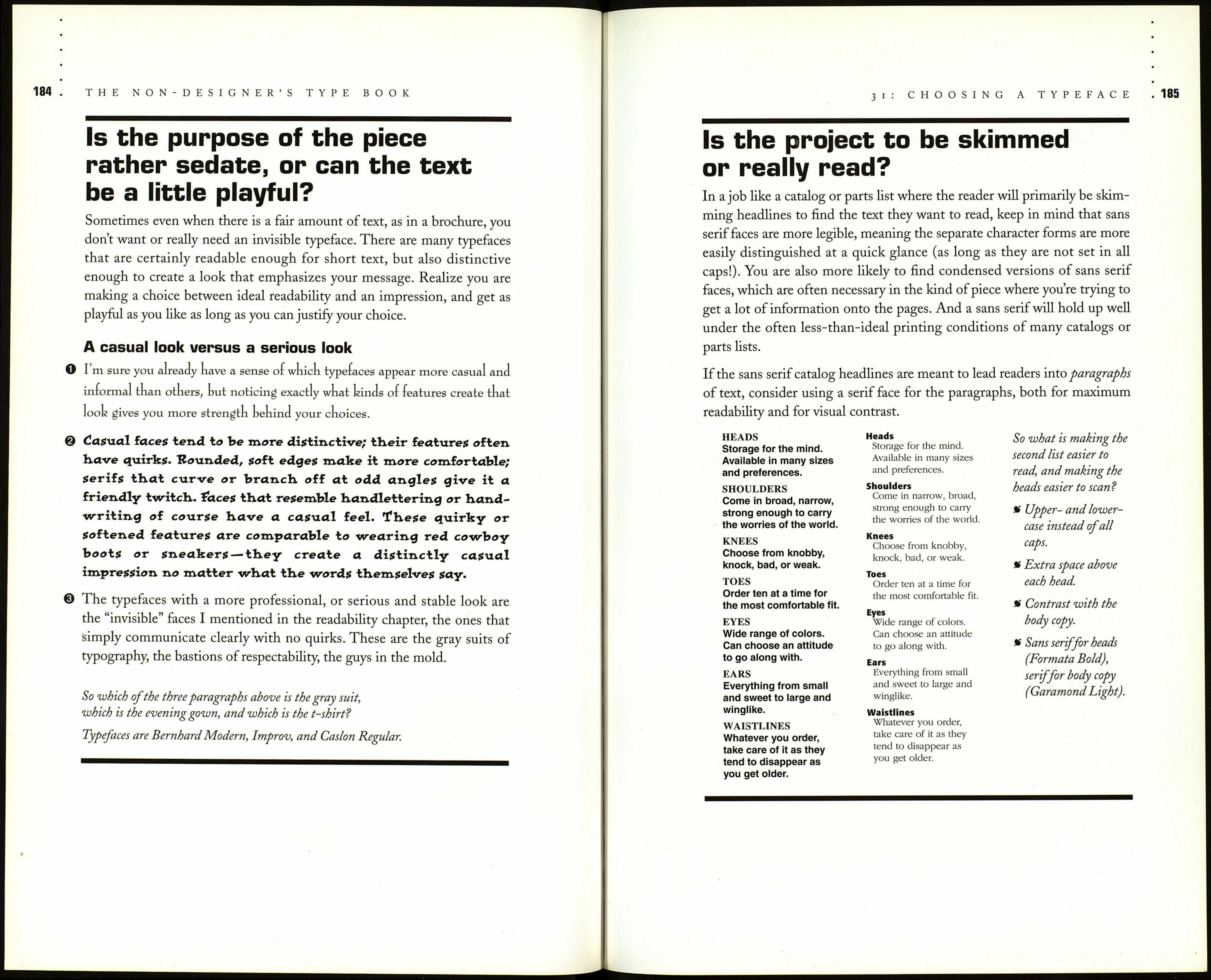 THE NON-DESIGNER'S TYPE BOOK
Is there an extensive amount
of text to read?
If you have an extended amount of text, as in a lengthy newsletter, an
annual report, or a book, you need a body typeface with maximum read¬
ability (remember Chapter 2?). Under the best printing conditions (high
resolution output, smooth paper, and a good printing press), try a classic
oldstyle for best readability. You are reading Caslon Regular right now,
which is a classic oldstyle.
Under the worst printing conditions, try a typeface in the slab serif
category that will still be extremely readable but will not fall apart in the
reproduction process.
This typeface will hold up well
even under the worst conditions,
is clean and orderly, has a business¬
like presentation, and would be
quite readable in extensive text.
This is Clarendon Light. It also
comes in this Clarendon Plain
which is a little heavier, and this
Clarendon Bold for a great and
sturdy impression.
Compare reading these two samples, plus the two paragraphs above the
samples. Do you get a feeling for which are easiest to read? Once you are
conscious of it, the details that make a typeface readable become obvious.
Typefaces are Bodoni Poster Compressed on the left, Clarendon family
on the right.
This typeface wonld give you a
headache in a long body of text.
In fact, don't yon lind it difficult
to read even in this short bit?
Great for headlines:
Hats off to you!
CHOOSING A TYPEFACE
183
Are you cramped for space,
or do you need to fill space?
You've probably noticed that different typefaces take up different amounts
of space, even at the same point size (see page 16 on the anatomy of type).
The most critical factor for this difference is the width of the characters.
Times has an average x-height, but the characters are slightly condensed to
fit more on the page. Other faces, such as Garamond, are more round and
open and fill a page easily. Plus, if a typeface is open, it also likes to have
extra line spacing and wider margins to complement its spaciousness,
which you can take advantage of to further fill the space.
There are entire books of type which display paragraphs of text set in
a wide variety of fonts. By comparing the paragraphs you can see which
fonts can fit more text in a given space at a given size. Check your local
public library or college library for type books.
Even though the two paragraphs below are both set in 10.5-point type, Times takes
up less space than Garamond. You can imagine if you had many columns of type!
14-pica line
The loss of the state of innocence in
which Baskerville looks like Bembo,
and Helvetica is indistinguishable
from Universe, has the compensating
advantage that we become more aware
of the tiny details and the 'subtle
allure' which go to make up the best
faces.
Sebastian Carter
Times 10.5/13
14-pica line
The loss of the state of innocence in
which Baskerville looks like Bembo,
and Helvetica is indistinguishable
from Universe, has the compensating
advantage that we become more
aware of the tiny details and the
subtle allure' which go to make up
the best faces.
Sebastian Carter
Garamond 10.5/13