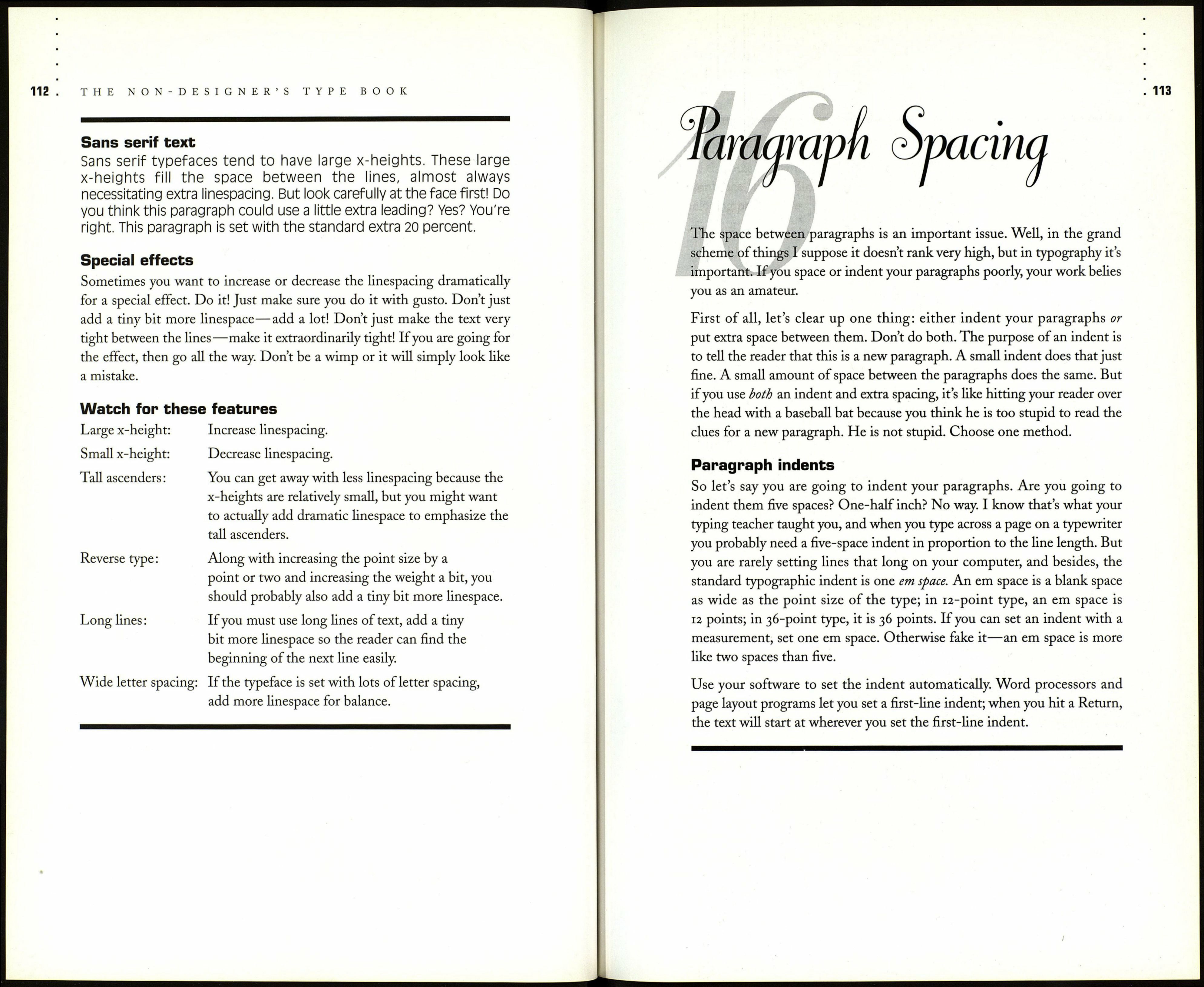 110. THE NON-DESIGNER'S TYPE BOOK
Not-so-average linespacing
Although 20 percent of the point size of the type is an average linespace,
there are many times when you need to change that. Here are details of
several clear-cut cases for when you must adjust linespacing, when you
might want to, and a guideline for what to look at to determine the
optimum linespacing for your text.
Headlines
If a headline runs two or more lines, you will probably need to decrease the
linespace. The average 20 percent is okay for body copy, around sizes 9 to
12, but above that it starts to become excessive, especially when you get into
sizes such as 48 and 72. Also in big headlines, take note of whether you
have descenders or not, and where they fall. If there are no descenders, you
really have to decrease the linespace.
The orchestra The orchestra
played egregiously P|aYed egregiously
Notice, above, how much extra space there appears to be between the
lines, especially since there are no descenders in the first line. You can
take out quite a bit of space, as shown in the example on the right.
The setting on the left is 18point type with a leading value of 21.6,
which is 20percent.
The setting on the right is 18-point type with a leading value ofl 7
(which is actually what's called a "negative" amount of leading).
Typeface is Trade Gothic Bold Two.
15: LINESPACING (LEADING)
All caps
When text is all caps, there are no descenders that drop into the line-
spacing, but every one of the letters reaches up to the full height of the
line. Because the words present such compact rectangles, you must be very
conscious of the linespacing.
IN SMALLER SIZES, SUCH AS BODY TEXT (WHY WOULD YOU SET ALL CAPS IN BODY
TEXT?), BE CONSCIOUS OF THE CROWDED FEELING THAT SOMETIMES HAPPENS
WITH ALL CAPS—BE LOOSE WITH LINESPACING.
THE PARAGRAPH ABOVE IS SET WITH AUTO LEADING, WHICH IS 120 PERCENT
OF THE POINT SIZE OF THE TYPE. IN THIS PARAGRAPH I ADDED A FEW EXTRA
POINTS OF LINESPACE TO LOOSEN AND LIGHTEN THE LOOK.
In large sizes, as in big headlines, the compact words emphasize the
amount of space between the lines; it can look disproportionate. You will
probably want to decrease the space between the lines so the entire head¬
line presents a compact package, rather than separate lines of packages.
THE DAYS ARE THE DAYS ARE
ENDLESSLY DULL ENDLESSLY DULL
Eurostile Bold, 15/18 Eurostile Bold, 15/16
If, for some reason, you need to set headlines or other large type
in all caps, you will probably need to remove some of the linespace.
Without the descenders, the space can appear to be excessive.