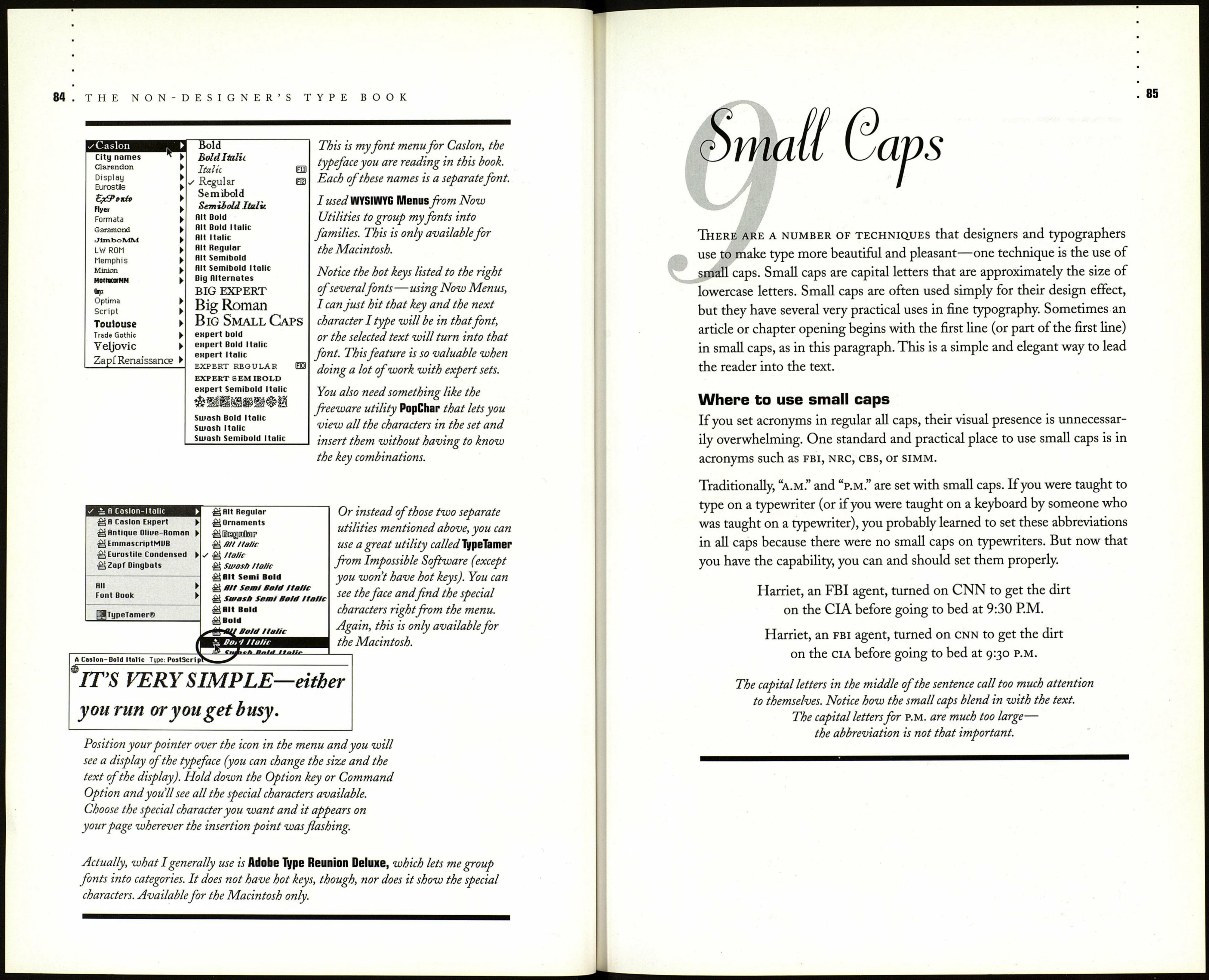 82
THE NON-DESIGNER'S TYPE BOOK
Realities of using expert sets
The deterrent to using expert sets in everyday work is that they are actually
different fonts that contain only the special characters. If you type an
address, for instance, you have to switch from your regular font to the
expert font for the numbers, then back to the regular font again. To use
the 3A-em dash you must change fonts for that one character. Every time
you add a swash character you must change fonts. In many expert sets, the
small caps font has no large caps at all, so every word that contains a regu¬
lar cap in addition to small caps requires two font changes. To simplify
matters you can often use search-and-replace. Or you might want to set up
a macro or quick-key for switching. For this book I have used the Caslon
expert set, and I use WYSIWYG Menus from Now Utilities on my Mac not
only because it keeps my font menu manageable, but because it also allows
me to set hot keys—I can type a key to change fonts. This makes using an
expert set so much more pleasant.
Another problem with the expert sets is that the vendors don't always
provide much information on the characters that are available, where they
might be useful, what some of those strange symbols are good for, or how
to access all of them. Some of the sets have hidden characters that are
difficult to discover, such as those that take four keys to produce (such as:
Option Y, then Shift N).
Font utilities
To find and use the special characters, you'll need an extra little font utility.
If you're on a Mac, go to www.shareware.com and download either the free
version or the inexpensive shareware version of PopChar, read the direc¬
tions, and use it. When you buy an Adobe expert set for the Mac, it comes
with a special utility called KeyCap which gives you a chart of the special
characters. If you're on a PC, use the Character Map that you find in your
Start menu. See Appendix С for more details. Mac users, you might want
to take a look at my book, How to Boss Your Fonts Around, Second Edition.
If you are adept at working with a large number of fonts, then you probably
already use a font management utility like Font Reserve, Suitcase, Adobe
Type Manager Deluxe, or Masterjuggler on the Mac, or Adobe Type
Manager Deluxe on a Windows machine. It's practically a requirement to
use one of these utilities (and a font menu utility) with the larger expert
font collections, like Adobe's Minion (22 fonts) or Linotype's Centennial
(17 fonts). The Caslon face I am using for this book totals 26 separate fonts.
8: EXPERT SETS
These families include such treats as more weights, swashes, display type,
titling caps, caption fonts, super- and subscript numbers in proportion to
the typeface, and/or ornaments.
The subtle distinctions the expert sets offer would have passed fairly unno¬
ticed in the general public years ago. But the level of type sophistication
has increased so dramatically across an incredible variety of professions, so
the subtle distinctions in type are now being noticed and appreciated. Even
though the changes are what some may call minor, the overall professional
effect comes through clearly.
As we drive up the river road, there
are sixty thousand trees I see but
do not touch. Like me, Amanda is
confined in the speeding jeep, but
she touches every tree.
notebook of Marx Marvelous
another roadside attraction,
by Tom Robbins
Я
S WE DRIVE UP THE RIVER ROAD,
there are sixty thousand trees I see
but do not touch. Like me, Amanda
is confined in the speeding jeep,
but she touches every tree.
«—-• notebook of Marx Marvelous
ANOTHER ROADSIDE ATTRACTION,
by Tom Robbins
This is just a simple
example of the difference
the specialty fonts in an
expert set can make in
apiece of type. To the left
is plain оГ Times Roman,
12/14.5.
This is Minion Regular,
11/16, with expert small
caps, display swash italic,
regular swash italic, and
an ornament.