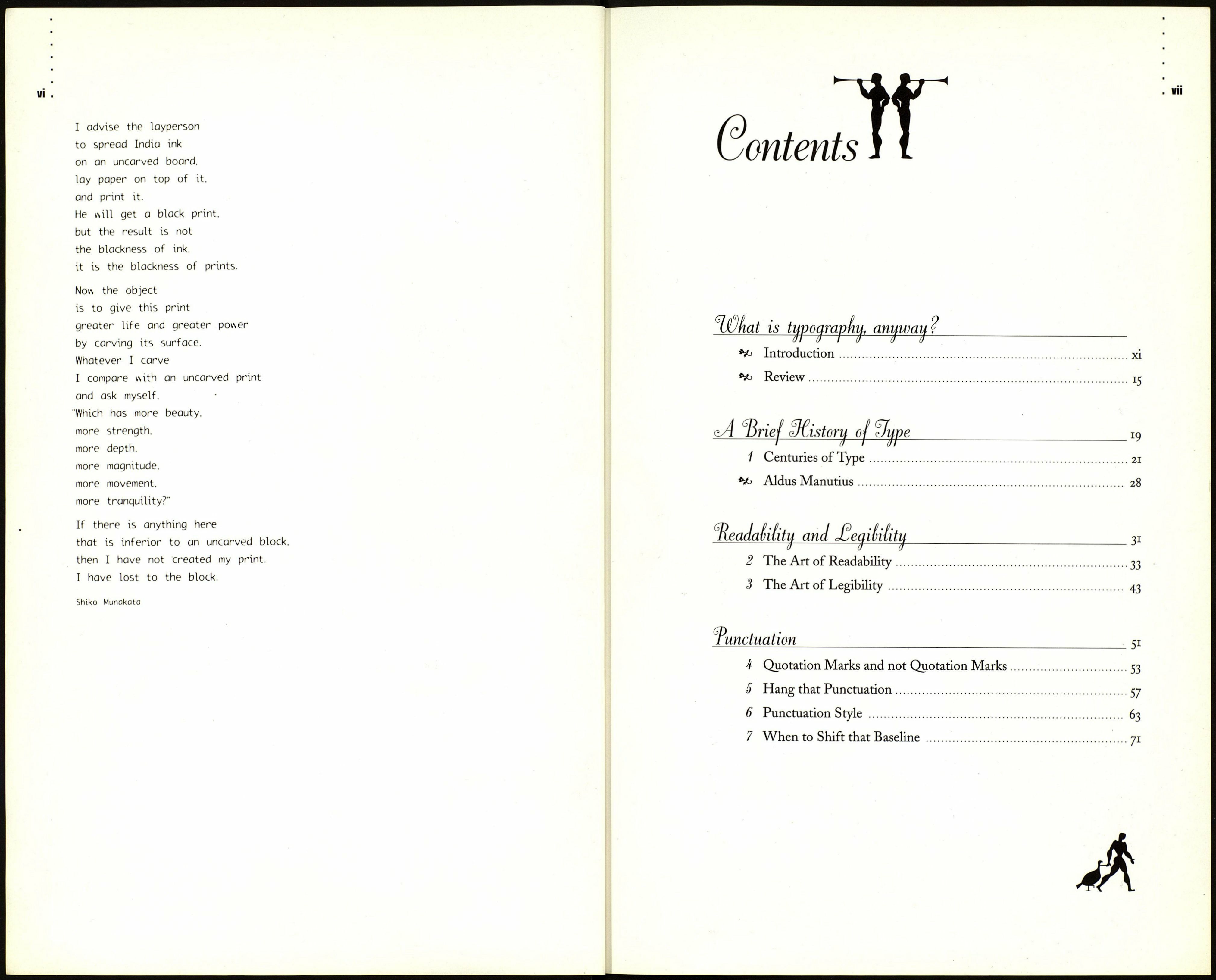 The Non-Designer's Type Book
Robin Williams
parts of this book were originally published as
Beyond The Mac is not a typewriter
Peachpit Press
1249 Eighth Street
Berkeley, California 94710
800.283.9444
510.524.2178 phone
510.524.2221 fax
Find us on the World Wide Web at www.peachpit.com
Peachpit Press is a division of Addison Wesley Longman
Copyright © 1998 by Robin Williams
Cover illustration and cover design by John Tollett
Interior design and production by Robin Williams
Editing and proofing of original book by Jenifer Blakemore
Much of the information in this book was previously printed
in various articles in various magazines over the past few
years, including Desktop Communications, Technique
Magazine, and Adobe Magazine. The chapter "Telltale Signs
of Desktop Publishing" was originally printed in slightly
altered form in Adobe Magazine, July/August 1995 under
the title "Thirteen Telltale Signs." ©1995 Adobe Systems,
Inc., all rights reserved.
Notice of Rights
All rights reserved. No part of this book may be reproduced
or transmitted in any form or by any means, electronic,
mechanical, photocopying, recording, or otherwise, without
the prior written permission of the publisher.
For information on obtaining permission for reprints and
excerpts, contact Gary-Paul Prince at Peachpit Press.
Notice of Liability
The information in this book is distributed on an "as is"
basis, without warranty. While every precaution has been
taken in the preparation of this book, neither the author nor
Peachpit Press shall have any liability to any person or entity
with respect to any liability, loss, or damage caused or
alleged to be caused directly or indirectly by the instructions
contained in this book or by the computer software and
hardware products described herein.
Trademarks
Throughout this book trademarked names are used.
Rather than put a trademark symbol in every occurrence of
a trademarked name, we state we are using the names only
in an editorial fashion and to the benefit of the trademark
owner with no intention of infringement of the trademark.
ISBN 0-201-35367-9
10 9 8 7 6 5
Printed and bound in the United States of America
Jo oAiian Jlateif
with aratemi appréciation
for inspirino, educating,
ana befriending me,