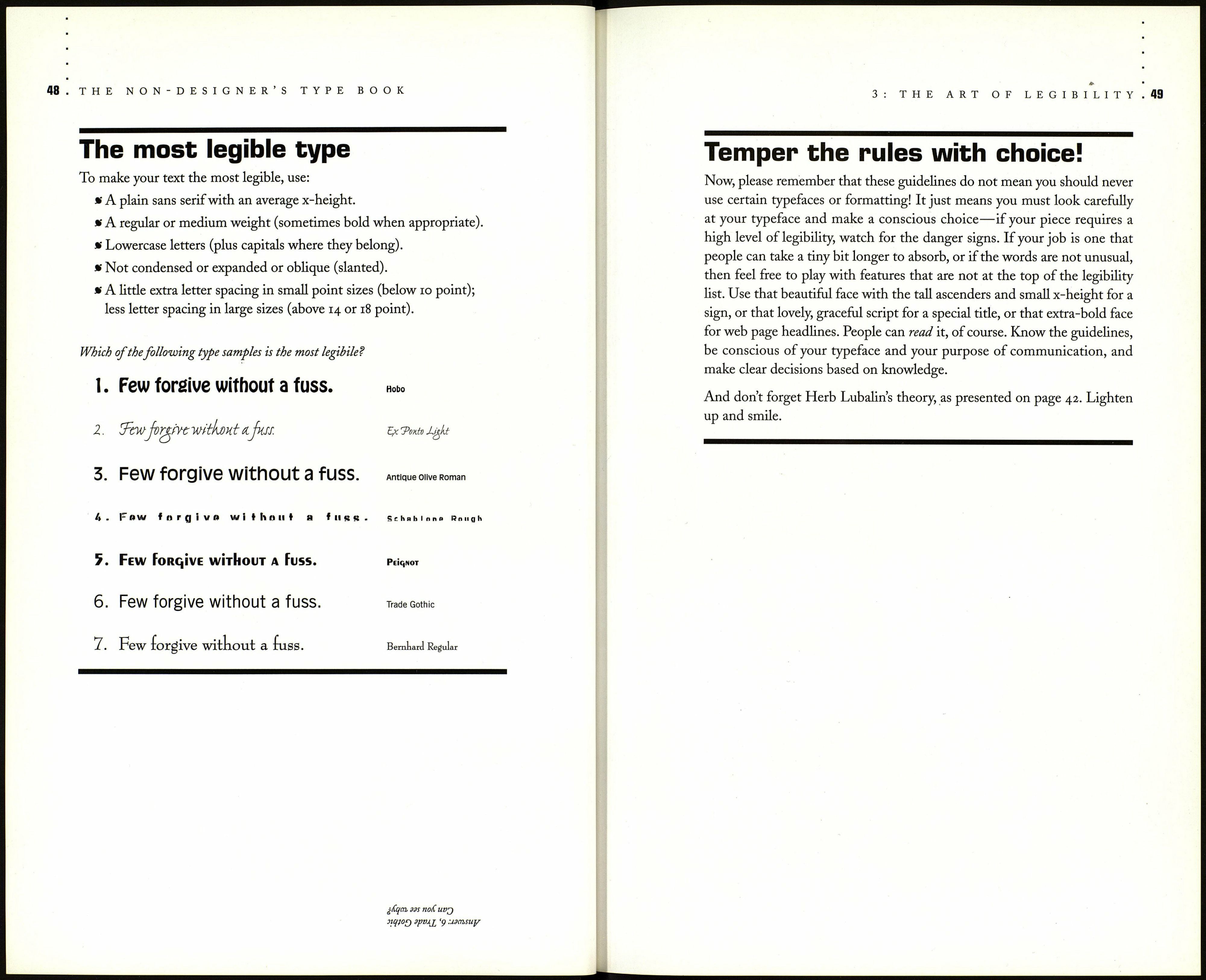 4B.THE NON-DESIGNER'S TYPE BOOK
Weight and proportion
* Extra-heavy or extra-thin weights are less legible. A good
solid bold, however, as long as it is not extra-heavy or
condensed, can enhance legibility by giving a substantial
contrast to the rest of the text. Por instance, headlines
are great in bold because the contrast of their weight
attracts attention against the background of gray, read¬
able text. But how do you like reading even this short
paragraph in an extra-bold face (Antique Olive Compact)?
*A monospaced font (such as Courier) creates
inconsistent letter and word spacing, which
makes it less legible (and less readable)
because our eyes have to keep adjusting to
the differences in spacing. Some faces are
so poorly spaced that words can be misread
at a glance.
* Using the computer to compress the typeface distorts its proportions and nrakes it less legible, If you want a compressed face,
buy a specially designed font. See Chapter 12 for details and more examples on this topic.
3: THE ART OF LEGIBILITY
All caps or
mixing caps and lowercase
* Mixing Lowercase And Caps In The Same Sentence Makes Type
Less Legible And Less Readable. Your Eyes And Brain Have To
Figure Out What's Going On Because We Are Not Accustomed
To Reading This Way. This Is Called Title Case And Is Meant
For Titles, Not Headlines Or Sentences.
KillÎNq ТІІѴ1Е TaI

This typeface, Peignot, is interesting but not particularly legibile.
Or readable. It mixes caps and lowercase in the middle of words,
confusing our pea brains.

• WORDS SET IN ALL CAPS ARE THE LEAST LEGIBLE OF
ALL, NO MATTER WHICH TYPEFACE YOU USE. MANY
PEOPLE THINK IF YOU SET TYPE IN ALL CAPS IT IS BIG¬
GER AND THEREFORE EASIER TO READ. Wrong. We
recognize words by their shapes as well as by their letters. Set in all
caps, all words have the same shape. Have you heard this before?

INDEPENDENCE АѴЕІ Independence Ave

CONSTITUTION AVE. Constitution Ave

MASSACHUSETTS AVE Massachusetts Ave

In Washington, D. C, the streets have long names.
The street signs are set in all caps, squished to fit into
the standard green shape. Consequently, you must get
very close to a sign to tell what it says. If the street
names were in upper- and lowercase, you would be
able to tell Independence Avenue from Constitution
Avenue long before you could actually read the letters.