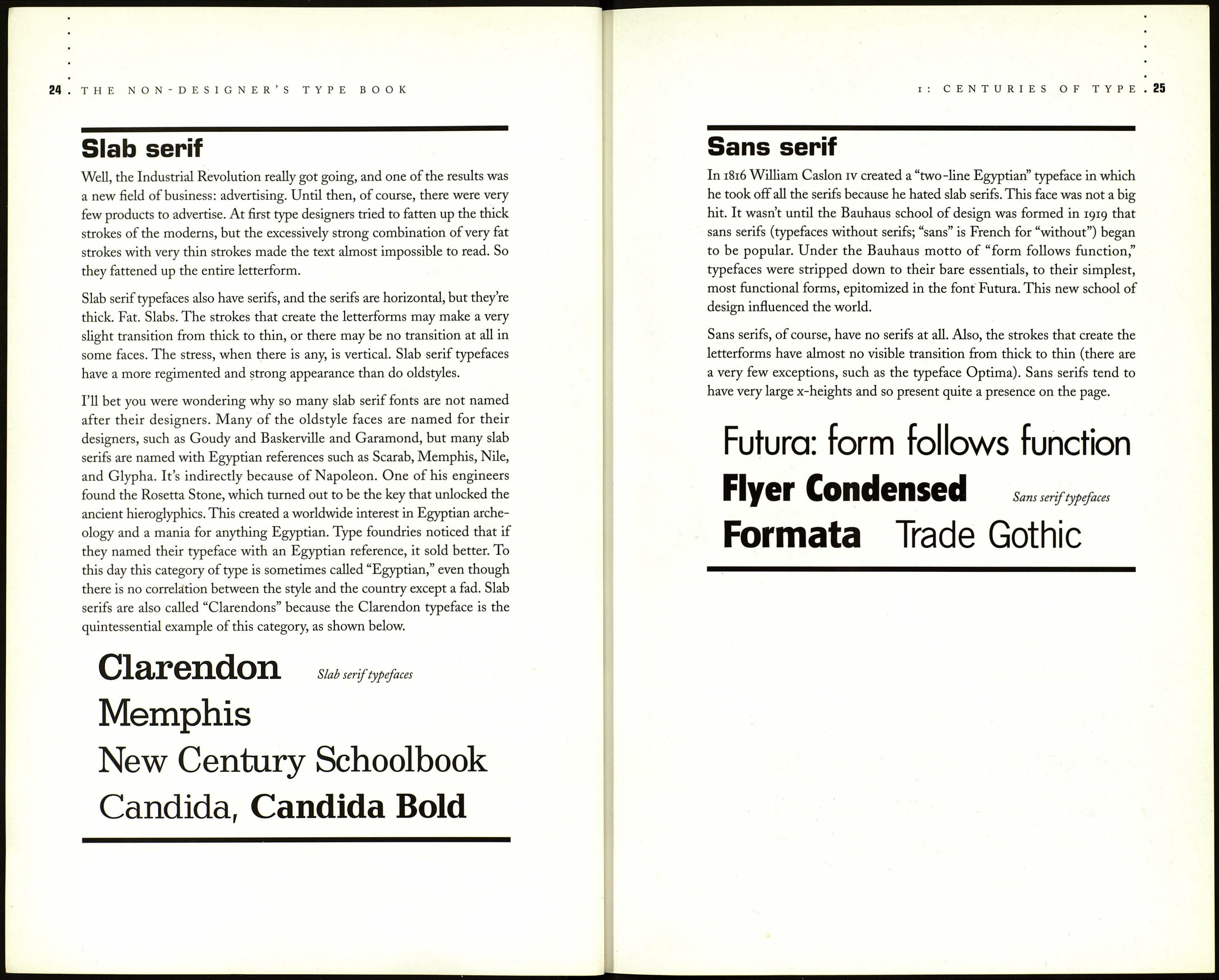 THE NON-DESIGNER'S TYPE BOOK
Oldstyle
The characteristics of the oldstyle typefaces originally developed out of the
traditional handlettering form, following the way the scribes held the pens
and drew letters. When moveable type was developed in the mid 1400s, the
letterforms that were carved out of metal resembled what everyone was
familiar with—letters formed with a broad-tipped pen held at an angle. At
that point in history, the only printed material was books. Big books.
Books that sat on lecterns and were read aloud from. Since the only project
for a printing press was to create books (there were no business cards or
bread wrappers yet), the first typefaces were eminently readable because
that's all they were supposed to be.
Oldstyle typefaces tend to have a warm, graceful appearance, and are the
best choice for setting readable, lengthy bodies of text. Classic oldstyles are
among the most "invisible," meaning that the character forms don't
interrupt the communication; usually there are no design characteristics
that trip your eye. The main body text for this book is set in a classic
oldstyle called Caslon.
Oldstyle typefaces always have serifs. The serifs on the lowercase letters
slant and are "bracketed," meaning the serifs connect to the main strokes
with a curve. The strokes make a gentle transition from thick to thin, as the
broad pen made naturally. And if you draw a line through the thinnest
parts of the rounded forms of a letter, the line is diagonal—this is called
the "stress"; oldstyle faces have a diagonal stress.
Caslon Minion
Garamond
Bembo Times
Oldstyle typefaces
Palatino
1: CENTURIES OF TYPE
Modern
Times changed. The world changed. Type changed. Typefaces in the
modern style were developed at a time when people were beginning to
view the world differently. America ushered in democracy, France ushered
out monarchy, the Industrial Revolution was underway, and political and
social theorists were establishing a more rational, mechanical view of the
universe and its inhabitants. Baroque, rococo, and oldstyle faces were ren¬
dered obsolete. Modern type reflected strict emphasis on structure and
form, and the last vestige of type's handwritten origins disappeared.
Modern typefaces have a sparkle and an elegance, but they also tend to
have a severe and cold appearance. They are not very readable; that is, they
are not often the best choice for lengthy or small text, as the strong thick/
thin contrast creates an effect called "dazzling" that is hard on the eyes.
Modern faces have serifs, but the serifs on all characters are horizontal and
very thin, with little or no bracketing (there is no curve where the serif
meets the stroke). The strokes that create the letterforms change radically
from thick to thin. The stress is now absolutely vertical.
Modern typefaces
Bodoni
Bodoiti Poster
Onyx Jimbo