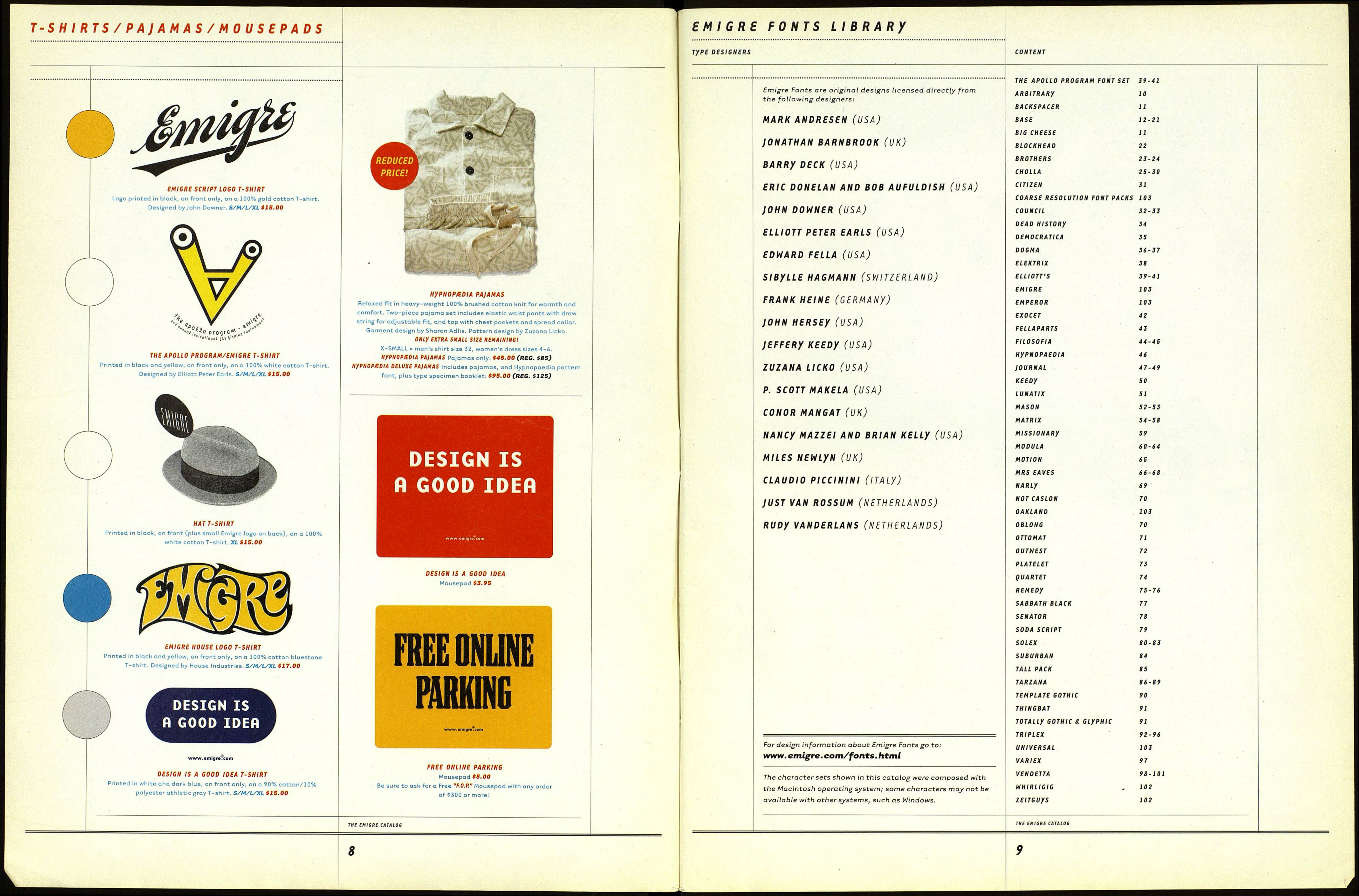 American Modernist
T"oEMijtbJttiir.«lfelfand
^^Г Щ ■ seno
vm Ж Д QUESTIONS
^~ Ш^^Ш CEVflP
1 !і i .! »!
Jñ ¡ШШ i ti fr fi fi
feriti «$Aen
otti г ЗЫепЛа
a
)C! life
. f~
g|¡ ¡n
■ ■ '
BOOKS
By DESIGNERS FOR DESIGNERS
1.LOOKING CLOSER 2: CRITICAL WRITINGS ON GRAPHIC DESIGN
Edited by Michael Bierut, William Drenttet, Steven Heller and DK
Holland. Published by Altworth Press. Co-published with the AIGA.
Looking Closer 2 addresses the issues that have sparked discourse and
discord over the past two years. And like the first, the second volume
serves as an ad hoc textbook of graphic design criticism. Featuring com¬
mentaries, manifestoes, reviews, editorials, and reportage by, among
others, Robin Kinross, Tibor Kaiman, Ellen Lupton, Katherine McCoy,
Véronique Vienne, Zuzana Licko, Rick Poynor, J. Abbott Miller, Jon
Wozencroft, Ellen Shapiro and Andrew Blauvelt.
272 Pages, 6.75 x 10 inches, softcover. $18.95
2.EMIGRE (THE BOOK): GRAPHIC DESIGN INTO THE DIGITAL REALM
Edited and designed by Emigre. Published by Van Nostrana Reinhotd.
In 1984 Emigre magazine set out to explore the as-yet-untapped and
uncharted possibilities of Macintosh-generated graphic design. Boldly
new and different, Emigre broke rules, opened eyes and earned its
creators, Rudy VanderLans and Zuzana Licko, cult status in the world of
graphic design. 96 Pages, 11 x 15 inches, softcover, over 300 illustrations,
with commentary from VanderLans and Licko. Essay by Mr. Keedy.
Regular Edition: $24.95 (2 item shipping rate).
Deluxe Edition: $50.00 (4 item shipping rate).
The Deluxe Edition of the book is hand-signed by the authors and
presented in a hand-made, cloth-covered slipcase.
Deluxe edition also includes THE EMIGRE MUSIC SAMPLER N0.3 CD
3.S0UL DESIGN
Works by 18 Graphic Designers. Curated and produced by Kali Nikitas.
This exhibition and catalog gave designers, who are often restricted by
client obligation, creative freedom and the opportunity to use their skills
to communicate something rooted in their own history. Eighteen graphic
designers were invited to submit one project-specific piece celebrating
someone who has hada profound and meaningful effect on their life.
Includes work by Allen Hori, Gail Swanlund, Jan Jancourt, Mike Kippenhan,
Sara Cambridge and others, as well as essays by Arthur Redman and Rob
Dewey. 40 pages, 11 x 17 inches, paperback. $25.00
4.PAUL RAND: AMERICAN MODERNIST
By Jessica Hetfand. Published by William Drenttel New York.
This book contains two long critical essays on Paul Rand, arguably the
most celebrated American graphic designer of this century. Helfand
explores Rand's particular form of modernism and his role in creating the
new visual language which revolutionized American design as both an art
and a business. Helfand offers fresh insights into Rand's passionate
interests in the European avant-garde, his seminal influence on American
design education, and the enduring relevance of his work for American
corporations, most notably for IBM. This is the first book on Rand since
his death in 1996, and brings to light fascinating contradictions that
make his legacy all the more distinctive. Designed by William Drenttel and
Jeffrey Tyson. Set in Filosofia.
86 Pages, 4.5 x 7 inches, paperback in dust jacket. $12.00
S.[****]
Four-Letter Word, or [****], is a magazine produced, designed,
authored, and published by Thirstype. "FINK" is the second issue in a
series of conceptual pop commentary that will focus on, look into, draw
from, and fuck with, any and everything that captures the authors'
attention. Better yet, [****] will allow the readerto indulge in excessive
production values and maximum rejuvenation of the self. Each edition
will be limited to 1,000 copies. 32 Pages, 8.5 x 12.25 inches, velour
softcover with embossed bunny logo. $20.00
6.PALM DESERT
The first book of photographs by Emigre magazine creator Rudy
VanderLans. It is based on the music and lyrics of Los Angeles-based
composer Van Dyke Parks and pays tribute to both Parks and Southern
California. Somewhere between fact, fantasy and fiction, this book
visualizes the environment evoked in Parks's 1968 composition "Palm
Desert," and echoes his creative approach of blending classical,
historical, vernacular and environmental themes. The result is a mix of
fan's tribute, documentary photography, impressionism, and experi¬
mental music review. With essays by Brian Schorn and Kenneth FitzGerald.
The book also includes a bonus music CD containing the original track
"Palm Desert" by Van Dyke Parks, as well as three adaptations by Emigre
Music recording artists Itchy Pet, Honey Barbara, and Elliott Peter Earls.
Playing time 21 minutes. 96 pages, 5.5 x 8.5 inches, 75 full color and
duotone photographs, cloth coverwith blind emboss, case bound, with a
CD attached in the back. Í24.95
7.AND SHE TOLD 2 FRIENDS
Edited £ designed by Kall Nikitas.
This catalog documents an exhibit held at Woman Made Gallery in
Chicago, Illinois, in June 1996. And She Told 2 Friends celebrates the
female network that exists within the global design community and seeks
to acknowledge the link between contributions made by women and the
support and admiration that exists among them. By inviting two women
to submit work and asking each one to do the same, and so on, this
exhibit curated itself. Each designer chose their own submission, and
provided the text accompanying their work together with their reasons for
inviting their two "friends." Includes work by Barbara Glauber, Rebeca
Méndez, Denise Gonzales Crisp, Ellen Lupton, Robynne Raye, Lorraine Wild
and others.44 Pages, 9.25 x 13 inches, softcover, perfect bound. $9.95
8.50 QUESTIONS 50 ANSWERS
Published by 124/3.
This booklet was published on the occasion of Emigre in Istanbul:
An Exhibition of Typographic Design. Featuring a lenghty interview with
Emigre's Rudy VanderLans presented in both Turkish and English.
Produced and designed by Turkish designer Esen Karol.
48 pages, 5.75 x 7.875 inches, paperback in dust jacket. $12.00
9.THE GOOD LIFE [BLISS IN THE HILLS]
A Thirst production.
Written and designed by Rick Valicenti for the Friends of Gilbert. This lush
book is meant as "a mid-life celebration of turning fortyfive, twenty-
three years of marri age... and two years of working at home with family,
friends, and the occasional glitch in the software." The book is "starring
his family and friends in the hood."
24 Pages, 18 x 11.875 inches, softcover, including dye-cut transparent
pages. Hand-signed by the creators. $30.00
10. RUST BELT
Composed and Recorded by Orangeftux: Kristina Meyer and Matt Fey.
Rust Belt is graphic music; an expression of lyrics, harmonies and rhythms
composed with type. Each of the fourteen tracks found on Rust Belt use
typefaces created by Orangeflux to complement and communicate lyrical
content. Instruments ranged from the classical (ink pen, letterpress,
lead rubbings, and rubber stamps) to the more modern (computer,
copier, scanner and laser printer). Guest artists include, Steve Gariepy,
Patrick Dorey, -Sam Meyer and Allen Parmelee, Limited signed and
numbered edition. Only 468 copies pressed.
The 24 page, visual recording is offset pressed in one color, slipped into a
die-cut dust cover, and placed in a 12x12 inch letterpressed, gatefold
sleeve. Also included is a 12x36 inch, 2-sided, 2-color poster. $30.00
11.LESSONS IN URBAN EDUCATION:
AN OUTDOOR PROJECT FROM SWALLOW PRESS (X2)
Published by Swallow Press (x2).
This is the original project that formed the basis for the visual essay
created by Swallow Press (x2) for Emigre °53. Using the streets and
sidewalks of Portland as their stage, artist team Swallow Press (x2)
strives to challenge traditional notions of art, ownership and authorship
in the public sphere. Lessons In Urban Education, presented during the
fall of 1999, was a city-wide campaign consisting of posters containing
non-linear images and text meant to inject art into the everyday. 2000
posters were stapled to telephone poles and wild-posted throughout the
Portland Metropolitan area encouraging viewers to play an active role in
interpreting, decoding and understanding the six-part "story" they
present. A limited number of posters remains and are available for
purchase.
Poster, 23.5 x 36 inches, offset printed on matte coated stock in full color
on both sides, presented folded in custom designed envelope. $12.00
12. THE CULTURE OF AESTHETIC POVERTY
Published by Titanium.
Edited and designed by Kevin Grady, The Cuiture of Aesthetic Poverty is a
collection of essays, poetry, and photographs exploring design and social
responsibility. The book features contributions from architects Brenda
Case Scheer and David Scheer, RES Media creative director Colin Metcalf,
Interior Design Hall of Famer Arnold Friedmann, psychotherapist F. Patrick
Grady, and renowned comic artist R. Crumb. The book decries the lack of
value placed on aesthetics in American society. "If aesthetics have any
innate value," writes Metcalf, "it is as marketing toot. Designers are not
to explore the leading edge of their professions. They are service dolts
who are to fulfill a market agenda by simply providing the expected and
facilitating sales projections."
64 pages, 5x7 inches, softcover. $12.00
13. CHEW ON IT: NEW GEHRE HYBRID LANGUAGE
Edited byjonjicha and Deborah Litttejohn. Designed by D. Littlejohn.
This book is the result of documentation, writing, and representation
of elements within an exhibition bearing the same title at Western
Carolina University in February 1999. The exhibition featured digital audio
and video works by artists/designers Marion Delhees, Elliott Peter Earls,
P. Scott Makela, Laurie Haycock-Makela, and Piotr Szhalski. These artists
were invited because of their inherent interest in developing new
connections between language, content, and culture. The publication
extends this examination of language and the connections between
traditional ranges of media information, and our associations with these
new technological forms. Essay byjonjicha and Deborah Littlejohn.
Interview with Piotr Szhalski. 32 pages, 8.25 x 10.75 inches, over 100
illustrations, 36 in color, softcover. $15.00
14.EMIGRE (EXHIBITION CATALOG)
Edited and designed by Emigre. Published by Drukkerij Rosbeek bv.
In February 1998 Emigre received the Charles Nypels Award, an award
which is assigned once every two years to an individual or institution that
has made significant innovations in the area of typography. On the
occasion of this event an exhibition of the work of Emigre was held at the
Jan van Eyck Academy in Maastricht, Holland, and an accompanying
catalog was published and printed by Drukkerij Rosbeek bv. The catalog,
which was designed and compiled by Emigre, features essays by Rick
Poynor and Lorraine Wild, a selection of quotes from back issues, as well
as samples of Emigre's layouts and typefaces.
72 Pages, 7.75 x 7.75 inches, softcover with fiaps, perfect bound. $20.00
THE EMIGRE CATALOG