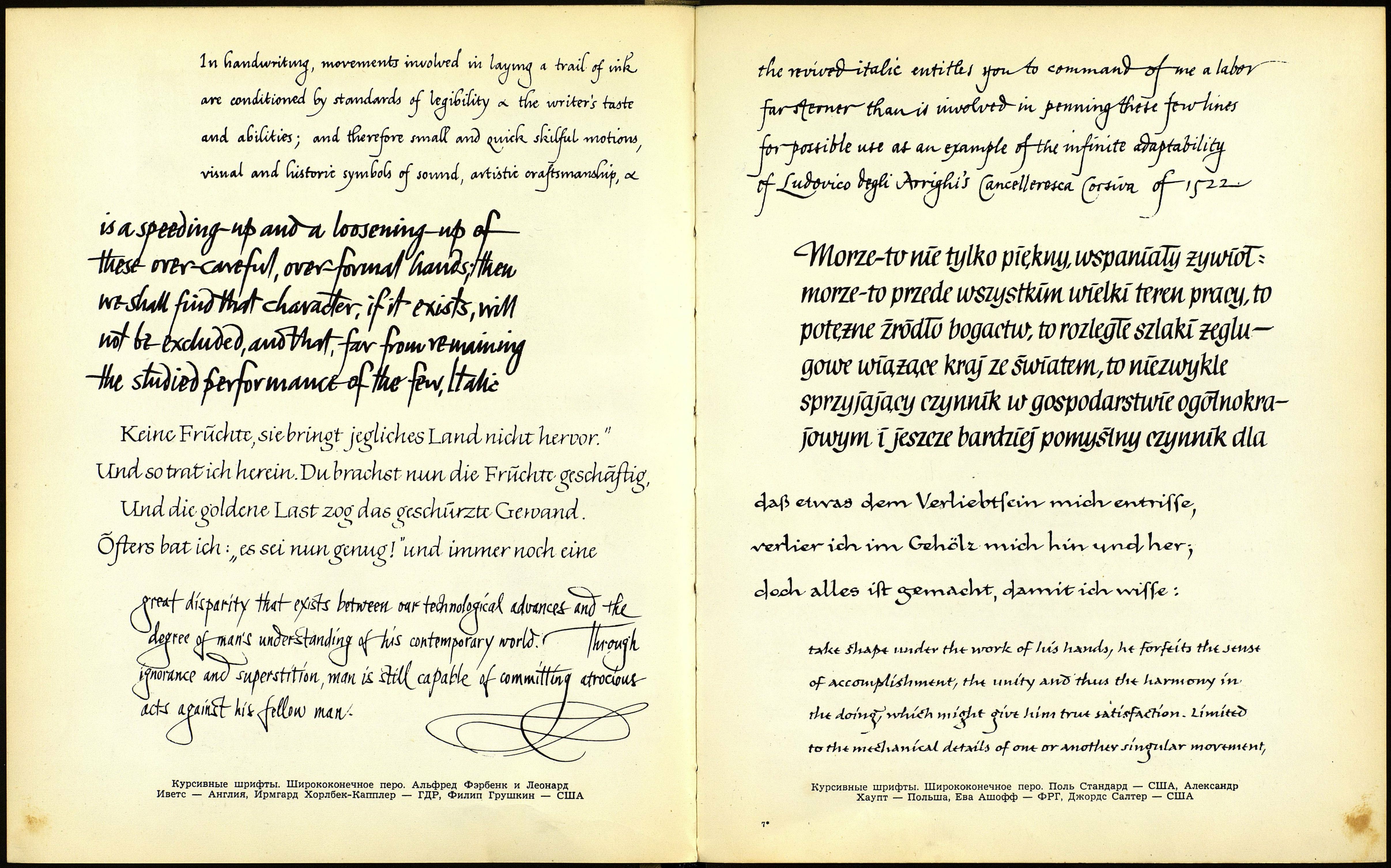 Draw ш thy beams, and humííc aü thy miqht
To that sweet yoke where (ostina freedoms he ;
which breaks me Jouás ana ovens forth the (iqht
That doth both shine and awe us sxaht to see.
О take fast hotí1 (et that (iqht he thy quide
s
The alphabet U one oi ine c\rec\JteóT~
'wwbnfcwvbZ of mowvkUvò. тке 2& leMw
owe смл ил4л&пЛаллсе Jrcrm fhe ѵоѵгісилл
ncvtmvi ihoAr Çxcwe keA/bed tb оіеѵеАяЬ
Иге awts erf- wwti>na owwi reoxowvxa.
( f с , i 'li ских художников. Широко-
\Ѵ\еЛЛ hOW€ C\ ЩАТОУѴ) OJOXYiq vCACJbL конечное перо. Вверху —
*J U ^У »_/ Альфред Фэрбенк, в сере-
,/ . J дине — Эдвард Джонстон,
tnÜUéCWlUló О J- H€(W3'. внизу — Хезера Чайльд
Курсивные шрифты англий¬
ских художников. Широко-
"~У^яп/к )JOi^-fn- уЫяААільа 90 р<лАлсллАіа -fa hnAwrncd.- ^Ше^и^ТНалл' U-лл M, Ілаі Уіи^ рілАЬлЬсЛ
(Лаа/Ò уілоо i ал™ лЛЪх, АгъЛимЛ/(м, ~h у>АгсеЛ слЛ> л^иѵ
гсАм/Гіл, аЛІ bìvt іл/Мс ілАілсЛл WtiA bç&*" €

Курсивные шрифты англий¬
ских художников. Широко¬
конечное перо. Вверху —
Аубрей Уест, в середине —
Шейла Уотерс, внизу — Берт-
гольд Уолп

DertaMf jiifj ins Rédito
Ift егоѵш (dm und groß í