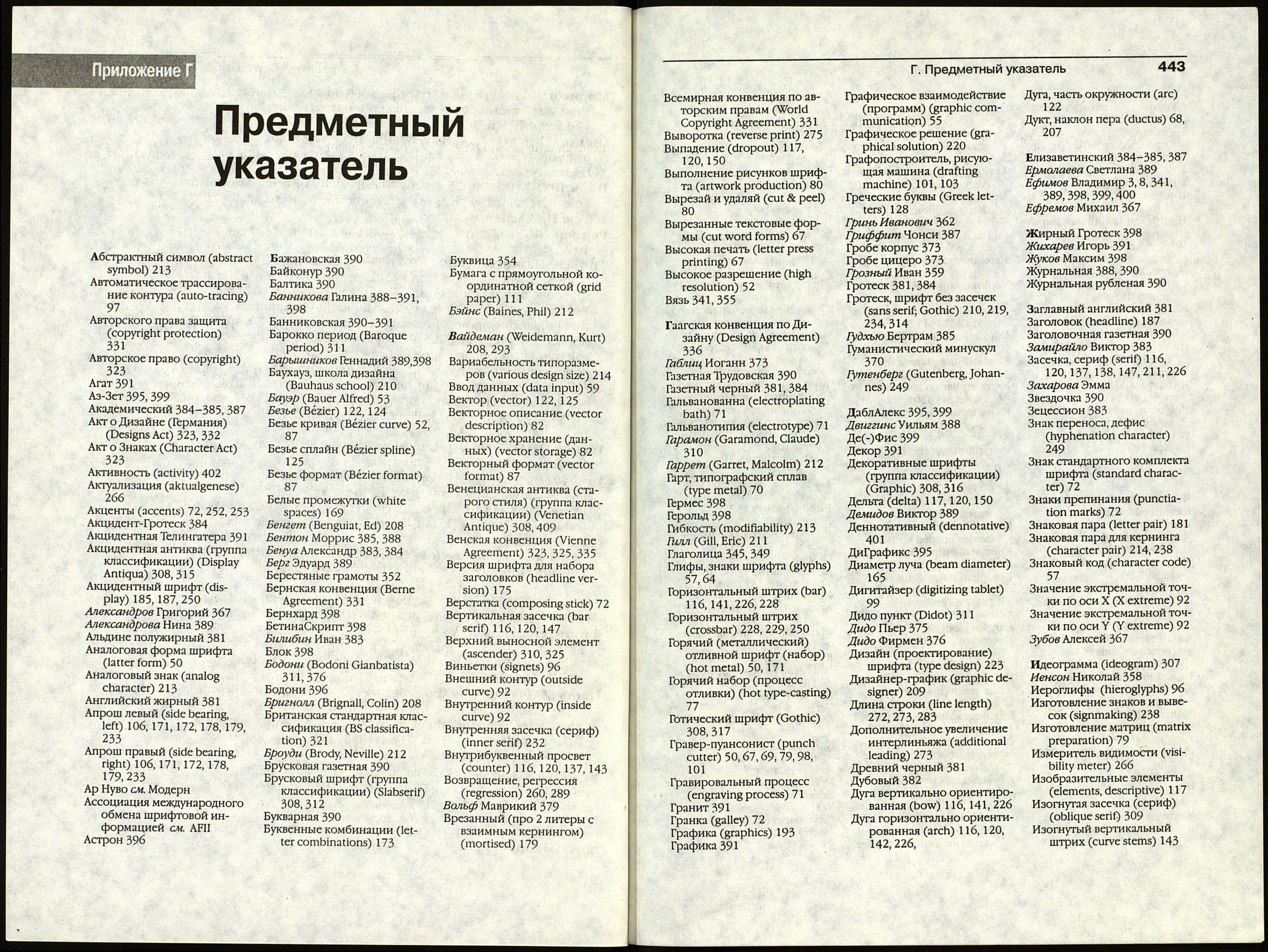 Приложение В
Список литературы
Боссард (Bosshard H. R.) «Technische Grundlagen zur Satz¬
herstellung», Band 1, Verlag des Bildungsverbandes Schweizeri¬
scher Typografen Bst, Bern, 1980.
Вайдеманн [WEI] (Weidemann K.) (1982): Biblica: Designing a
new typeface for the Bible. Visible Language, 16,49—61, (1981):
Biblica. Eine neue Schrift für die Bibel. Deutscher Drucker
(Satztechnische Beilage) Nr. 34-, 22. X. 1981, S. 1 —16.
Вендт [WEN] (Wendt D.) 1965: Untersuchungen zur Lesbarkeit
von Druckschriften, Bericht Nr. 2: Die Aufstellung eines geeigne¬
ten Lesetextes zur Untersuchung der Lesbarkeit von Schriften
und die Abschätzung des erforderlichen Stichprobenumfanges.
Hamburg: Vervielf. Manuskr., Psychologisches Institut der
Universität Hamburg.
Вендт [WEI] (Wendt D.) Semantic Differentials of Typefaces as a
Method of Congeniality Research, The Journal of Typographic
Research, Vol. II, 1,1968.
Вендт [WE2] (Wendt D.) Probleme und Ergebnisse psychologisch¬
er Lesbarkeitsforschung, Drick-Print 107,1,1970.
Гауди (Goudy F. W.) «The Alphabet and Elements of Lettering»,
University of California Press, Berkeley/Los Angeles, 1942.
Джонсон [JON] (Johnson B.) Optical Scaling Master's Thesis for
RIT, 1987.
Джонстон (Johnston E.) «Schreibschrift, Zierschrift und ange¬
wandte Schrift», Leipzig, 1910, und «Writing and illuminating and
lettering», London, 1906.
Капр [KAP] (Kapr A.) «Schriftkunst», VEB Verlag der Kunst, Dres¬
den, 1971.
Каров [KAR] (Karow P.) Digitale Schriften, Springer Verlag,
Heidelberg 3/92.
Картер [CAR] (Carter H.) Optical Scaling in Typefounding,
Typography 4,1937.
Келбел [KEL] (Kelbel G.) «Der Schutz typografischer Schriftzei¬
chen», Heymanns Verlag, Köln, 1984.
Киндерсли (Kindersley D.) «Optical letter spacing», in The
Penrose Annual, The International Review of the Graphic Arts,
Vol. 62, biz. 167—176, Lund Humphries Publishers Ltd., London,
1969.
Масинг [MAS] (Masing W. (Hg.)) Handbuch der Qualitäts¬
sicherung, München, Wien, 1980.
В. Список литературы
Морисон (Morison S.) «First principles of typography», Cambridge,
1936. «Letter forms, typographic and scriptorial», London, 1968.
«On Script Types», The Fleuron 4, London, 1925.
Овинк (Ovink G. W.) «Legibility, atmosphere-value and forms of
printing types», A. W. Suithoffs Uitgeversmaatschappij n.v.,
Leiden, 1938.
Пайк [PYK] (Pyke R. L) (1926): The legibility of print. Medical
Research Council, Reports of the Commission on the Legibility of
Type. H. M. Stationary Office, London.
Реннер [REN] (Renner P.) «Die Kunst der Typographie», Bern,
1939.
Тинкер, Патерсон [TIP] (Tinker M. A., Paterson D. G.) (1928):
Studies of typographical factors influencing speed of reading: I.
Influence of type form on speed of reading. Journal of Applied
Psychology, 12, 359—368, (1929): Studies of typographical fac¬
tors influencing speed of reading: III. Length of line. Journal of
Applied Psychology, 13,205—219, (1936): Studies of typographi¬
cal factors influencing speed of reading: XIII. Methodological
considerations. Journal of Applied Phychology, 20, 132—145,
(1949): Speed of reading in nine point type in relation to line
width and leading. Journal of Applied Psychology, 33, 81—82,
(1950): Typography and legibility. In: Fryer, D. H. & Henry, E. R.
(eds.): Handbook of Applied Psychology. New York.
Трейси [TRA] (Tracy W.) «Letters of Credit», a view of type design,
Longon, 1986.
Трибус (Treebus K. F.) «Het zetten van vreemde talen. Tips voor het
juiste gebruik van accenten, hoofdletters, leestekens e.d. in het
Deens, Duits, Engels, Esperanto, Fins, Frans, Fries, Hongaars, Iers,
Indonesisch, Italiaans, Latijn, Noors, Pools, Portugees, Roemeens,
Servo-Kroatisch, Slowaaks, Sloweens, Spaans, Tsjechisch, Turks,
IJslands, Zuidafrikaans en Zweeds, alsmede beknopte regels voor
het afbreken van woorden», Staatsuitgeverij, 's-Gravenhage,
1971.
Унгер [UNG] (Unger G.) Vortrag über Schokoladenbuchstaben
während der TYPE 90, Oxford, 1990.
Фрутигер (Frutiger A) «Schrift — Ecriture — Lettering. Die
Entwicklung der europäischen Schriften, in Holz geschnitten»,
Verlag des Bildungsverbandes Schweizerischer Buchdrucker,
Zürich, 1951.
Цапф [ZAP] (Zapf H.) «About alphabets. Some marginal notes on
type design», New York, I960. Deutsche Ausgabe: «über
Alphabete», Frankfurt am Main, i960. «Manuale typographicum
I-II», Frankfurt am Main, 1954/1958, und «Typographische
Variationen», Frankfurt am Main, 1963.
Чихольд (Tschichold J.) «Die neue Typographie», Berlin, 1928.
«Geschichte der Schrift in Bildern», Basel, 1946, und «Meisterbuch
der Schrift», Ravensburg, 1952.
Ряд научных статей, упоминавшихся в гл. 12 и 13 и в
приложении А.
441