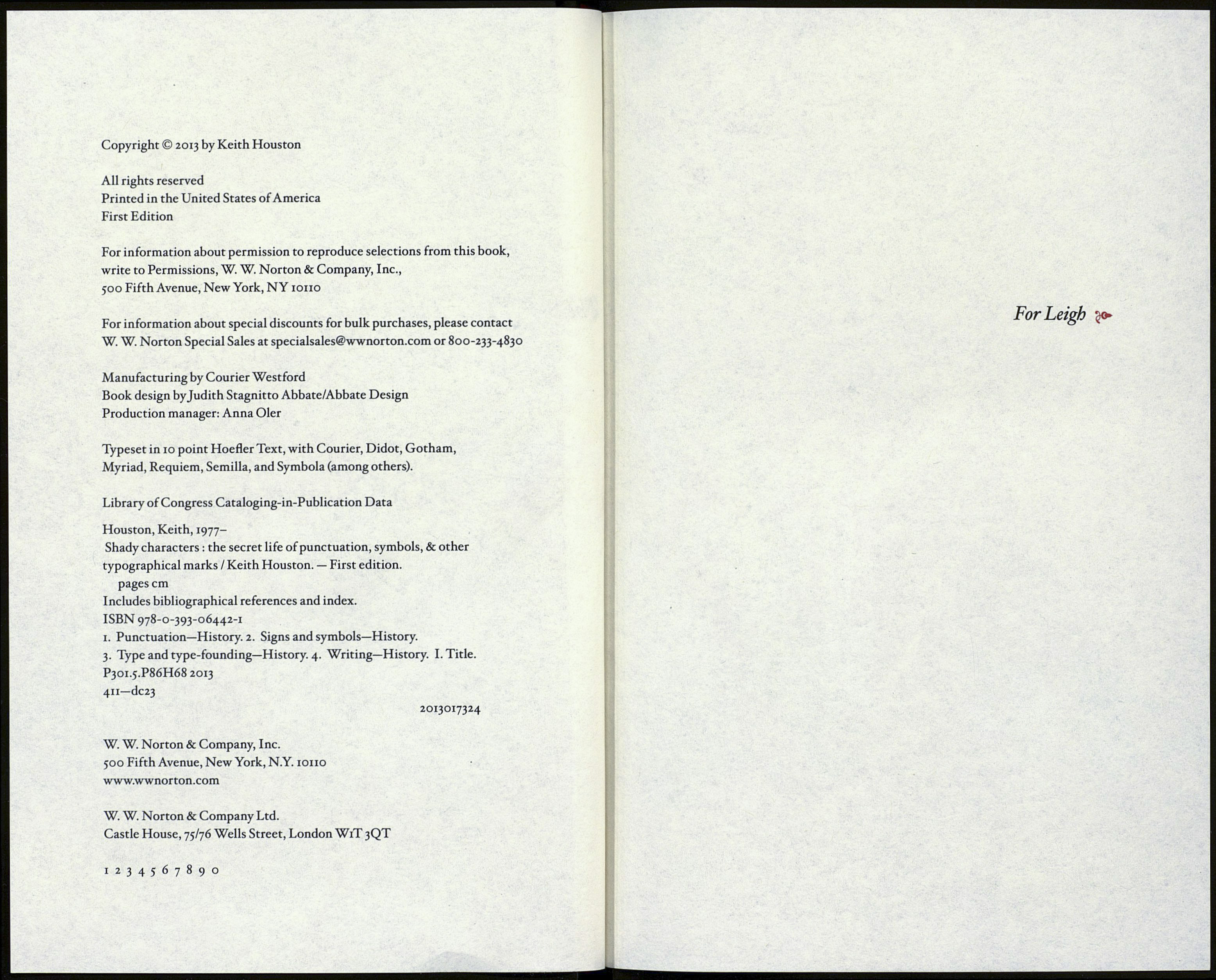 Copyright © 2013 by Keith Houston
All rights reserved
Printed in the United States of America
First Edition
For information about permission to reproduce selections from this book,
write to Permissions, W. W. Norton & Company, Inc.,
500 Fifth Avenue, New York, NY юно
For information about special discounts for bulk purchases, please contact
W. W. Norton Special Sales at specialsales@wwnorton.com or 800-233-4830
Manufacturing by Courier Westford
Book design byjudith Stagnitto Abbate/Abbate Design
Production manager: Anna Oler
Typeset in 10 point Hoefler Text, with Courier, Didot, Gotham,
Myriad, Requiem, Semilla, and Symbola (among others).
Library of Congress Cataloging-in-Publication Data
Houston, Keith, 1977-
Shady characters : the secret life of punctuation, symbols, & other
typographical marks / Keith Houston. — First edition,
pages cm
Includes bibliographical references and index.
ISBN 978-0-393-06442-1
I. Punctuation—History. 2. Signs and symbols—History.
3. Type and type-founding—History. 4. Writing—History. I. Title.
P301.5.P86H68 2013
411—dc23
2013017324
W. W. Norton & Company, Inc.
500 Fifth Avenue, New York, N.Y. юно
www.wwnorton.com
W. W. Norton & Company Ltd.
Castle House, 75/76 Wells Street, London WiT 3QT
1234567890
For Leigh 50«