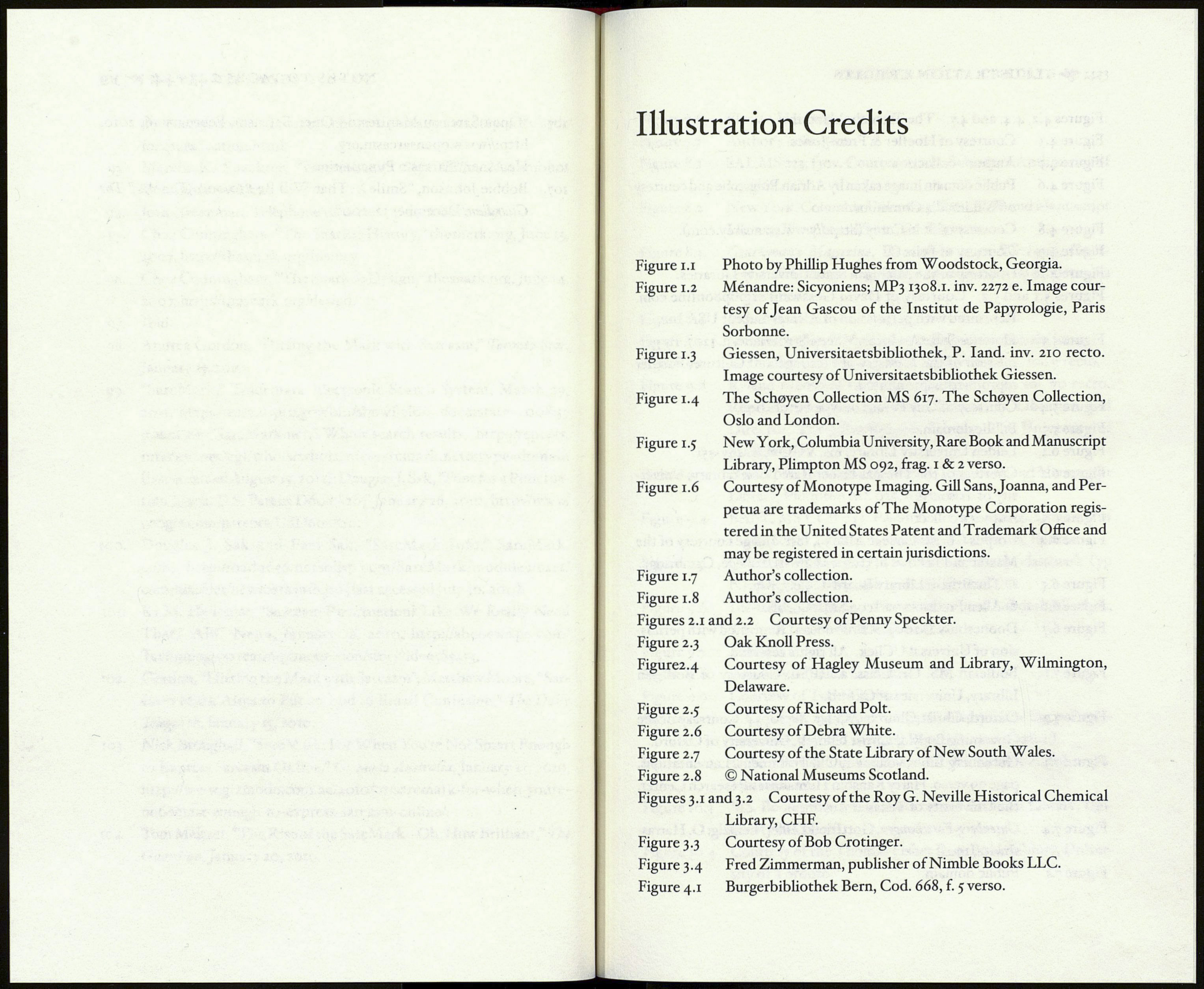 Illustration Credits
Figure 1.1 Photo by Phillip Hughes from Woodstock, Georgia.
Figure 1.2 Ménandre: Sicyoniens; MP3 1308.1. inv. 2272 e. Image cour¬
tesy of Jean Gascou of the Institut de Papyrologie, Paris
Sorbonne.
Figure 1.3 Giessen, Universitaetsbibliothek, P. land. inv. 210 recto.
Image courtesy of Universitaetsbibliothek Giessen.
Figure 1.4 The Sc hoyen Collection MS 617. The Schoyen Collection,
Oslo and London.
Figure 1.5 NewYork, Columbia University, Rare Book and Manuscript
Library, Plimpton MS 092, frag. 1 & 2 verso.
Figure 1.6 Courtesy of Monotype Imaging. GUI Sans, Joanna, and Per¬
petua are trademarks of The Monotype Corporation regis¬
tered in the United States Patent and Trademark Office and
may be registered in certain jurisdictions.
Figure 1.7 Author's collection.
Figure 1.8 Author's collection.
Figures 2.1 and 2.2 Courtesy of Penny Speckter.
Figure 2.3 Oak Knoll Press.
Figure2.4 Courtesy of Hagley Museum and Library, Wilmington,
Delaware.
Figure 2.5 Courtesy of Richard Polt.
Figure 2.6 Courtesy of Debra White.
Figure 2.7 Courtesy of the State Library of New South Wales.
Figure 2.8 © National Museums Scotland.
Figures 3.1 and 3.2 Courtesy of the Roy G. Neville Historical Chemical
Library, CHF.
Figure 3.3 Courtesy of Bob Crotinger.
Figure 3.4 Fred Zimmerman, publisher ofNimble Books LLC.
Figure 4.1 Burgerbibliothek Bern, Cod. 668, f. 5 verso.