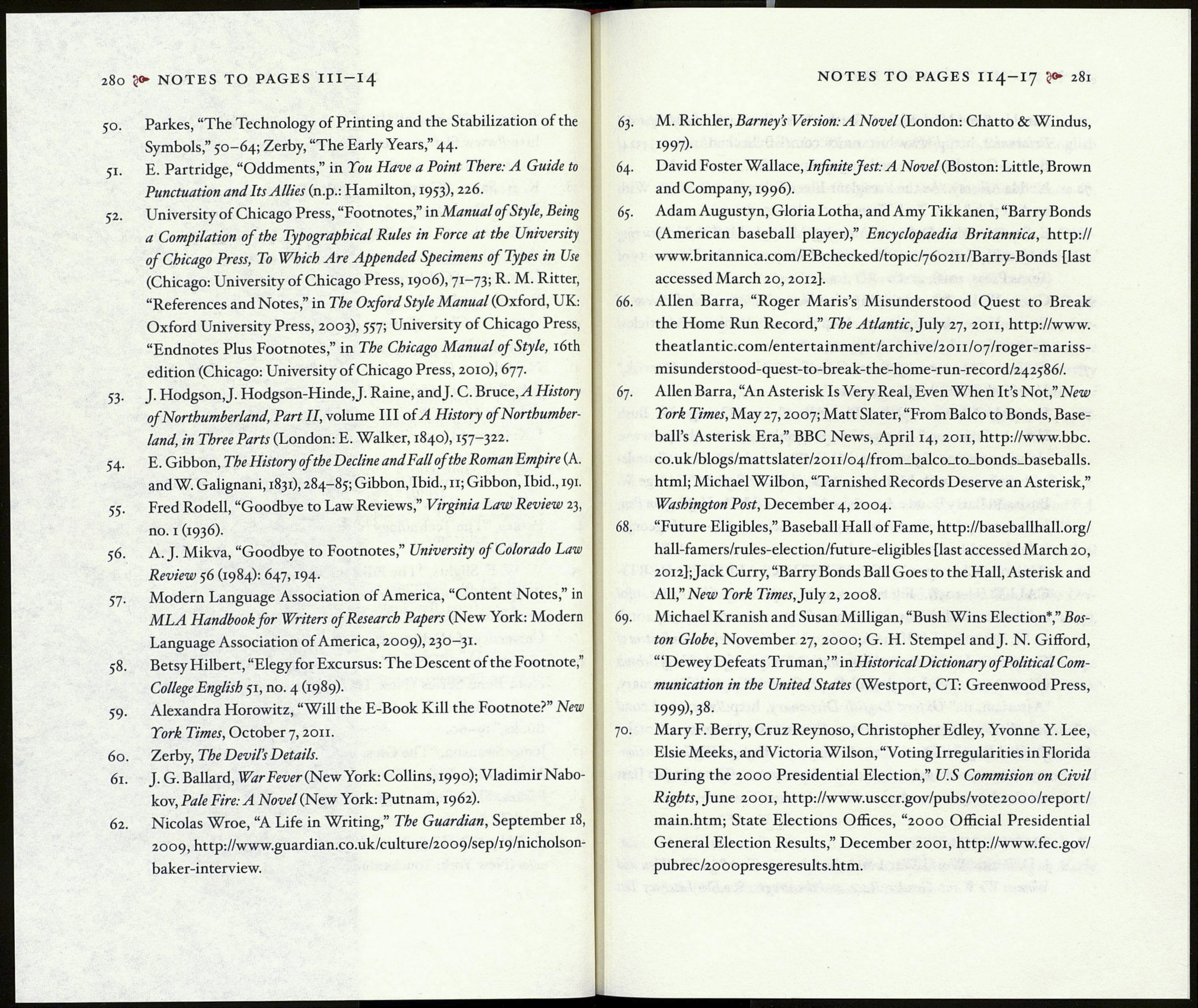 280 ?<► NOTES TO PAGES HI-14
jo. Parkes, "The Technology of Printing and the Stabilization of the
Symbols," 50-64; Zerby, "The Early Years," 44.
51. E. Partridge, "Oddments," in You Have a Point There: A Guide to
Punctuation and Its Allies (n.p.: Hamilton, 1953), 226.
52. University of Chicago Press, "Footnotes," in Manual of Style, Being
a Compilation of the Typographical Rules in Force at the University
of Chicago Press, To Which Are Appended Specimens of Types in Use
(Chicago: University of Chicago Press, 1906), 71-73; R. M. Ritter,
"References and Notes," in The Oxford Style Manual (Oxford, UK:
Oxford University Press, 2003), 557; University of Chicago Press,
"Endnotes Plus Footnotes," in The Chicago Manual of Style, 16th
edition (Chicago: University of Chicago Press, 2010), 677.
53. J. Hodgson, J. Hodgson-HindeJ. Raine, andj. C. Bruce, A History
of Northumberland, Part II, volume III of A History of Northumber¬
land, in Three Parts (London: E. "Walker, 1840), 157-322.
54. E. Gibbon, The History of the Decline and Fall of the Roman Empire (A.
and W. Galignani, 1831), 284-85; Gibbon, Ibid., ix; Gibbon, Ibid., 191.
55. Fred Rodell, "Goodbye to Law Reviews," Virginia Law Review 23,
no. i (1936).
56. A. J. Mikva, "Goodbye to Footnotes," University of Colorado Law
Review 56 (1984): 647,194.
57. Modern Language Association of America, "Content Notes," in
MLA Handbook for Writers of Research Papers (New York: Modern
Language Association of America, 2009), 230-31.
58. Betsy Hilbert, "Elegy for Excursus: The Descent of the Footnote,"
College English 51, no. 4 (1989).
59. Alexandra Horowitz, "Will the E-Book Kill the Footnote?" New
York Times, October 7,2011.
60. Zerby, The Devil's Details.
61. J. G. Ballard, War Fever (New York: Collins, 1990); Vladimir Nabo¬
kov, Pale Fire: A Novel (New York: Putnam, 1962).
62. Nicolas Wroe, "A Life in Writing," The Guardian, September 18,
2009, http://www.guardian.co.uk/culture/2009/sep/19/nicholson-
baker-interview.
■
NOTES TO PAGES II4-I7 281
63. M. Richler, Barney's Version: A Novel (London: Chatto & Windus,
1997X
64. David Foster Wallace, Infinite Jest: A Novel (Boston: Little, Brown
and Company, 1996).
65. Adam Augustyn, Gloria Lotha, and Amy Tikkanen, "Barry Bonds
(American baseball player)," Encyclopaedia Britannica, http://
www.britannica.com/EBchecked/topic/760211/Barry-Bonds [last
accessed March 20,2012}.
66. Allen Barra, "Roger Maris's Misunderstood Quest to Break
the Home Run Record," The Atlantic, July 27, 2011, http://www.
theatlantic.com/entertainment/archive/2011/07/roger-mariss-
misunderstood-quest-to-break-the-home-run-record/242586/.
67. Allen Barra, "An Asterisk Is Very Real, Even When It's Not," New
York Times, May 27,2007; Matt Slater, "From Balco to Bonds, Base¬
ball's Asterisk Era," BBC News, April 14, 2011, http://www.bbc.
co.uk/blogs/mattslater/2011/04/from_balco_to_bonds_baseballs.
html; Michael Wilbon, "Tarnished Records Deserve an Asterisk,"
Washington Post, December 4,2004.
68. "Future Eligibles," Baseball Hall of Fame, http://baseballhall.org/
hall-famers/rules-election/future-eligibles [last accessed March 20,
2012]; Jack Curry, "Barry Bonds Ball Goes to the Hall, Asterisk and
Ail," New York Times,}uly 2,2008.
69. Michael Kranish and Susan Milligan, "Bush Wins Election*," Bos¬
ton Globe, November 27, 2000; G. H. Stempel and J. N. Gifford,
'"Dewey Defeats Truman,' " in Historical Dictionary of Political Com¬
munication in the United States (Westport, CT: Greenwood Press,
1999), 38.
70. Mary F. Berry, Cruz Reynoso, Christopher Edley, Yvonne Y. Lee,
Elsie Meeks, and Victoria Wilson, "Voting Irregularities in Florida
During the 2000 Presidential Election," U.S Commision on Civil
Rights, June 2001, http://www.usccr.g0v/pubs/v0te2000/rep0rt/
main.htm; State Elections Offices, "2000 Official Presidential
General Election Results," December 2001, http://www.fec.gov/
pubrec/20oopresgeresults.htm.