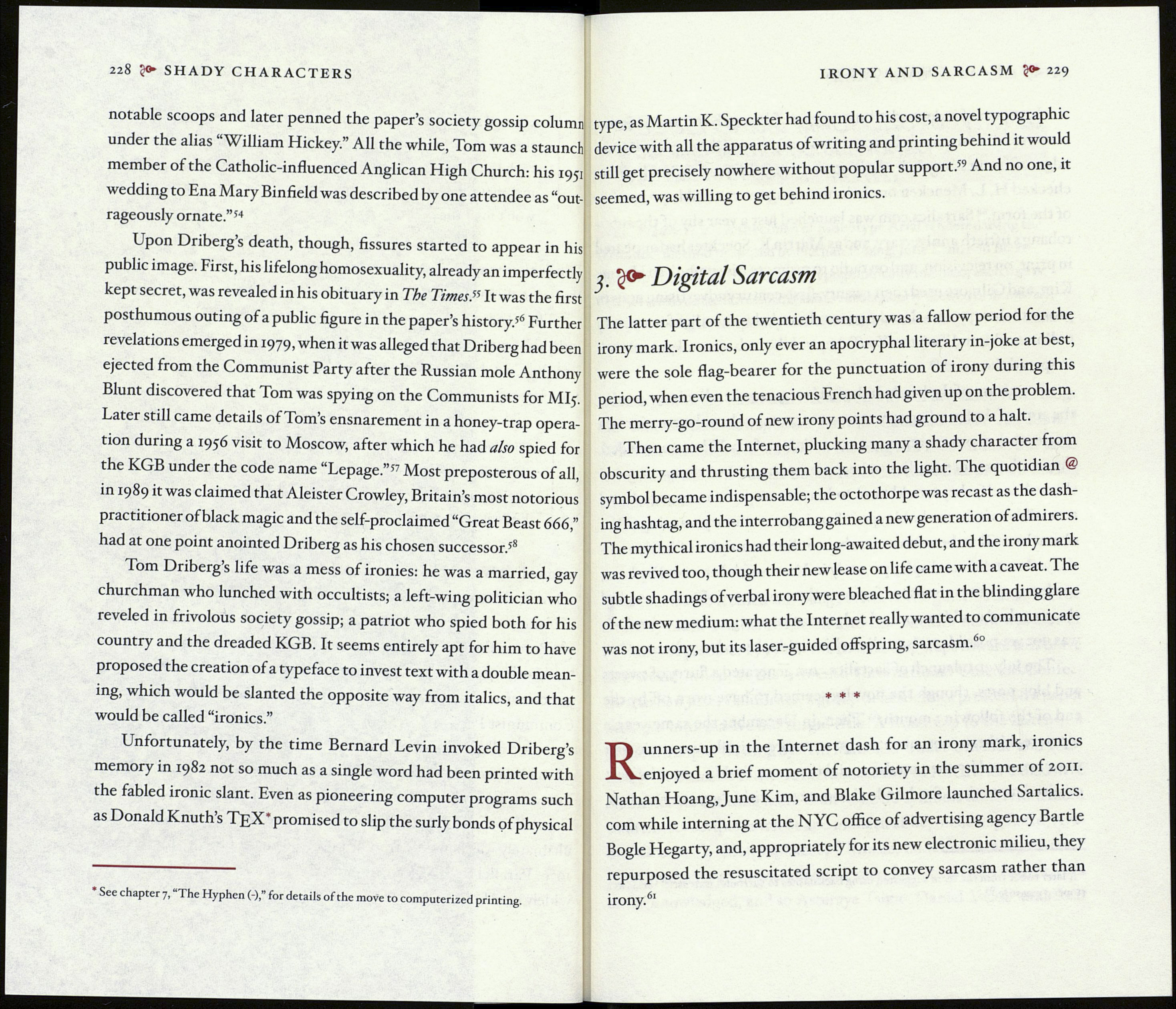 228 Ço. SHADY CHARACTERS
IRONY AND SARCASM 229
notable scoops and later penned the paper's society gossip column
under the alias "William Hickey." All the while, Tom was a staunch
member of the Catholic-influenced Anglican High Church: his 1951
wedding to Ena Mary Binfield was described by one attendee as "out¬
rageously ornate."54
Upon Driberg's death, though, fissures started to appear in his
public image. First, his lifelong homosexuality, already an imperfectly
kept secret, was revealed in his obituary in The Times." It was the first
posthumous outing of a public figure in the paper's history.56 Further
revelations emerged in 1979, when it was alleged that Driberghad been
ejected from the Communist Party after the Russian mole Anthony
Blunt discovered that Tom was spying on the Communists for MI5.
Later still came details of Tom's ensnarement in a honey-trap opera¬
tion during a 1956 visit to Moscow, after which he had also spied for
the KGB under the code name "Lepage."" Most preposterous of all,
in 1989 it was claimed that Aleister Crowley, Britain's most notorious
practitioner of black magic and the self-proclaimed "Great Beast 666,"
had at one point anointed Driberg as his chosen successor.58
Tom Driberg s life was a mess of ironies: he was a married, gay
churchman who lunched with occultists; a left-wing politician who
reveled in frivolous society gossip; a patriot who spied both for his
country and the dreaded KGB. It seems entirely apt for him to have
proposed the creation of a typeface to invest text with a double mean¬
ing, which would be slanted the opposite way from italics, and that
would be called "ironies."
Unfortunately, by the time Bernard Levin invoked Driberg's
memory in 1982 not so much as a single word had been printed with
the fabled ironic slant. Even as pioneering computer programs such
as Donald Knuth's T£X* promised to slip the surly bonds of physical
* See chapter 7, "The Hyphen for details of the move to computerized printing.
type, as Martin K. Speckter had found to his cost, a novel typographic
device with all the apparatus of writing and printing behind it would
still get precisely nowhere without popular support.'9 And no one, it
seemed, was willing to get behind ironies.
3. Digital Sarcasm
The latter part of the twentieth century was a fallow period for the
irony mark. Ironies, only ever an apocryphal literary in-joke at best,
were the sole flag-bearer for the punctuation of irony during this
period, when even the tenacious French had given up on the problem.
The merry-go-round of new irony points had ground to a halt.
Then came the Internet, plucking many a shady character from
obscurity and thrusting them back into the light. The quotidian @
symbol became indispensable; the octothorpe was recast as the dash¬
ing hashtag, and the interrobang gained a new generation of admirers.
The mythical ironies had their long-awaited debut, and the irony mark
was revived too, though their new lease on life came with a caveat. The
subtle shadings of verbal irony were bleached flat in the blinding glare
of the new medium: what the Internet really wanted to communicate
was not irony, but its laser-guided offspring, sarcasm.60
* * *
Runners-up in the Internet dash for an irony mark, ironies
enjoyed a brief moment of notoriety in the summer of 2011.
Nathan Hoang, June Kim, and Blake Gilmore launched Sartalics.
com while interning at the NYC office of advertising agency Bartle
Bogle Hegarty, and, appropriately for its new electronic milieu, they
repurposed the resuscitated script to convey sarcasm rather than
irony.6'