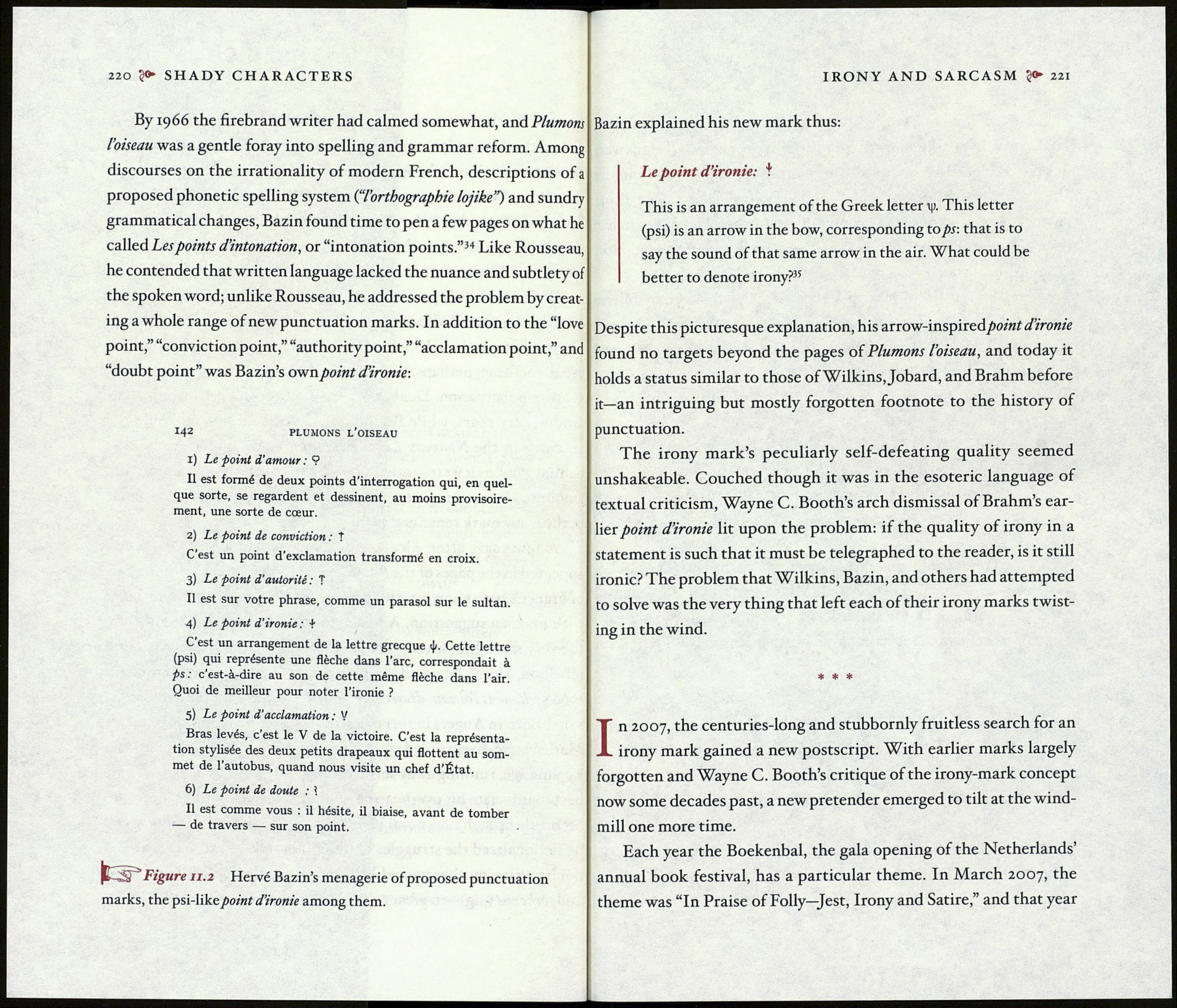 220 SHADY CHARACTERS
By 1966 the firebrand writer had calmed somewhat, and Plumons
l'oiseau was a gentle foray into spelling and grammar reform. Among
discourses on the irrationality of modern French, descriptions of a
proposed phonetic spelling system ("l'orthographie lojike") and sundry
grammatical changes, Bazin found time to pen a fewpages on what he
called Les points d'intonation, or "intonation points."34 Like Rousseau,
he contended that written language lacked the nuance and subtlety of
the spoken word; unlike Rousseau, he addressed the problem by creat¬
ing a whole range of new punctuation marks. In addition to the "love
point," "conviction point," "authority point," "acclamation point," and
"doubt point" was Bazin's own point d'ironie-,
142 PLUMONS L'OISEAU
1) Le point d'amour : ?
Il est formé de deux points d'interrogation qui, en quel¬
que sorte, se regardent et dessinent, au moins provisoire¬
ment, une sorte de cœur.
2) Le point de conviction : t
C'est un point d'exclamation transformé en croix.
3) Le point d'autorité : T
Il est sur votre phrase, comme un parasol sur le sultan.
4) Le point d'ironie : 4
C'est un arrangement de la lettre grecque ф. Cette lettre
(psi) qui représente une flèche dans l'arc, correspondait à
ps: c'est-à-dire au son de cette même flèche dans l'air.
Quoi de meilleur pour noter l'ironie ?
5) Le point d'acclamation : V
Bras levés, c'est le V de la victoire. C'est la représenta¬
tion stylisée des deux petits drapeaux qui flottent au som¬
met de l'autobus, quand nous visite un chef d'État.
6) Le point de doute : 1
Il est comme vous : il hésite, il biaise, avant de tomber
— de travers — sur son point.
t •' Figure il.2 Hervé Bazin's menagerie of proposed punctuation
marks, the psi-like.point d'ironie among them.
IRONY AND SARCASM 3» 221
Bazin explained his new mark thus:
Le point d'ironie: t
This is an arrangement of the Greek letter ip. This letter
(psi) is an arrow in the bow, corresponding to ps: that is to
say the sound of that same arrow in the air. What could be
better to denote irony?35
Despite this picturesque explanation, his SLiiow-inspiredpoint d'ironie
found no targets beyond the pages of Plumons l'oiseau, and today it
holds a status similar to those of Wilkins, Jobard, and Brahm before
it—an intriguing but mostly forgotten footnote to the history of
punctuation.
The irony mark's peculiarly self-defeating quality seemed
unshakeable. Couched though it was in the esoteric language of
textual criticism, Wayne C. Booth's arch dismissal of Brahm's ear¬
lier point d'ironie lit upon the problem: if the quality of irony in a
statement is such that it must be telegraphed to the reader, is it still
ironic? The problem that Wilkins, Bazin, and others had attempted
to solve was the very thing that left each of their irony marks twist¬
ing in the wind.
* * *
In 2007, the centuries-long and stubbornly fruitless search for an
irony mark gained a new postscript. With earlier marks largely
forgotten and Wayne C. Booth's critique of the irony-mark concept
now some decades past, a new pretender emerged to tilt at the wind¬
mill one more time.
Each year the Boekenbal, the gala opening of the Netherlands'
annual book festival, has a particular theme. In March 2007, the
theme was "In Praise of Folly—Jest, Irony and Satire," and that year