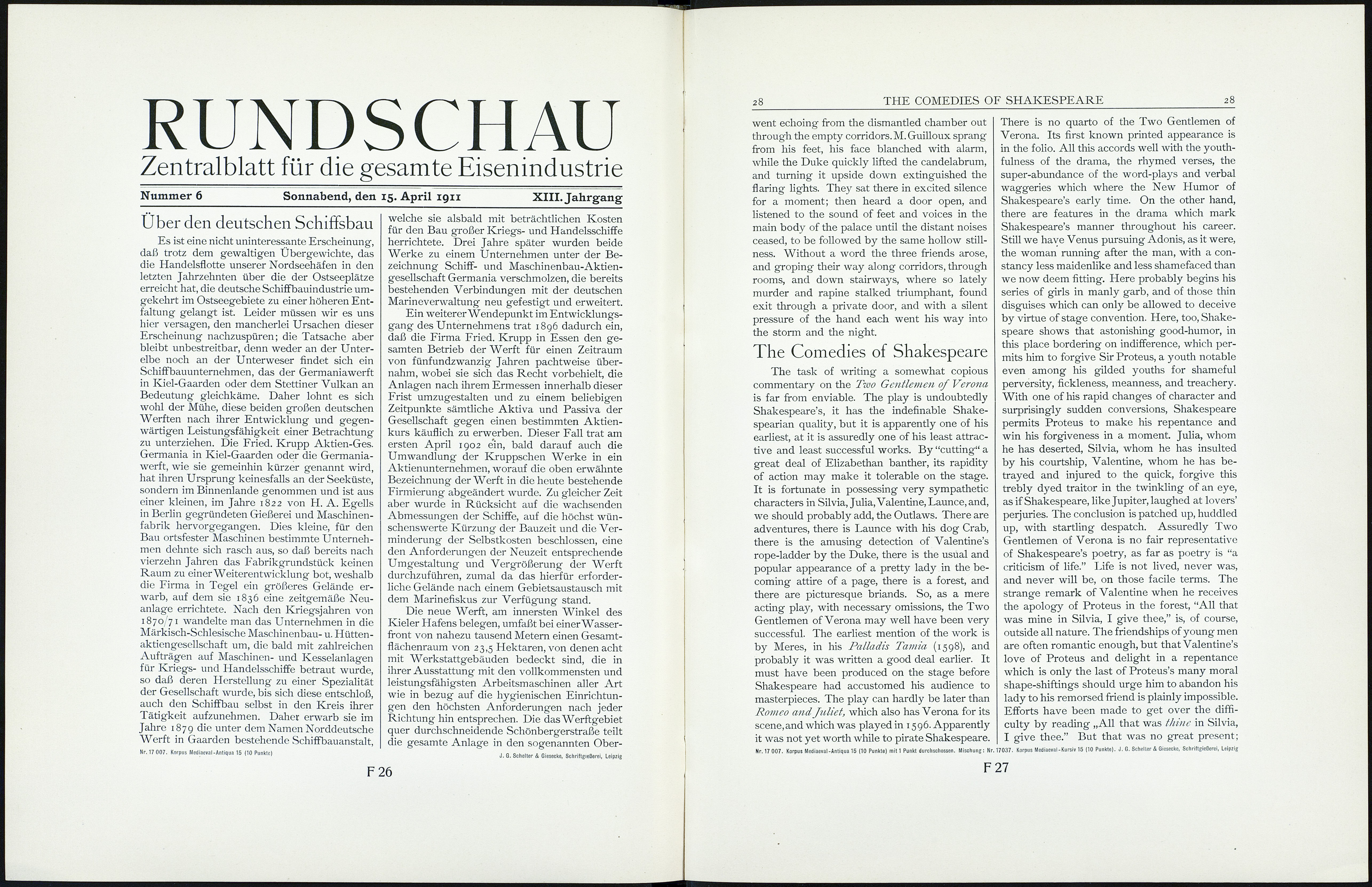 RUNDSCHAU
Zentralblatt für die gesamte Eisenindustrie
Nummer 6 Sonnabend, den 15. April 1911 XIII. Jahrgang
Über den deutschen Schiffsbau
Es ist eine nicht uninteressante Erscheinung,
daß trotz dem gewaltigen Übergewichte, das
die Handelsflotte unserer Nordseehäfen in den
letzten Jahrzehnten über die der Ostseeplätze
erreicht hat, die deutsche Schiffbauindustrie um¬
gekehrt im Ostseegebiete zu einer höheren Ent¬
faltung gelangt ist. Leider müssen wir es uns
hier versagen, den mancherlei Ursachen dieser
Erscheinung nachzuspüren; die Tatsache aber
bleibt unbestreitbar, denn weder an der Unter¬
elbe noch an der Unterweser findet sich ein
Schiffbauunternehmen, das der Germaniawerft
in Kiel-Gaarden oder dem Stettiner Vulkan an
Bedeutung gleichkäme. Daher lohnt es sich
wohl der Mühe, diese beiden großen deutschen
Werften nach ihrer Entwicklung und gegen¬
wärtigen Leistungsfähigkeit einer Betrachtung
zu unterziehen. Die Fried. Krupp Aktien-Ges.
Germania in Kiel-Gaarden oder die Germania¬
werft, wie sie gemeinhin kürzer genannt wird,
hat ihren Ursprung keinesfalls an der Seeküste,
sondern im Binnenlande genommen und ist aus
einer kleinen, im Jahre 1822 von H. A. Egefls
in Berlin gegründeten Gießerei und Maschinen¬
fabrik hervorgegangen. Dies kleine, für den
Bau ortsfester Maschinen bestimmte Unterneh¬
men dehnte sich rasch aus, so daß bereits nach
vierzehn Jahren das Fabrik grundstück keinen
Raum zu einer Weiterentwicklung bot, weshalb
die Firma in Tegel ein größeres Gelände er¬
warb, auf dem sie 1836 eine zeitgemäße Neu¬
anlage errichtete. Nach den Kriegsjahren von
18 7°/71 wandelte man das Unternehmen in die
Märkisch-Schlesische Maschinenbau- u. Hütten¬
aktiengesellschaft um, die bald mit zahlreichen
Aufträgen auf Maschinen- und Kesselanlagen
für Kriegs- und Handelsschiffe betraut wurde,
so daß deren Herstellung zu einer Spezialität
der Gesellschaft wurde, bis sich diese entschloß,
auch den Schiffbau selbst in den Kreis ihrer
Tätigkeit aufzunehmen. Daher erwarb sie im
Jahre 1879 die unter dem Namen Norddeutsche
Werft in Gaarden bestehende Schiffbauanstalt,
Nr. 17 007. Korpus Mediaeval-Antiqua 15 (10 Punkte)
welche sie alsbald mit beträchtlichen Kosten
für den Bau großer Kriegs- und Handelsschiffe
herrichtete. Drei Jahre später wurden beide
Werke zu einem Unternehmen unter der Be¬
zeichnung Schiff- und Maschinenbau-Aktien¬
gesellschaft Germania verschmolzen, die bereits
bestehenden Verbindungen mit der deutschen
Marineverwaltung neu gefestigt und erweitert.
Ein weiterer Wendepunkt im Entwicklungs¬
gang des Unternehmens trat 1896 dadurch ein,
daß die Firma Fried. Krupp in Essen den ge¬
samten Betrieb der Werft für einen Zeitraum
von fünfundzwanzig Jahren pachtweise über¬
nahm, wobei sie sich das Recht vorbehielt, die
Anlagen nach ihrem Ermessen innerhalb dieser
Frist umzugestalten und zu einem beliebigen
Zeitpunkte sämtliche Aktiva und Passiva der
Gesellschaft gegen einen bestimmten Aktien¬
kurs käuflich zu erwerben. Dieser Fall trat am
ersten April 1902 e'in, bald darauf auch die
Umwandlung der Kruppschen Werke in ein
Aktienunternehmen, worauf die oben erwähnte
Bezeichnung der Werft in die heute bestehende
Firmierung abgeändert wurde. Zu gleicher Zeit
aber wurde in Rücksicht auf die wachsenden
Abmessungen der Schiffe, auf die höchst wün¬
schenswerte Kürzung der Bauzeit und die Ver¬
minderung der Selbstkosten beschlossen, eine
den Anforderungen der Neuzeit entsprechende
Umgestaltung und Vergrößerung der Werft
durchzuführen, zumal da das hierfür erforder¬
liche Gelände nach einem Gebietsaustausch mit
dem Marinefiskus zur Verfügung stand.
Die neue Werft, am innersten Winkel des
Kieler Hafens belegen, umfaßt bei einerWasser-
ffont von nahezu tausend Metern einen Gesamt¬
flächenraum von 23,5 Hektaren, von denen acht
mit Werkstattgebäuden bedeckt sind, die in
ihrer Ausstattung mit den vollkommensten und
leistungsfähigsten Arbeitsmaschinen aller Art
wie in bezug auf die hygienischen Einrichtun¬
gen den höchsten Anforderungen nach jeder
Richtung hin entsprechen. Die dasWerftgebiet
quer durchschneidende Schönbergerstraße teilt
die gesamte Anlage in den sogenannten Ober-
J. G. Scheiter & Giesecke, Schriftgießerei, Leipzig
F 26
28
THE COMEDIES OF SHAKESPEARE
28
went echoing from the dismantled chamber out
through the empty corridors. M. Guilloux sprang
from his feet, his face blanched with alarm,
while the Duke quickly lifted the candelabrum,
and turning it upside down extinguished the
flaring lights. They sat there in excited silence
for a moment; then heard a door open, and
listened to the sound of feet and voices in the
main body of the palace until the distant noises
ceased, to be followed by the same hollow still¬
ness. Without a word the three friends arose,
and groping their way along corridors, through
rooms, and down stairways, where so lately
murder and rapine stalked triumphant, found
exit through a private door, and with a silent
pressure of the hand each went his way into
the storm and the night.
The Comedies of Shakespeare
The task of writing a somewhat copious
commentary on the Two Gentlemen of Verona
is far from enviable. The play is undoubtedly
Shakespeare's, it has the indefinable Shake¬
spearian quality, but it is apparently one of his
earliest, at it is assuredly one of his least attrac¬
tive and least successful works. By "cutting" a
great deal of Elizabethan banther, its rapidity
of action may make it tolerable on the stage.
It is fortunate in possessing very sympathetic
characters in Silvia, Julia, Valentine, Launce, and,
we should probably add, the Outlaws. There are
adventures, there is Launce with his dog Crab,
there is the amusing detection of Valentine's
rope-ladder by the Duke, there is the usual and
popular appearance of a pretty lady in the be¬
coming attire of a page, there is a forest, and
there are picturesque briands. So, as a mere
acting play, with necessary omissions, the Two
Gentlemen of Verona may well have been very
successful. The earliest mention of the work is
by Meres, in his Palladis Tamia (1598), and
probably it was written a good deal earlier. It
must have been produced on the stage before
Shakespeare had accustomed his audience to
masterpieces. The play can hardly be later than
Romeo and Juliet, which also has Verona for its
scene,and which was played in 1596. Apparently
it was not yet worth while to pirate Shakespeare.
There is no quarto of the Two Gentlemen of
Verona. Its first known printed appearance is
in the folio. All this accords well with the youth¬
fulness of the drama, the rhymed verses, the
super-abundance of the word-plays and verbal
waggeries which where the New Humor of
Shakespeare's early time. On the other hand,
there are features in the drama which mark
Shakespeare's manner throughout his career.
Still we have Venus pursuing Adonis, as it were,
the woman running after the man, with a con¬
stancy less maidenlike and less shamefaced than
we now deem fitting. Here probably begins his
series of girls in manly garb, and of those thin
disguises which can only be allowed to deceive
by virtue of stage convention. Here, too, Shake¬
speare shows that astonishing good-humor, in
this place bordering on indifference, which per¬
mits him to forgive Sir Proteus, a youth notable
even among his gilded youths for shameful
perversity, fickleness, meanness, and treachery.
With one of his rapid changes of character and
surprisingly sudden conversions, Shakespeare
permits Proteus to make his repentance and
win his forgiveness in a moment. Julia, whom
he has deserted, Silvia, whom he has insulted
by his courtship, Valentine, whom he has be¬
trayed and injured to the quick, forgive this
trebly dyed traitor in the twinkling of an eye,
as if Shakespeare, like Jupiter, laughed at lovers'
perjuries. The conclusion is patched up, huddled
up, with startling despatch. Assuredly Two
Gentlemen of Verona is no fair representative
of Shakespeare's poetry, as far as poetry is "a
criticism of life." Life is not lived, never was,
and never will be, on those facile terms. The
strange remark of Valentine when he receives
the apology of Proteus in the forest, "All that
was mine in Silvia, I give thee," is, of course,
outside all nature. The friendships of young men
are often romantic enough, but that Valentine's
love of Proteus and delight in a repentance
which is only the last of Proteus's many moral
shape-shiftings should urge him to abandon his
lady to his remorsed friend is plainly impossible.
Efforts have been made to get over the diffi¬
culty by reading "All that was thine in Silvia,
I give thee." But that was no great present;
Nr. 17 007. Korpus Mediaeval-Antiqua 15 (10 Punkte) mit 1 Punkt durchschossen. Mischung : Nr. 17037. Korpus Mediaeval-Kursiv 15 (10 Punkte). J. G. Scheller & Giesecke, Schriftgießerei, Leipzig
F 27