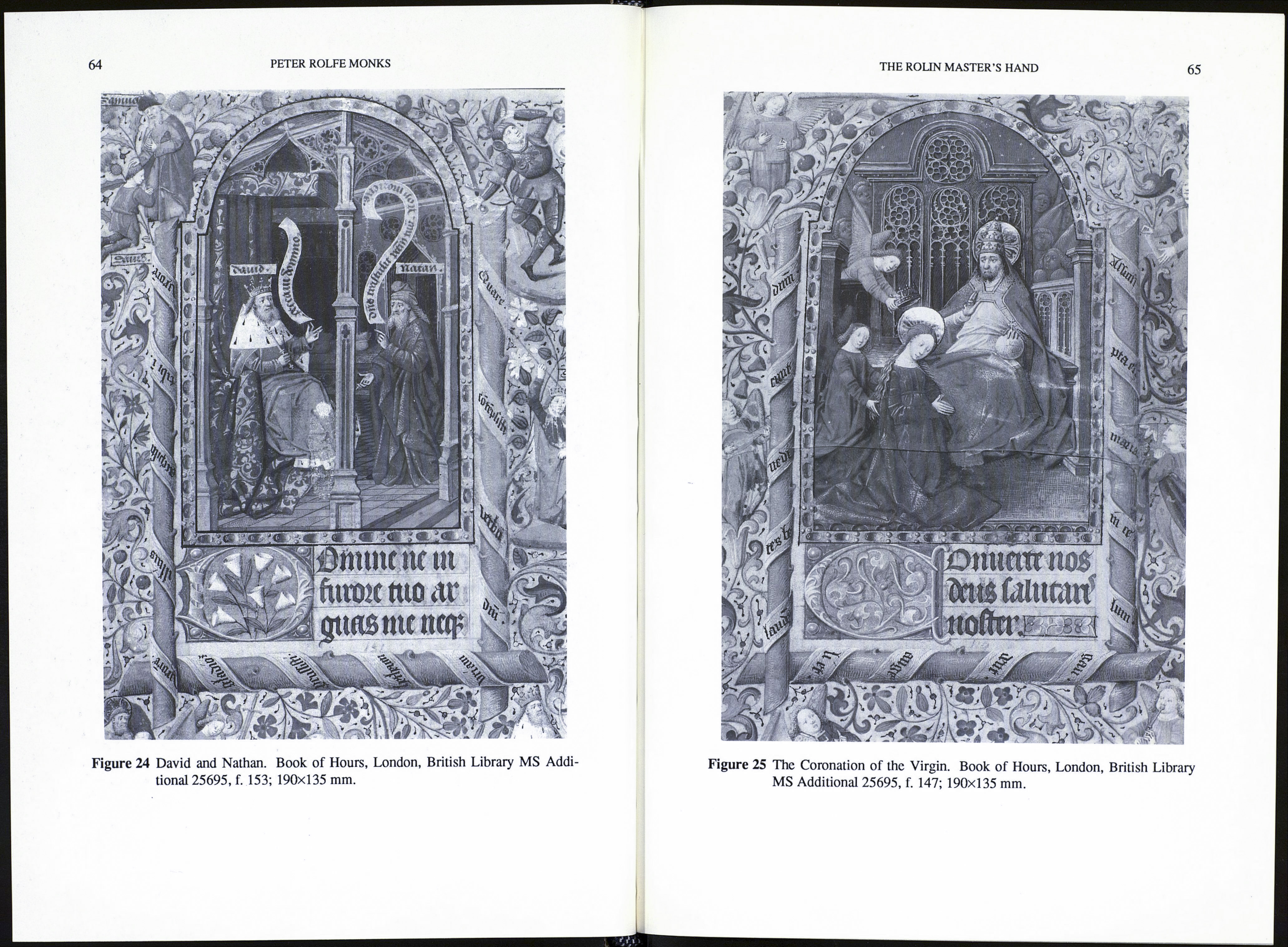 62
PETER ROLFE MONKS
preference for burnished gold haloes with black rings.
The rendering of architectural elements provides reinforcement for stylistic
associations. Silvered windows are a case in point. Several enhance the chamber in
the Pentecost drama; elsewhere, however, there is a variation in their treatment. In
the London Annunciation (Figure 23) they have been left uncoloured, while in David
and Nathan (Figure 24) they display a medium-to-dark grey pigment.18 A tower
with a golden cupola and, nearby, a Gothic porch in Wrapping a Corpse (Figure 26)
present the painterly lightness of the Bedford Master's style. Maître François will
also represent towers with dome-shaped summits. In spite of such parallels in other
painters' works, fine detail in the execution of the architectural elements brings us
back every time to the Rolin Master's hand. Moreover, the simplified buttresses of
the charnel-house, the inverted tulip-shaped arches in the porch, and a diminutive
corbel projection on the upper comer of the porch, are features that appear among
the architectural structures of the Horloge triptych The Disciple Offering his Heart
to Sapientia, Sapientia with Faith, Hope and Charity, and The Disciple Shutting out
Sapientia (f.49v; Figure 31).
Thus, although numerous features of the Rolin Master's style are prominently
displayed in seven miniatures of the London Book of Hours, they contrast oddly
with other elements that recall traits of earlier painters, in particular, the Bedford
Master. This lack of uniformity and consistency suggests that the Rolin artist's style
had not yet reached the maturity of the Brussels Horloge series. He is seen to be
still distancing himself from the shadow of the Bedford Master and attempting to
assert his own identity. The art work of Additional 25695 was clearly executed
some time before that of the Brussels Horloge de Sapience.
Two clerestory lights may have been silvered here at some time, but confirmation is not forth¬
coming from the verso of the folio where one would expect to see the stain of the metallic substance
employed by the painter.
THE ROLIN MASTER'S HAND
63
Figure 23 The Annunciation. Book of Hours, London, British Library MS Addi¬
tional 25695, f. 29; 190x135 mm.