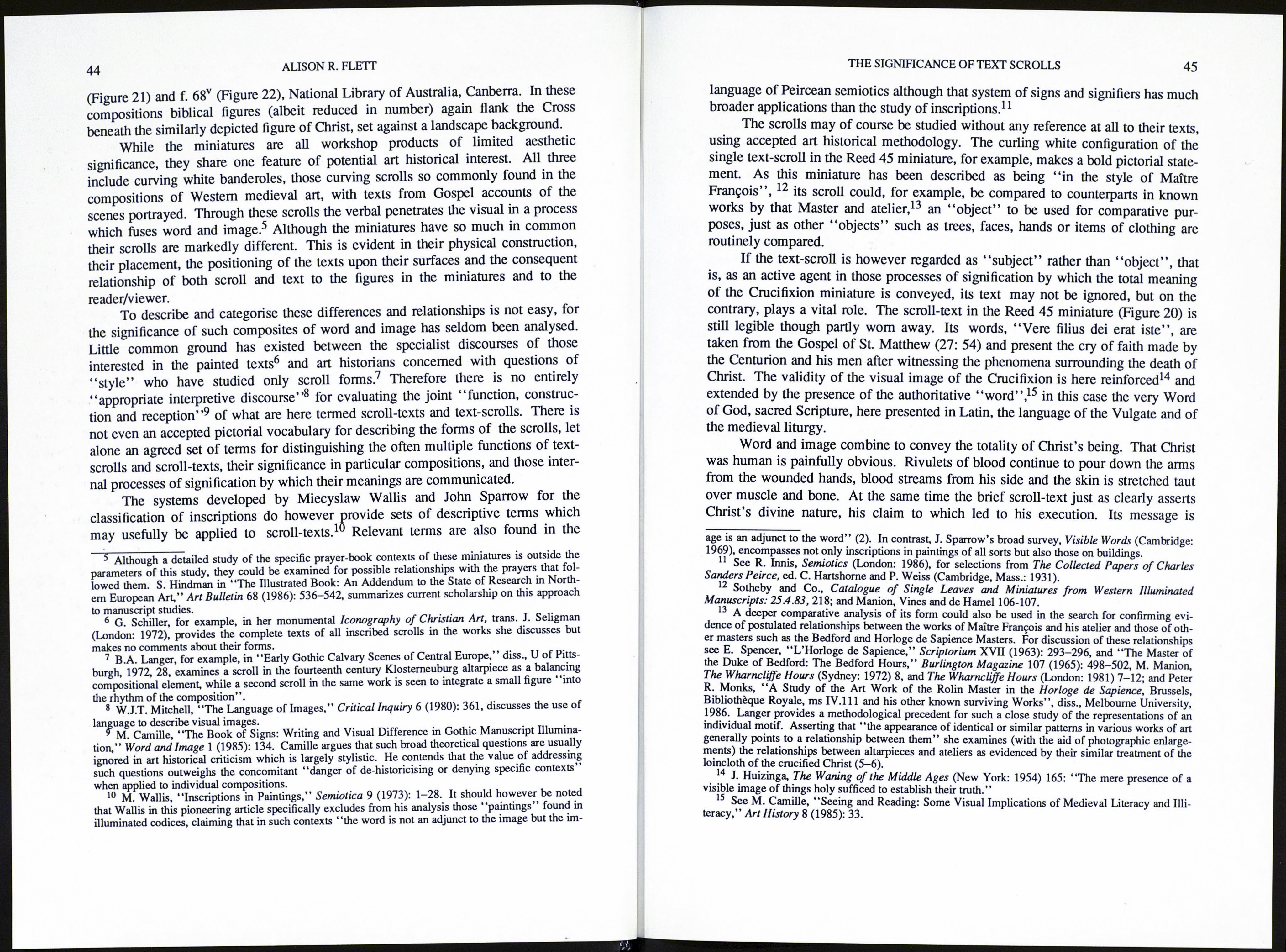 42
JUDITH PEARCE
.afm itrnttiJiiWiiUQ Шп
§|ртш ritirati*
Hl üJiiue aöitmu* w
ШІейДігііщпіб udniM
aim aumtm4BAWuäIiä®(
'Confinila ltr»№qtfû|BSM®:
Tn itoli дтпрШКшйошИ
nldum.fpmis gß
tmmm itpimtL»^
оііип trnanuiujb
ІОашгаймст',тйь
кШірЦИДХ '-Zt
nintpusaftm^c
tute mai!
Figure 19 Pentecost. Salisbury Breviary, Paris, Bibliothèque Nationale ms lat.
17294, f. 270v; 255x173 mm.
III
The Significance of Text Scrolls:
Towards a Descriptive Terminology
Alison R. Flett
Three small Crucifixion miniatures now held by libraries in Australia and New Zea¬
land have much in common. All are or were found in fifteenth century Books of
Hours, those often lavishly illustrated collections of prayers, psalms and devotional
texts which constituted "almost a formula for salvation" when recited in private by
devout lay men and women.1 The miniatures therefore share a devotional prayer-
book context in which diverse interactions of image and text, of the visual (illustra¬
tions of the Gospel story, for example) and the verbal (the accompanying prayers)
took place. They also share many compositional features. In Reed Fragment 45,2
Reed Collection, Dunedin Public Library, Dunedin, New Zealand (Figure 20), a Par¬
isian miniature dated to the third quarter of the fifteenth century,3 the scene is set in
a hilly landscape where figures from the biblical narrative are arranged at each side
of the large Cross on which hangs the bleeding figure of Christ. The Cross fills the
arched compartment of the miniature, as do the similarly scaled and positioned
crosses in the two Crucifixion miniatures of a Southern Netherlandish Book of
Hours dated approximately 1450 to 1470,4 Clifford Collection MS 1097/9, f. 46
1 Christopher de Hamel, Books of Hours (Dunedin: 1970) 9.
2 Although referred to as Reed Fragment 44 in the exhibition catalogue Medieval Dunedin, Dunedin
Public Art Gallery (1984) 18 and 24, it has been re-catalogued and is now known as Reed Fragment
3 No precise date has been proposed for this miniature, one of three purchased by the Library in
1983, all from the same Book of Hours. Christopher de Hamel, in unpublished notes made available
by the Reed Collection Librarian, merely dates the miniatures to the second half of the fifteenth centu¬
ry, while Medieval Dunedin refers to them as being from the late fifteenth century (18). See also M.
Manion, V. Vines and C. de Hamel, Medieval and Renaissance Manuscripts in New Zealand Collec¬
tions (London: 1989) 106-107.
4 M. Manion and V. Vines, Medieval and Renaissance Illuminated Manuscripts in Australian Col¬
lections (London: 1984) 132.
43