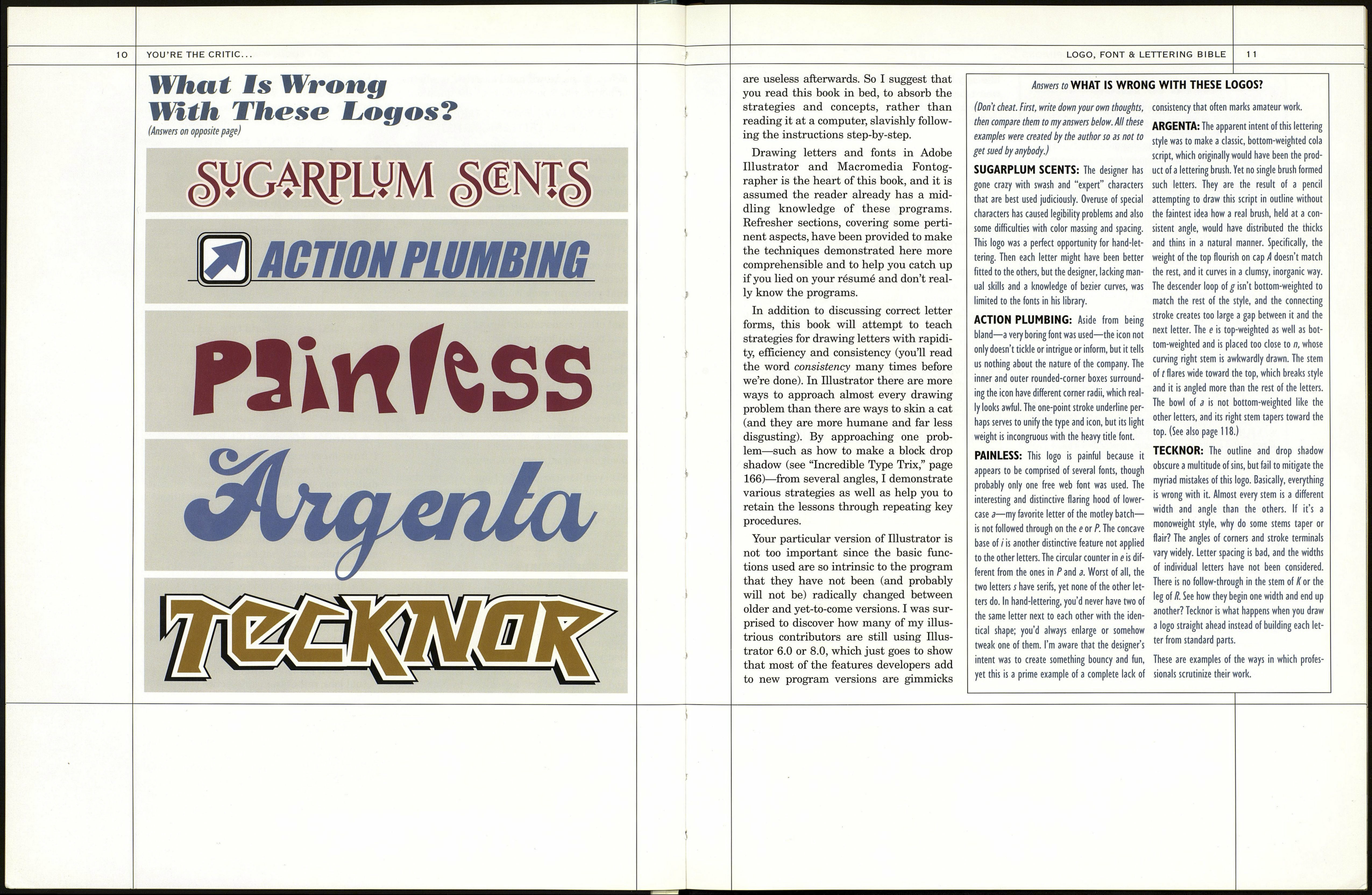 QUIZ SECTION: ARE YOU A REAL TYPOPHILE?
llfio ctre these tit dt fiel if if Is?
'iLV l0)S!U0) lueuoduji j3i|]o Xueoi
pue 'j/í/wj в/догу jo jojeajD 'uojueg jä||nj sijjou/
Іиоіизд J3||nj sujou pue s//fo/V0 /twwsj /Содва)
jo jojeäjj 'uojustj p/og uu|i :етщ jo jsuSjssp
•jäuusj) |ne_ :sj3u3isap ad/i иеэшшу jo иеэр '/pnog
)uap5jj :3щащ у Зипеиішпщ j й/цидо asiieej]
|EI]U3n|jll 010JM 'U0]SUl|0f pJC«p] Liau3|S9p 3d/]
Ljsi[3ug 'иорт] шеіцім 'doj ujojj 3sim>|30j_ :SU3MSNV
LOGO, FONT & LETTERING BIBLE
a font can be called "hand lettered," is whether
or not you drew it. Which begs the question...
DO YOU HAVE WHAT IT TAKES TO BE
A REAL LETTERING ARTIST?
Take a moment to answer the following
questions in this simple quiz:
•Do you fill pages with doodles of weird let-
terforms and potential fonts?
•Can you tell the difference between Gara¬
mond and Cheltenham; Times Roman and
Century Schoolbook?
•Have you ever found yourself studying the
type on a poster or ad, assessing its letter-
forms and kerning only to realize afterwards
that you never even read what it said?
•Do you collect clippings of ads, rave cards,
and other material containing great, unusual
and beautiful logos and lettering?
•Can you identify any of the individuals on
the opposite page?
•Do you bitterly resent Arial as the cheap rip-
off of Helvetica that it is?
•Have you ever tried to contact by mail or
email—or made a pilgrimage to the studio
of—an accomplished, older letterer or type
designer whose work you admire?
•Do you hang around for hours in large chain
bookstores reading all the design magazines
for free?
If you answered 'Yes" to any or all of the
above, you may be a born lettering designer
and you may continue to read this book.
THE HISTORY OF TYPE DESIGN
The subject of type history has been thor¬
oughly and passionately covered in countless
books and articles through the years and to
this day. This book is mainly interested in how
to draw letters, so the subject of history is only
touched upon in passing, insofar as the work of
various historic figures in the world of type
and lettering offers lessons to be emulated.
I have included, however, a concise and sarcas¬
tic history of how it was in the old days called
Unbelievable Implements: Type and Lettering
in the Pre-pixel Era to be found on page 62.
YES, WE SPEAK MACINTOSH
This book is written for Mac users because
most of us agree that Macintosh computers are
more designer friendly. It seems that nine out
of ten contributors to this book, who use com¬
puters, choose the Macintosh over the leading
brand. There's a rumor that most web design¬
ers are PC-based. If that is true, it's because
many web designers come by the title, not
through prior experience with graphic design,
but through the HTML programming back
door. This book offers an opportunity for web
designers to get up to speed—and we're not
talkin' 56K—on real world type and lettering.
PC users with basic knowledge of drawing
programs including Macromedia Flash will
find that the many demonstrations and tutori¬
als in this book involve mostly basic commands
like Cut, Copy, and Paste that should pose no
real translation problems.
A MANUAL FOR IMPATIENT DESIGNERS
/ hate most computer manuals because I
don't want to read a book, I just want to imme¬
diately use the program. So I have tried to
streamline the verbiage of the instructions in
this book to avoid the problem of most comput¬
er books, written by professional writers, not
professional users, containing dense columns
of pictureless text that do nothing more than
rephrase the programs' own user manuals.
It is impossible to present tutorials without
using examples, but my hope is that you won't
actually follow them verbatim. What good will
it do you to recreate my logos? The same drop
shadow I apply to a certain letter in my exam¬
ple can be applied by you to any letter you pre¬
fer. My own personal policy is to work only on
actual jobs, rather than on practice pieces that
TABLE OF
EQUIVALENTS:
MAC
PC
3€ Command
Control
\ Option
Alt
0 Shift
Shift