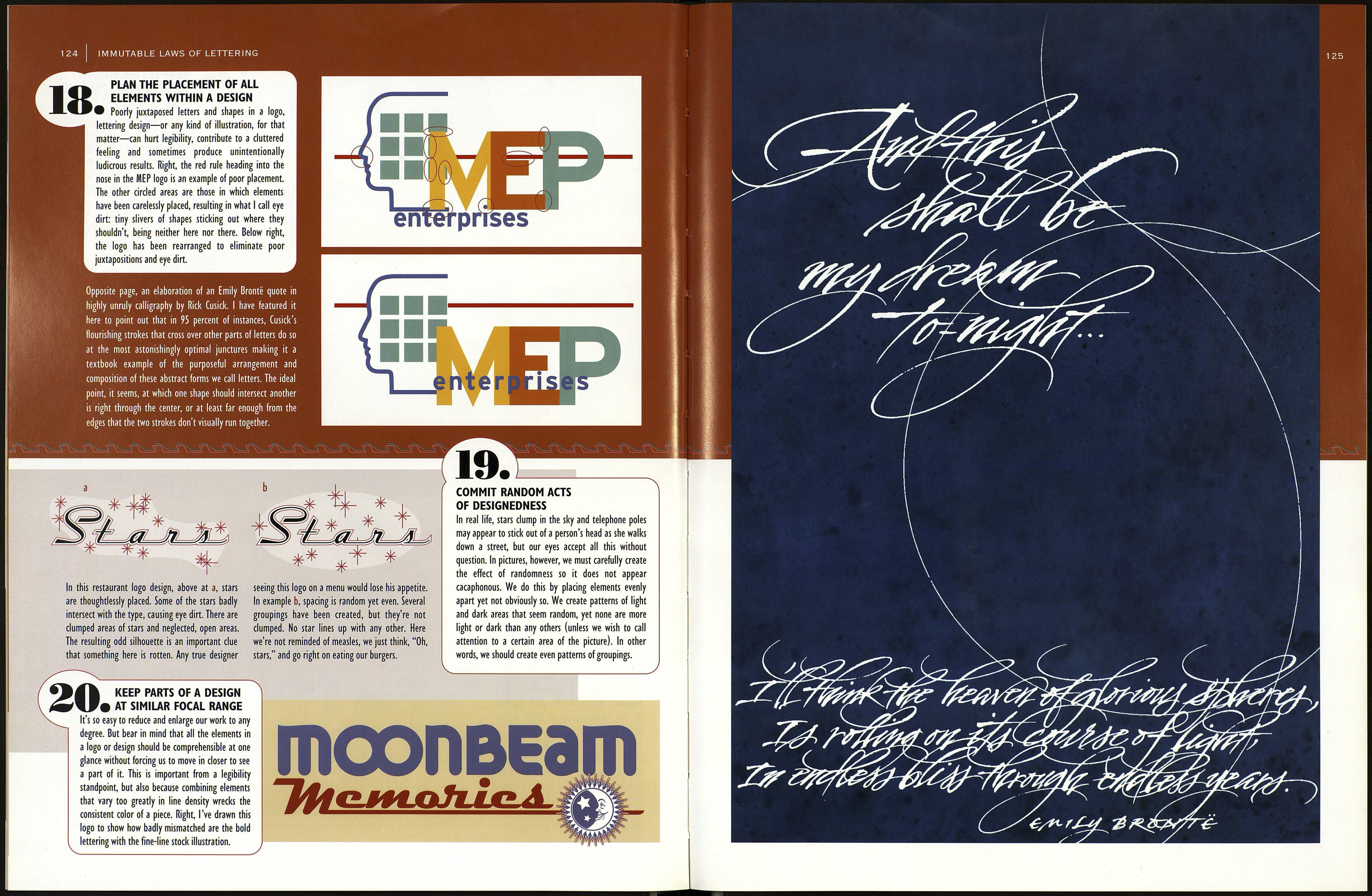 16.
BOLD MONOWEIGHT LETTERS
REQUIRE ADJUSTMENTS
When drawing black, bold, heavy or fat letters,
we must minimize the optical weight gain, and
assure ample "clearance," when two strokes
conjoin, such as the bowls of a-b-d-g with
their vertical stems.
»I Ways to Join
wis to Stems:
rhe NOTCH
I
In Frank-
..,, the stem
bottom has been carved
away to create a relief,
and the top of the bowl
tapers severely as it meets
the vertical stem.
of the possible solutions to this
problem. The methods by which
such issues are handled may
become significant defining
characteristics of a style.
BOUNCE
Here's the bottom line on drawing heavy, monoweight
lettering styles: Check, before determining your stroke
width, that you can stack three horizontal strokes
atop one another, as in E, without the strokes
touching...unless you're willing to slim down the
center crossbar or apply any of the fancy fixes, right.
Remember, if you do choose a diamond center, be
consistent and do the same to other applicable letters.
The round part, or "bowl" of The bowl of this bold-weight To maintain adequate reliefs,
this medium-weight letter a letter leaves such piddling you might try to move the
above connects neatly to the
vertical stem with ample and
clearly defined approaches or
reliefs (arrow).
reliefs as it grows away from
the stem that in small point
sizes, these areas will probably
"read" as eye dirt.
bowl away from the stem, but
that leaves a fat mass on the
right side of a that will disrupt
the even color of our alphabet.
A solution: Move the center
axis of the bowl, a, a bit to the
left and taper the strokes as
they connect to the stem. Also,
move the counter slightly into
the vertical stem, b, to reduce
optical weight gain there.
Lowercase a from Futura Bold,
above, demonstrates the princ¬
iples just described. Futura
started out as a monoweight
concept, but employed these
inevitable, putzy compromises
as style weights increased.
Neato solutions like this have
often resulted from a desire to
maintain a consistent, mono-
weight stroke width while
avoiding the bowl-connecting
problems discussed here.
Handling the overweight e: (1.) Medium-weight e, with ample counters, poses no problems. (2.) Heavy
stroke e, before tweaking, looks clunky and "nosey." The tiny counters that may close up at small point
sizes, are exacerbated by the optical illusion that makes horizontal strokes, like this crossbar, appear
even thicker than the stroke overall. (3.) Appropriate tweaking done. All horizontal parts of strokes
have been thinned down to open up counters. Also, the terminus of the bottom stroke has been altered
to better balance the top. The only problem is that we no longer have a true monoweight form.
Too thick
More practical Diamond center Narrow crossbar Ball center
■■
SOMEWHERE IN BETWEEN
IJIABCDERSZIMW
123
Above, letter widths are like society in general. You've got your poor and narrow characters on one end of
the scale, your rich and wide characters on the other end, but the middle class is always most numerous.
abceghou
i
• t Ь • • I I
Left, working outward from counter widths is a
good way to gauge overall letter widths. As this
example shows, all the counters are relatively
equal and since the stroke widths are consistent,
too, the result is a nicely balanced effect. Well-
shaped counters also indicate well-drawn letters.
HBE
Which of the three letters, H, B, or E is the widest? To my
eye, E is the winner, or perhaps B, but the equal-size
gray boxes in the background prove that E is actually the
narrowest of the lot. Bear in mind that the horizontal
thrust of letters like E-B-F creates an illusion of width
that we must cut back to match other letter widths.
KEEP LETTER WIDTHS
BALANCED AND CONSISTENT
It is not only the widths of spaces between
letters that we must consider, but the widths of
each individual letter and its relationship to
the others within a given style. Once a set of
width parameters is established, they should be
applied to every alike-shaped letter with as
much consistency as we apply aspects such as
stroke width or style of serif.
All styles of lettering and type will have their
own rules, but generally, there are three basic
letter widths in any style: narrow like i-j-l-t,
wide like m-w, and in-between like all the rest.
Determining widths of letters is just like
spacing, kerning and everything else we do in
lettering: Stand back, squint to check for open
gaps and closed-up spots, or anything else that
sticks out like a sore T. Then fix it!
Bui
ter widths can also become
Jng narrow and wide letter
jture of some 1930s lettering styles
that I evoked in my font Ojaio Light, right. The font
contains alternate narrow characters for A-E-N-O-U-
Y to break up any places where too many wide
characters might occur concurrently in a word.
Urn
What is a
"monospaced"
font?
Monospaced letter styles are those in
which each letter is of uniform width
within a generous, uniform space because
kerning is undesirable or not possible,
such as on the web. The classic example is
the font Courier, or the old-fashioned
typewriter styles where kerning couldn't
even have been considered. |
omei
No one would purposely assign equal
widths to letters, as in the Courier
example above, unless the font needed to
be monospaced. Obviously, o-e look ex¬
tended, while m looks condensed with silly
little serifs and i looks absurd with its
wide bottom serif. Apply the squint test,
and the color difference between m and
the other letters becomes glaringly clear.
THIS FONT IS COURIER, WHICH
MY MAC WON'T LET ME REMOVE.
Notice how the apostrophe,
comma and period occupy the
same width as the O, M & W.
INAGEDOG
License-plate lettering is always monospaced—and to give air to what would otherwise be impossibly crowded;
condensed (shudder!). I just went outside to copy license the A looks pinched; the full-width E looks way too wide;
plates and then drew the above. They put serifs on the /to and the D got serifs so it wouldn't look like an 0. What
fill the width; the center point of N1 doesn't reach bottom machinations we go through when we go monospaced!
_