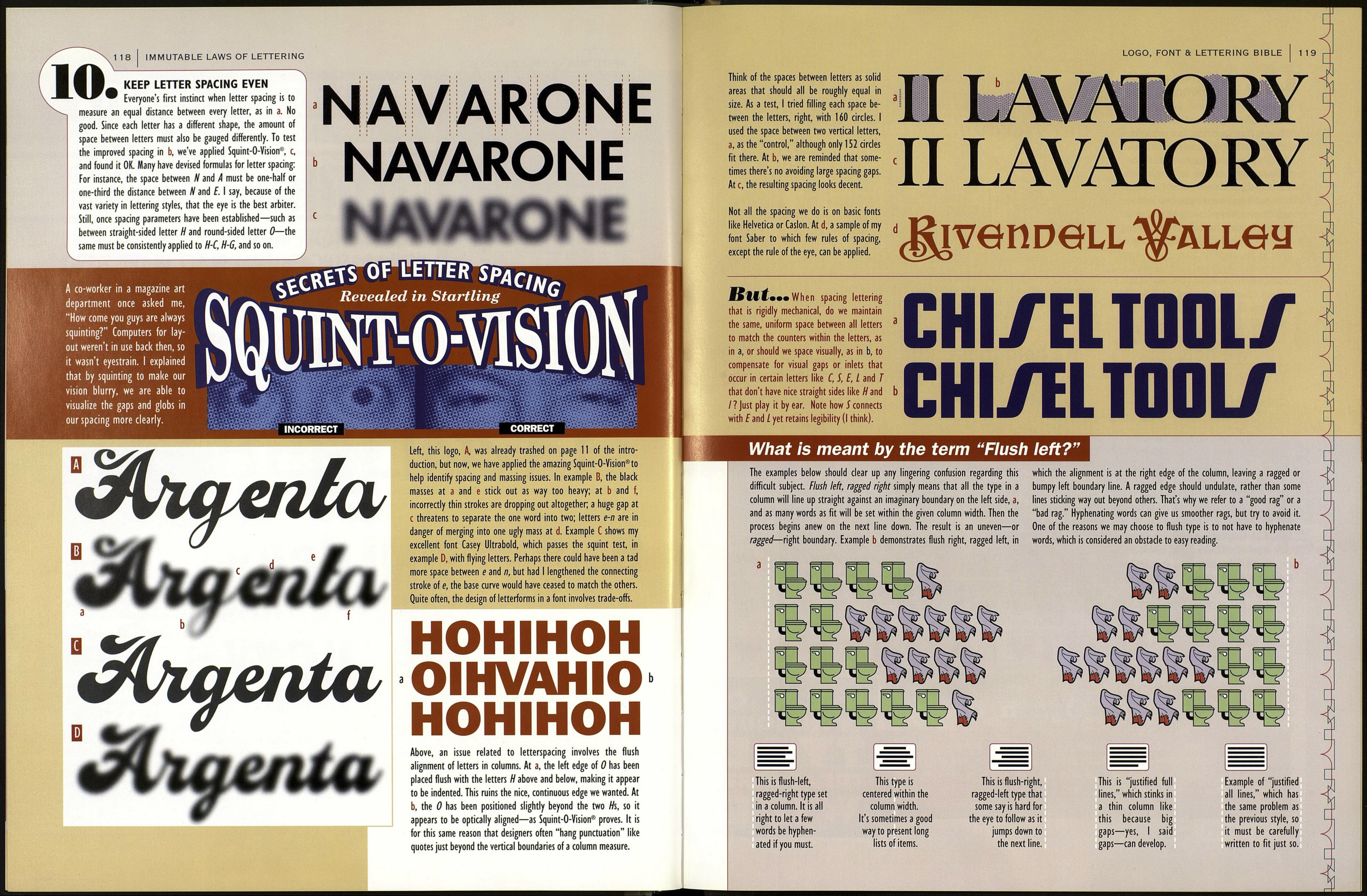 116 IMMUTABLE LAWS OF LETTERING
8.
NIP INCONSISTENCY
AT THE BUD LEVEL
Consistency, rhythm, regular¬
ity, evenness of color and (most
often) legibility are the qualities
necessary for type and lettering
to be considered professional.
One of my axioms is: If abso¬
lutely every aspect of any piece
of lettering were consistent, it
still might not be good lettering,
but it would be technically
beyond reproach.
V_______________________У
"Slf !••• Inconsistency
done with consistency can also be
acceptable. The trick is to go just
enough off the mark that the result
appears intentional, not accidental.
A chaotic approach then must be
designed so that the appearance of
randomness is actually calculatedly
harmonious and thus still meets the
criteria of what are arguably the
most important rules of lettering:
Consistency, Regularity and Rhythm.
be REGULARLY Consistent or
Consistently IRREGULAR
GRMDflllHIIIIIIII
The strokes, interior counters and spaces above are consistent. Regularity is pleasing to the eye, but not all styles allow this
level of regimentation. The rest must be made to appear Ш even, through our careful design and spacing of characters.
GRANDE lllllllllll
Above, the erratic inconsistency shown here is disturbing and inexcusable. This is usually the result of simple laziness.
GRMDE lllllllllll
Strokes above are regularly irregular and cannot be mistaken for mistakes. Unifying element: consistent thick/thin strokes.
BERLINS Fl
Type and lettering don't have to be cookie-cutter perfect to be good. David Berlow's Berlin Sans shows some minor incon¬
sistencies (see overlaid letters, above right) yet maintains an even color and rhythm throughout. Also, the flaring strokes
are believable: They look as though they really were cut in wood or painted with a brush. This is the "art" of lettering!
WALL4ÔVE LI N &
The 1920s logo above, despite its crude pen inking, has a thrilling rhythm due to almost perfectly consis¬
tent stem weights, letter spacing and slant. But something looked funny about it, so I decided to test the
veracity of the strokes by quickly reproducing them with a broad-nibbed pen. Normally, if we were design¬
ing such a logo, we'd start with the pen, then make our tight drawing of final letterforms based on the
information gained by the pen exercise. Aha! I knew that initial 5 didn't quite look right. It doesn't
really matter, but my copies of cap S prove that the stroke should have narrowed, a and b, as it met the
long, straight top stroke. The curious notch at the bottom right corner of the S did turn out to be a plau¬
sible artifact of the pen, as my sketch at с shows. Hope you don't mind my drawing all over your book.
LOGO, FONT a LETTERING BIBLE 117
CONSISTENCY IS SO BORING!
ь CONSISTENCY IS SO BORING!
MOST ANYONE WOULD REGARD THIS ODD
'O" AS BEING OUT OF PLACE IN THIS FONT.
' MOST ANYONE WOULD REGARD THIS ODD
"0"AS BEING OUT OF PLACE IN THIS FONT.
What is meant by the term "type color?"
The "color of type" has nothing to with CMYK or Pantone. It
refers to how approximately dark or light on an imaginary
grayscale a column of type, a particular typeface or even an
individual letter may appear. The reason we even consider type
color usually has to do with an attempt at harmonizing the
overall color sense of an entire page layout. Right, type set in
Eurostile Medium has a lighter color than the all-caps Eurostile
Bold, far right, which looks kind of like the 60% gray halftone in
the box below it. In the lower far right example, the gray
halftones at bottom show the tonal distribution of the type with
unfortunate, though inevitable, "holes" ruining the even type
color. Options for helping to eliminate holes are discussed below.
You are now reading body
copy, also called text type,
set justified in a thin col¬
umn. Squint at the words
so they appear blurry and
resemble the tone below.
BOLDER FONT STYLE
SQUINTS OUT AT 60%
UNLUCKY
COMBINATION
9
THE WORST KERNING
PAIR DETERMINES
LETTER SPACING
Not all words that we letter or set in type
set as compactly as "GRANDE" on the
previous page or "MINION" at right. Certain
combinations of letters resist a nice, tight
set. Solutions include overlapping certain
letter pairs where feasible, narrowing
troublesome letters, creating ligatures or
nipping and tucking letter pairs. In a logo
or headline, we can increase the rest of the
letter spacing to match the worst gaps.
UNLUCKY
SAMMY MINION
UNLUCKY
SAMMY MINION
Below, Caslon is known for having a wide /"and /, two of the very letters that cause big gaps in a setting. Below right, I fixed
Caslon's wagon by narrowing the /"and / (also A*and f) and connecting W-Y-E, which makes a more cohesive setting.
At left, words typed with original
"factory" kerning that provides
general solutions for the average
user. Most designers find they have to
tweak kerning of headline or display
type most of the time.
Here, kerning has been adjusted by
increasing all spaces, the foot of L
has been shortened (first Create
Outlines or break apart type—
cannot be done in Quark), К and Y
have been overlapped. It's not
perfect—the two Ks look like a
W— but it's improved.
BOUNTY LAWYER • BOUNTY LAWYER
6