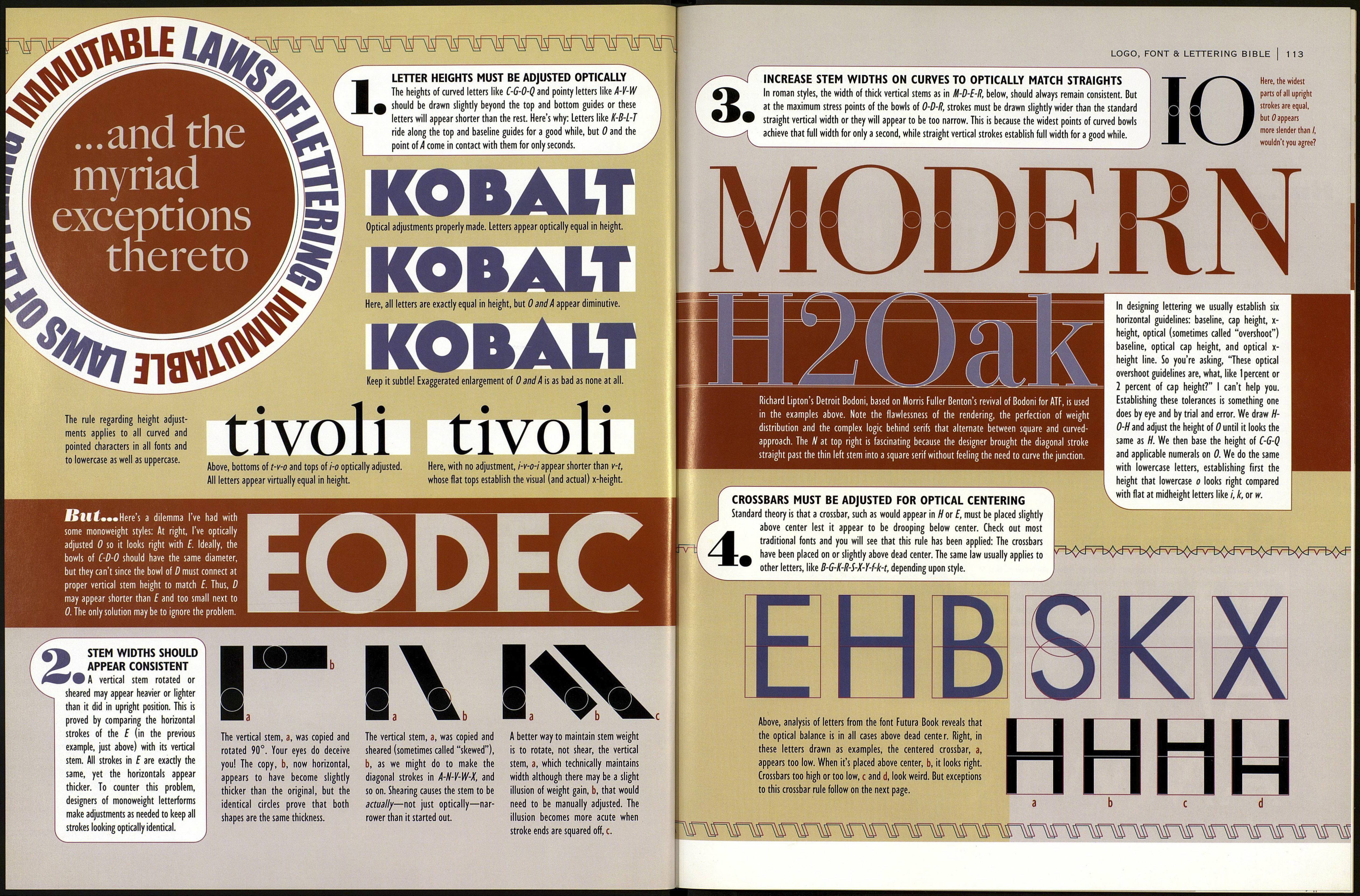 110
ito
Mitch O'Connell is not
afraid to draw. He delights
in juxtaposing more retro
references into each piece
than would seem possible.
His grasp of anatomy and
general skill at drawing
mean there's no way he
could fail to draw excellent
lettering that abides all the
rules of consistency,
balance, spacing and so
on—whether or not he's
made a conscious study of
these qualities.
LETTERERS WHO DRAW, AND DRAWERS WHO LETTER
O'Connell has taken the style and imagery of classic tattoo art and
given it his own unique spin. I doubt there's any better examples than
the collection found on his web site, www.mitchoconnell.com. Tattoo
designs, especially those with banners and lettering, are really body
logos, and every well-designed stroke in O'Connell's work is a master¬
piece unto itself. His inking style, falling somewhere between graffiti
and calligraphy, remains consistent whether applied to the art or the
lettering. O'Connell's is a 1950s stroke, because his brush is always
cocked at about the same angle as Elvis Presley's signature smile.
LOGO, FONT a LETTERING BIBLE
111
Z€AWT
ІІІЁІІ
Rian Hughes is a prolific designer-illustrator as well
as a font designer. Many of his fonts were expanded
from original lettering done for his stunning posters
and ad work, like that for Yellow Boots, left, and
Partners in Crime, below. Hughes is another artist
whose lettering is in complete harmony with his
drawing style, and whose fonts seem to benefit from
his fine sense of proportion and the apparent ease
with which he wrangles his beziers.
Above, legibility is such a boring and cumbersome quality in fonts!
Rian Hughes's cuddly digifont Mastertext Plain, top rows, and his
high-tech-Aztec Terrazzo, middle row, show a maniacal fascination
with resolving tricky spadai conundrums. Blackcurrant Squash, bot¬
tom row, and its derivative sister, Blackcurrant Cameo, right, have,
I'd say, as much verve and honesty of form as anything Zapf ever did.
©0©QQ©
0ѲШѲО