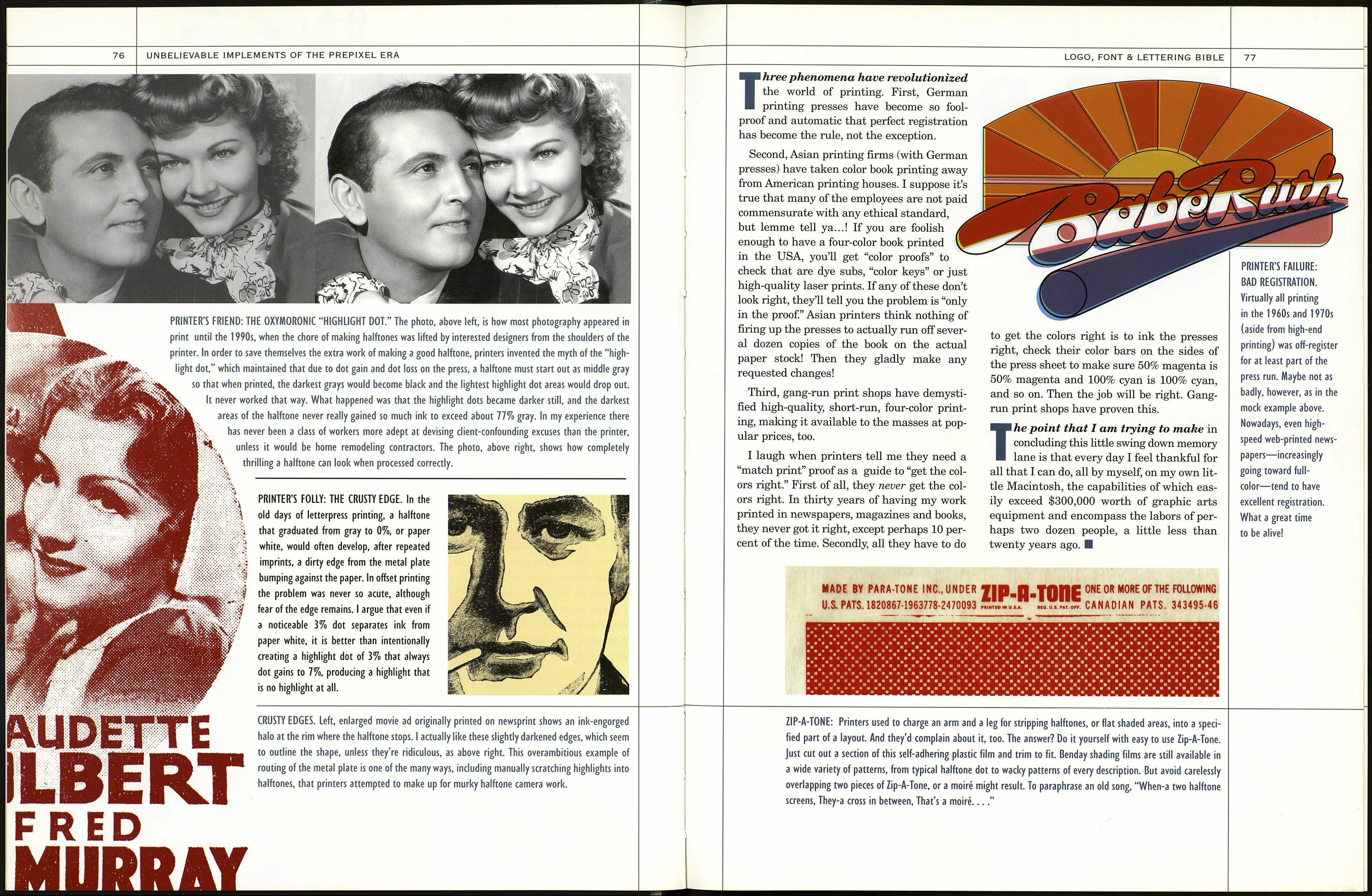 74
UNBELIEVABLE IMPLEMENTS OF THE PREPIXEL ERA
A FEW MILESTONES IN MACHINE COMPOSITION
1872: THE EMPIRE COMPOSING MACHINE, above, was the
* first American typesetting machine to come into common
use. A three-section keyboard, corresponding to three type
cases above, released individual type through converging
channels to form a line. A second operator was required to
manually place type spaces where necessary to justify the
line. The only mechanized aspect was a small motor that
advanced the assembled line of type to make way for the
next character. When the type cases became empty, hand-
filled cases replaced the empty ones. The value of this
arrangement, though far from perfect, was that it elimi¬
nated handpicking of type from cases.
1888: THE ROGERS TYPOGRAPH, above, used a set of matri¬
ces (master type characters) that slid into position when the
keys were pressed and were automatically justified. After a
single line of type was cast in hot metal, the back of the
machine tilted downward, allowing the matrices to slide back
to their original positions, ready for reuse. With this arrange¬
ment, yet another hand operation, the refilling of type "mag¬
azines," was obviated.
1886: THE BLOWER LINOTYPE. Inventor
Ottmar Mergenthaler's first commercial suc¬
cess, the Blower Linotype, above, was the
dream machine of its age. It automatically jus¬
tified the line, pressed molten metal into the
indented matrices to cast one "line o' type" at
a time, and returned the matrices to their
holding positions, ready for reuse. Operators
then locked up the individual lines to create
galleys ready for the press.
1898: THE UNITYPE ONE-MAN TYPESETTER.
Opposite page left, specially designed type
characters were released upon key depression.
Although the operator was required to manu¬
ally justify the lines, this machine, invented by
J. Thome, was at least able to automatically
keep type chambers continually refilled, and
it appears as if it may also have doubled as an
ice cream maker.
LATE 1930s: LINOTYPE. Right, this elaborate
model featured multiple type magazines for a
wider range of styles at the touch of a switch.
Typesetter "Murgatroid" demonstrates proper
ergonomie seating arrangement with arms in
¡deal position for comfort and natural lumbar
support. Two other companies, Monotype and
Intertype, marketed competing machines, but
these great photos of Linotypes were all I had.
75
1898: MERGENTHALER
ROUND-BASE LINO-
ИРЕ. This model
offered several tech¬
nical improvements
over earlier machines,
but since the user
experience was
unchanged (no new
bells and whistles
were offered), it was
not widely adopted
by industry. And tech
support was rumored
to have been lousy.
__