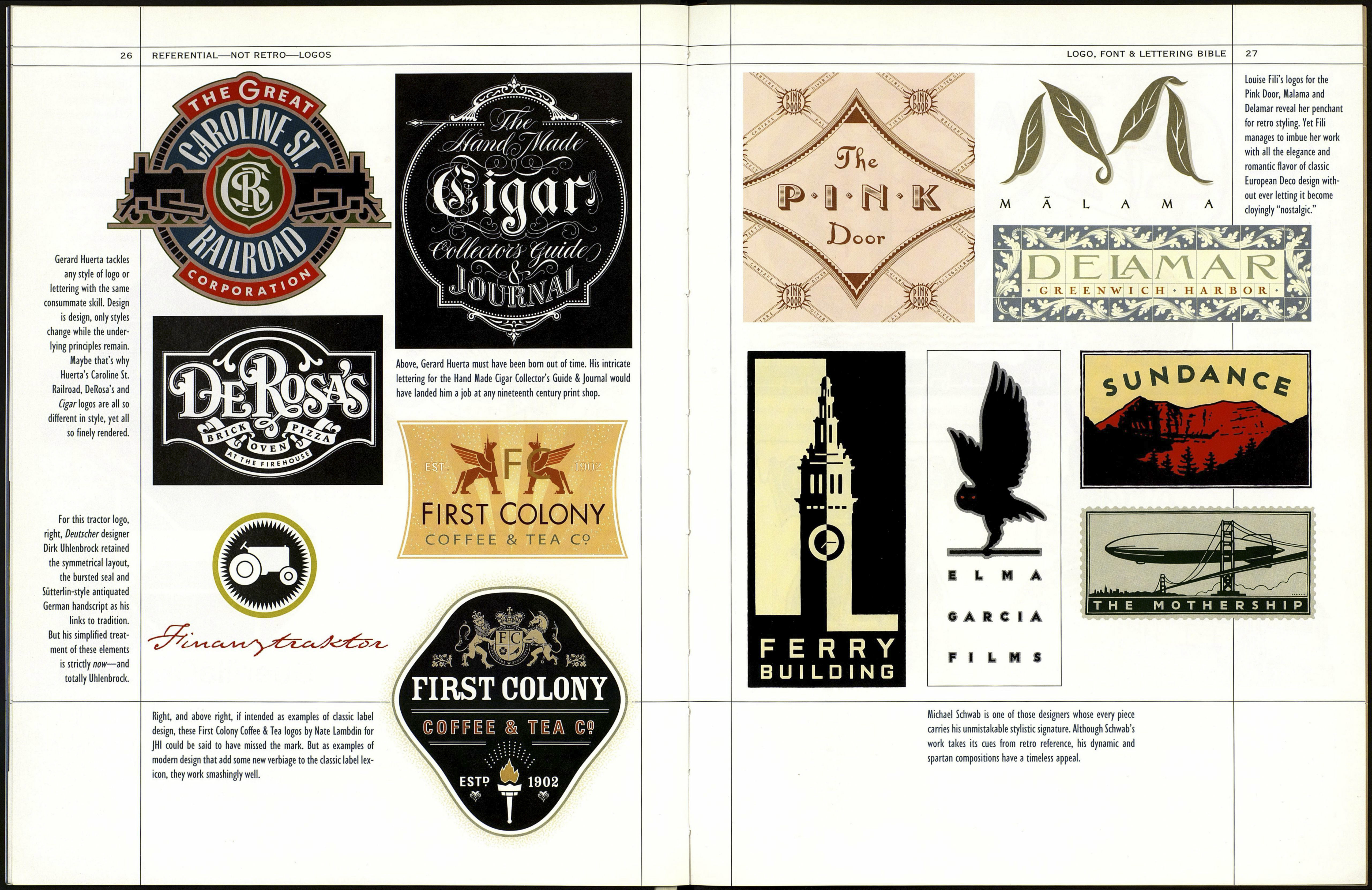 24
ABSTRACTION IN LOGO DESIGN
INT£RNATIONALÇ-€fcVIC€
0£ ART TO INDUÇTRY
CONT€MPOHA-inc-
BRUNO PAUL- ROCKW€LLK€NT • PAULPOI.KT • LUCÍAN B^kìN^AHD
Г/Л L/ L Í. vT i>
VC-
'/IÇNtk • РСУГ//Ѵ£ГГ Dlk-eCTOk
Top, with the emergence of the field of industrial design,
which came about in the 1930s, four artists, hoping to
capitalize on their combined international appeal,
formed Contempora, Inc. The logo is abstract, but cer¬
tainly evokes contemporaneousness to me.
Above, another set of three artists formed Pronova.
Their abstract logo at least implies a triumvirate—of
something. Their stamp, right, reverses the logo's color
sequence, which today's clients are often afraid to do.
DESIGNED BY
FOR YOUR APPROVAL
im
PROPERTY OF
PRONOVA
MODERN ART FOR INDUSTRY
114 E 47TH ST N - Y-
WICKERSHAM 7359
DESIGN NO
LOGO, FONT & LETTERING BIBLE
/ОЛ
M
books and magazines on applied and fine art
Museum Books, inc.
48 East 43rd Street, New York 17, N. Y. Murray Hill 2-0430
Above, a copper-engraved logo from 1802 with a literal depiction
of folds for this fancy cloth goods merchant. Many years later, the
(possible) fabric bolt in the Chase Manhattan Bank logo takes on
a note of abstraction through its stylization.
25
Left, the Museum Books
logo by John Ciampi
is a beauty. It evokes
Picasso's Guernica with
an added initial Afin a
skewed warm gray rec¬
tangle that just reeks
(in a positive way) of
the 1950s.
Guerilla .com
Top, Tom Geismar's famous abstract Chase Manhattan Bank logo suggests
continuity, stability, possibly an ancient coin design. And maybe an indica¬
tion of а С can be found in the folds of such a classic commodity as dry
goods, or perhaps ticker tape? Above, designer Stan Endo swears his Guer-
¡Ila0ne.com logo is no guerrilla parody of Chase. Any resemblance between
Chase and this logo for a dance party organizer is purely coincidental.