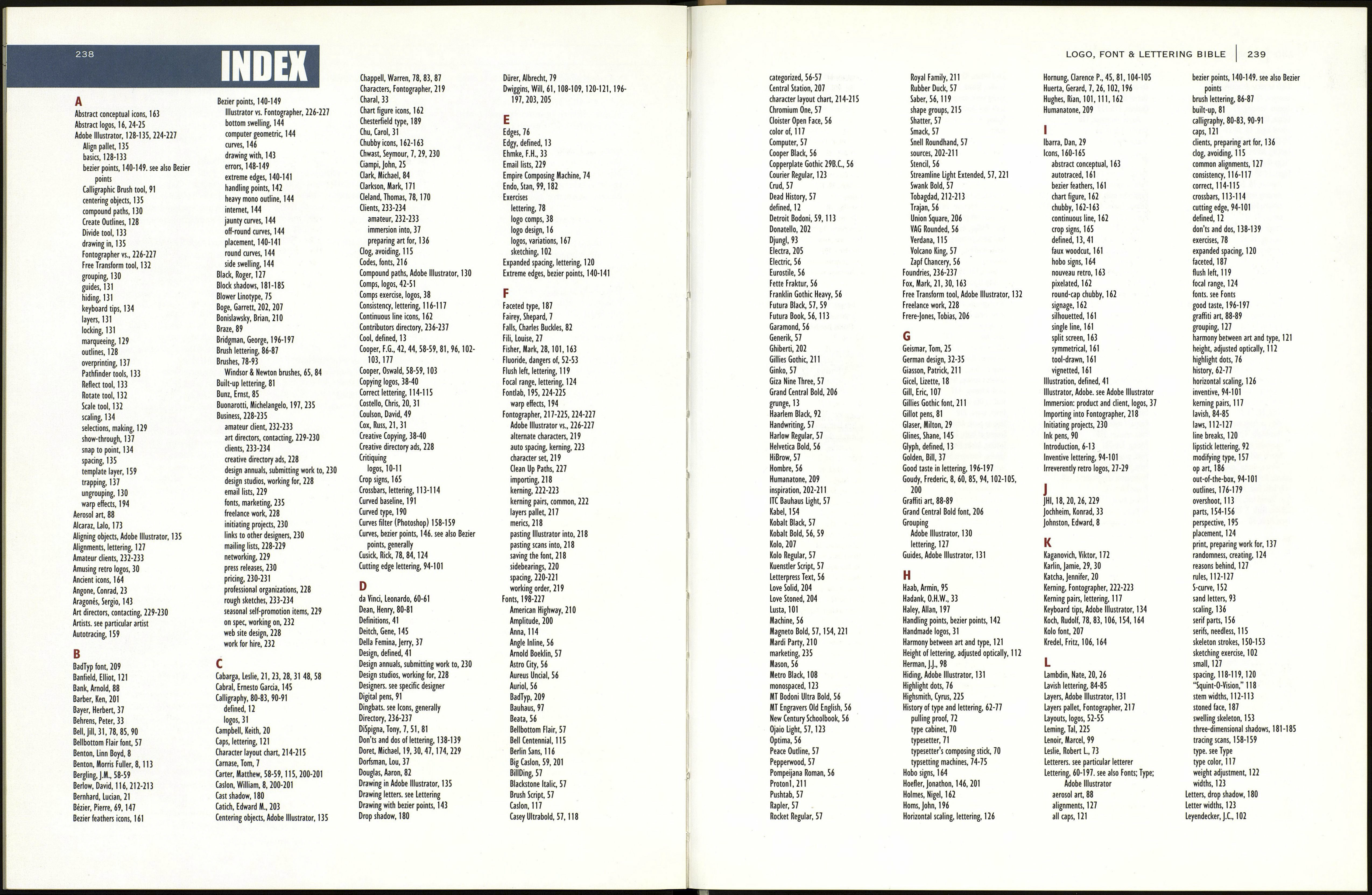 236
Contributors
Adcrobatics, 20, 22
Jonathan Macagba,
New York, New York
tel: (212) 260-1785
info@adcrobatics.com
www.adcrobatics.com
Lalo Alcaraz, 173
Los Angeles, California
pocho@pocho.com
www.lacucaracha.com
Astigmatic One Eye
Typographic Institute, 210
Brian J. Bonislawsky
North Miami, Florida
astigma@astigmatic.com
www.astigmatic.com
Jill Bell, 31, 85, 90
Los Angeles, California
tel: (310) 322-5542
jill@jillbell.com
www.jillbell.com
Black Dog, 21, 30, 163
Mark Fox
San Anselmo, California
tel: (415) 258-9663
mfox@blackdogma.com
www.blackdogma.com
Keith Campbell, 20
New York, NY
fax: (201) 569-2510
Michael Clark 84
Richmond, Virgina
tel: (804) 261-4965
typerror@aol.com
www.ideabook.com/michaelclark
Mark Clarkson, 171
Wichita, Kansas
tel: 316.688.5071
mark@markclarkson.com
www.markclarkson.com
Chris Costello, 20, 31
Watertown, Massachusetts
tel: (617) 926-4251
chriscostello@grolen.com
www.costelloart.com
David Coulson
Pittsburg, Pennsylvania
tel: (412) 243-7064
david@davidcoulson.com
www.davidcoulson.com
Cubanica, 206, 209
Pablo A. Medina
New York, New York
tel: (800) 615-3533
info@cubanica.com
www. cubanica. com
Rick Cusick, 84, 125
Overland Park, Kansas
tel: (913) 648-6405
rickcusick@mac.com
Device, 101, 111, 162
Rian Hughes
London, United Kingdom
FAX (44) 0207 575 3055
RianHughes@aol.com
www.devicefonts.co.uk
Tony DiSpigna, 51, 81
Brooklyn New York
tel: (718) 837-2204
Dispignal@aol.com
Michael Doret, 30, 47, 229
Los Angeles, California
tel: (323) 467-1900
michael@michaeldoret.com
www.michaeldoret.com
Stan Endo, 25, 182
Los Angeles, California
tel: (323) 856-9027
sendo@earthlink.net
www. endodesign.com
Shepard Fairey, 7
Los Angeles, California
tel: (213) 383-9299
amanda@obeygiant .com
www.obeygiant.com
Louise Fili Ltd., 27
Louise Fili
New York, New York
tel: (212) 989-9153
louise@louisefili.com
www.louisefili.com
Mark S. Fisher, 28, 101, 163
Lowell, Massachusetts
tel: (978) 452-0977
marksfisher@bigplanet.com
www.marksfisher.com
FlashFonts, 21, 23, 28, 31, 48, 50
Leslie Cabarga
Los Angeles, California
tel: (323) 549-0700
fax: (323) 549-0202
lescab@flashfonts.com
www.flashfonts.com
www.logofontandlettering.com
www.lesliecabarga.com
Font Diner, 210, 211, 228
Stuart Sandler
Blaine, Minneapolis
diner@fontdiner.com
www. fontdiner. com
The Font Bureau, 228
David Berlow
Harry Parker
Boston, Massachusetts
tel: (617) 423-8770
fax: (617) 423-8771
info@fontbureau. com
www.fontbureau.com
Form Function & Finesse, 23
Seth Bernstein
St. Louis, Missouri
fax: (314) 647-6444
sbernstn@swbell.net
Patrick Giasson, 211
London, United Kingdom
Tel: +44 207 713 1039
patrickgiasson@hotmail.com
Shane Glines, 145
Eugene, Oregon
tel: (541) 221-8811
sglines@earthlink.net
www.shaneglines.net
Hoefler & Frere-Jones Typography,
146, 206
Jonathan Hoefler
Tobias Frere-Jones
New York, New York
Tel: (212) 777-6640
info@typogr aphy. com
www.typography.com
Nigel Holmes, 162
Explanation Graphics
Westport, Connecticut
tel: (203) 226-2313
fax: (203) 222-9545
www. nigelholmes. com
nigel@nigelholmes.com
Gerard Huerta Design, 26
Southport, Connecticut
tel: (203) 256-1625
gerardhuerta@earthlink.net
www. gerardhuerta.com
JHI, 20, 26, 228
John Homs
Richmond, Virginia
tel: (804) 340-5200
fax: (804) 340-5201
info@jhigoodidea.com
www.jhigoodidea.com
LOGO, FONT a LETTERING BIBLE
237
Viktor Kaganovich, 172
Hamburg, Germany
tel: +49 40 22748030
mail@ viktorkaganovich.com
www. viktorkaganovich .com
Larabie Fonts/ Typodermic
Ray Larabie
Mississauga, Ontario
ray@typodermic.com
www. typodermic. com
Christian Lavigne, 147
Paris, France
tel: 33 (0)1 43 26 45 85
lavigne@toile-metisse.org
www.toile-metisse.org/cl
Tom Nikosey, 174, 228
Encino, California
tel: (818) 704-9993
Logoten@aol. com
www.tomnikosey.com
Mitch O'Connell, 110, 145
Chicago, Illinois
tel: (773) 588-8797
info@mitchoconnell .com
www. mitchoconnell. com
Jim Parkinson, 19, 146
Parkinson Type Design
Oakland California
tel: (510) 547-3100
parkinson@typedesign.com
www.typedesign.com
Daniel Pelavin, 19, 43, 163, 175
New York, New York
tel: 212 941-7418
daniel@pelavin.com
www.pelavin.com
Planet Propaganda, 20, 29, 30, 228
Madison, Wisconsin
tel: (608) 256-0000
travis@planetpropaganda.com
www.planetpropaganda.com
Pushpin Group, Inc., 29, 230
Seymour Chwast
New York, New York
tel: (212) 529-7590
fax: (212) 529-7631
info@pushpininc.com
www.pushpininc.com
Ross Culbert & Lavery, Inc., 30
Michael Aron
New York, New York
tel: (212)206.0044
maron@rclnyc.com
www.rclnyc.com
Michael Samuel, 23, 169
Michael Samuel Graphics
New York, New York
tel: (212) 722-8125
logosam@earthlink.net
www.samuelgraphics.biz
Wolfgang Schindler, 165
Hamburg, Germany
tel: +49 40 51 26 50
schindler@invisiblecircle.de
www.invisiblecircle.de/schindler
Michael Schwab, 27
San Anselmo, California
tel: (415)-257-5792
fax: (415) 257-5793
michael@michaelschwab.com
www.michaelschwab.com
Paul Shaw, 83, 202
New York, New York
Tel: (212) 666-3738
Fax: (212) 666-2163;
paulshaw@aol.com
www.letterspace.com
SignalGrau Design, 22, 23, 26
Dirk Uhlenbrock
Essen, Germany
tel: +49.201.730511
fax: +49.201.730521
du@signalgrau.com
www.signalgrau.com
Mark Simonson, 31
St. Paul, Minnesota
tel: (651) 649-0553
mark@ms-studio.com
www.ms-studio.com
Smiling Otis Studio, 21, 31
Russ Cox
Lancaster, Pennsylvania
tel: (717) 291-0597
fax: (717) 291-0598
russ@smilingotis.com
www. smilingotis. com
TreePeople, 20
Maryrose Норке
Beverly Hills, CA
tel: (818) 753-4600
info@treepeople.org
www.treepeople.org
Doyald Young Design, 84
Doyald Young
Sherman Oaks, California
tel: (818) 788-5562
doyald@pacbell.net
www.delphipress.com
Foundries Represented:
astigmatic.com
devicefonts.co.uk
fontbureau.com
fonts.com
P22.com
fontdiner.com
flashfonts.com
typography.com
logofontandlettering.com
jillbell.com
letterspace.com
ms-studio.com
typedesign.com
girlswhowearglasses.com
costelloart.com
adobe.com/type/main.jhtml
comicraft.com
itcfonts.com
emigre.com
bur odestruct. net
regleszero.com
Resources:
Identifont.com (locate fonts)
regleszero.com (online type magazine)
typographer.com (type news)
typographi.ca (type news)
typophile.com (type forums)
fontlover.com (type news)
Oswald Cooper (web movie)
www.cheshiredave.com/movies
Jim Gallagher (Fontographer guru)
supportandmore.com
typesociety.org ( The Society of
Typographic Aficionados)
fontlab.com (font creation software)
Despite every effort to ensure the thoroughness and accuracy of the information and tutori¬
als in this book, I know that many readers will have suggestions for, and perhaps objections to, parts of the
content. With the intention of making this the very best book that it can be, I invite your comments, criticisms, cor¬
rections, tips and tricks and will attempt to incorporate all that have merit into future editions of the book.
However, I will not be able to comment on readers' personal work or offer tech support on issues covered or not
covered in this book (even with 240 pages, I was regretfully unable to include all the information I had hoped to).
Please contact me through my web sites, logofontandlettering.com, and flashfonts.com.