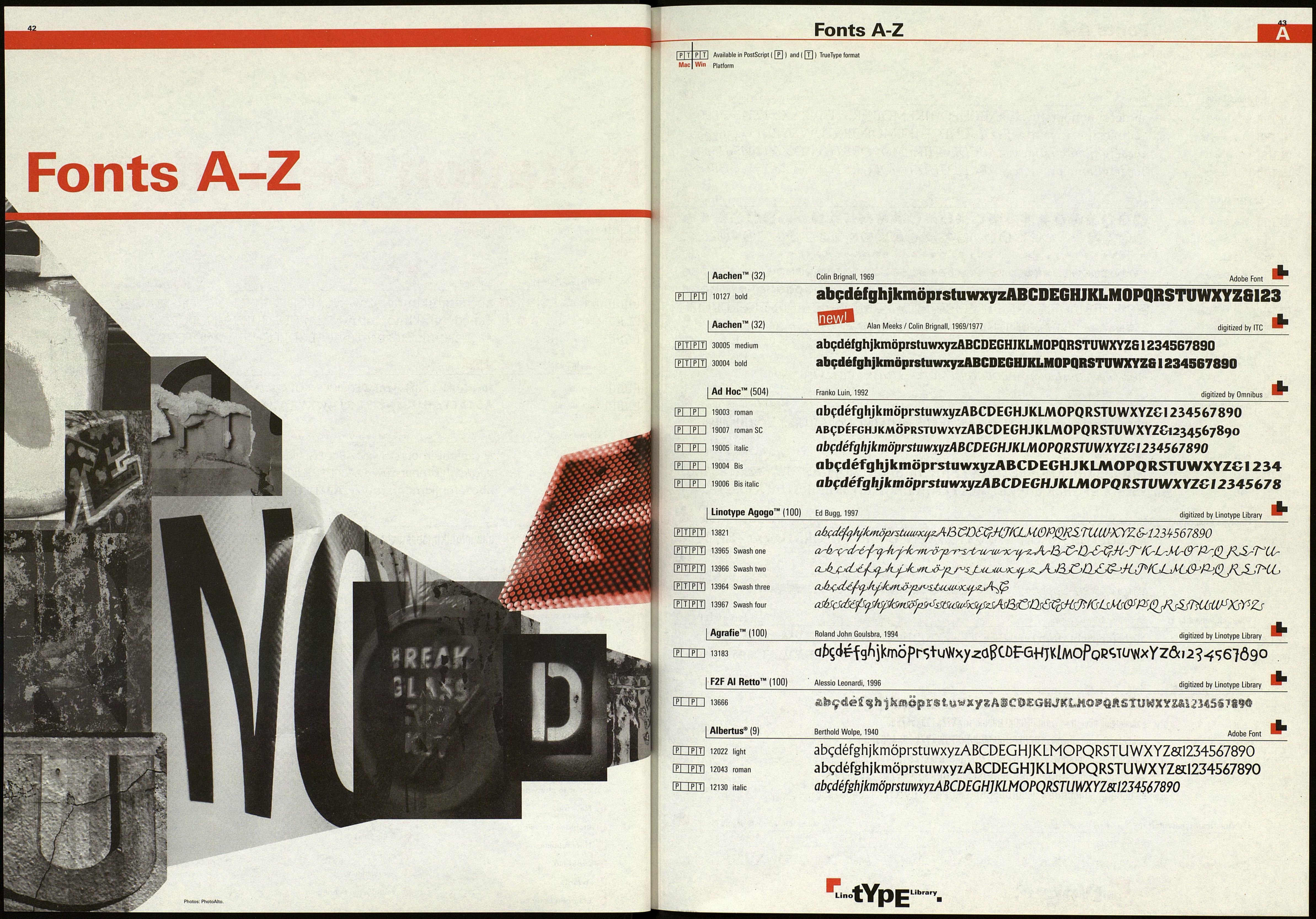 'Library
presents
light italic
light sc
il im
flic
RI
REGULAI
Г(
ïguïar
wlàf italic
JULAR SC
Italic sc
llar OsF
regMaxJtalic OsF
medium
medium italic
medium sc
MEDIUM ITALIC SC
medium OsF
medium italic OsF
bold
bold italic
light italic
LICHT SC
LICHT ITALIC SC
regular
regular italic
RECULAR SC
REGULAR ITALIC SC
medium
medium italic
medium sc
^ ' "'/' ll!¿J
В О L D SC
i
АС К SC
«Hu
*
м Fui
heavy italic OsF
black
black italic
black OsF
black italic OsF
■otation Definitions
ИаІЫіТгІіЫЦЯ
Notation Definitions
ГП ) TrueType format
О ѳ
Peter Matthias Noordzij, 1990
О
О Adobe Font digitized by Linotype Library ИП
P1T P | T | Available in PostScript 11 P11 and
ІМасШіп Plattform
О
о ѳ
1 PMN Caecilia™ (100)
о
О abçdéfghjklmoprstuwxyzABCDEGHJKLMNOPQRSTUWXYZ&1234567
new €abçdéfghjklmoprstuwxyzABCDEGHJKLMNOPQRSTUWXYZ&123456
abçdéfghjklmopqrstuaa^ABCDEFGHIJKLMNOPQRSTUW& 123456789
I RITIRITI 10881 45liqht
I I 1 ITI 50881 45 liqht © Ф
ІРІ ІРІТІ 11078 45 liqht SC
| Carumba™ (6)
© ЩИ! Jill Bell, 1991
Digitized by ITC ¡Г
*btJéfз^jЫ'nвpr^t^(VvxyzV\ЪФETQtìUKL^л^OP«l.'RÇтIJV^rVXYZ&'1г54ç6^S',)0
ІРІТІРІТІ 30100 plain
IPITIPITI 30101 HotCaps
®
| Linotype Ergo™ (100)
Gary Munch, 1997 2nd Linotype Type Design Contest Winner ©
Digitized by Linotype Library ШГ
abçdéfghjklmoprstuwxyzABCDEGHJKLMOPQR5TUVWXYZ&1234567890
abçdéfghjklmoprstuwxyzABCDEGHJKLMOPQRSTUVWXYZ&1234567890
abçdéfghjklmoprstuwxyzABCDEGHJKLMNOPQRSTUWXYZ&1234567890
ІРІ ІРІ I 13732 reaular
I PI |P| I 13737 italic
I PI IPI I 13738 medium
| Old Town No 536™
Digitized by EF EF
^ abçdéfghiklmaprsiuwxyzABCDEeHJKLMNDPQRSTUWXYZE1234567Q90
I PI I Pi I 16034 ©
О Platform (Mac/Win) and Q Platform (Mac/Win) und
Format (PostScript/TrueType) Format (PostScript/TrueType)
О Plate-forme (Mac/Win) et
format (PostScript/TrueType)
Q Name of typeface
Q Schriftname
Q Nom de la fonte
Q Source of typeface
s Q Herkunft der Schrift
Q Provenance de la fonte
Q Designer
Q Designer
Q Créateur
Q Year of design
Q Entstehungsjahr
Q Année de création
Q Origin of digitalization © Herkunft der Digitalisierung
Q Origine de la numérisation
О Library: Q Bibliothek:
J> Linotype Library rf- Linotype Library
EF EF fontinform EF EF fontinform
Q Librairie:
+ Linotype Library
EF EF fontinform
© Weight/Layout
© Schriftschnitt/Zeichensatz
Q Graisses/Jeu de caractères
© Typeface set in 12pt (pica) with
unmodified fitting.
Certain letters which have a similar
appearance have been left out in
order to show numbers.
ф New font
ф Includes Eurosign
ф New releases
ф Order No.
ф Awards
ф Enlarged body size
© Alphabete in 12-Punkt-Größe (Pica)
ohne Laufweitenveränderung.
Zugunsten von Ziffern wurden einige
Figuren des Alphabets weggelassen.
ф Neuer Schriftschnitt
ф Mit Eurozeichen
ф Neue Schriften
ф Bestell-Nr.
ф Auszeichnung
ф Vergrößerter Schriftgrad
© Alphabets composés en 12 points (pica)
sans modification des approches.
Afin de pouvoir montrer quelques chiffres,
certains caractères aux formes similaires
ont été retirés.
ф Nouveau ¡eu de caractères
ф Avec Euro
ф Nouveautés
ф № de référence
ф Décoration
ф Corps supérieurs