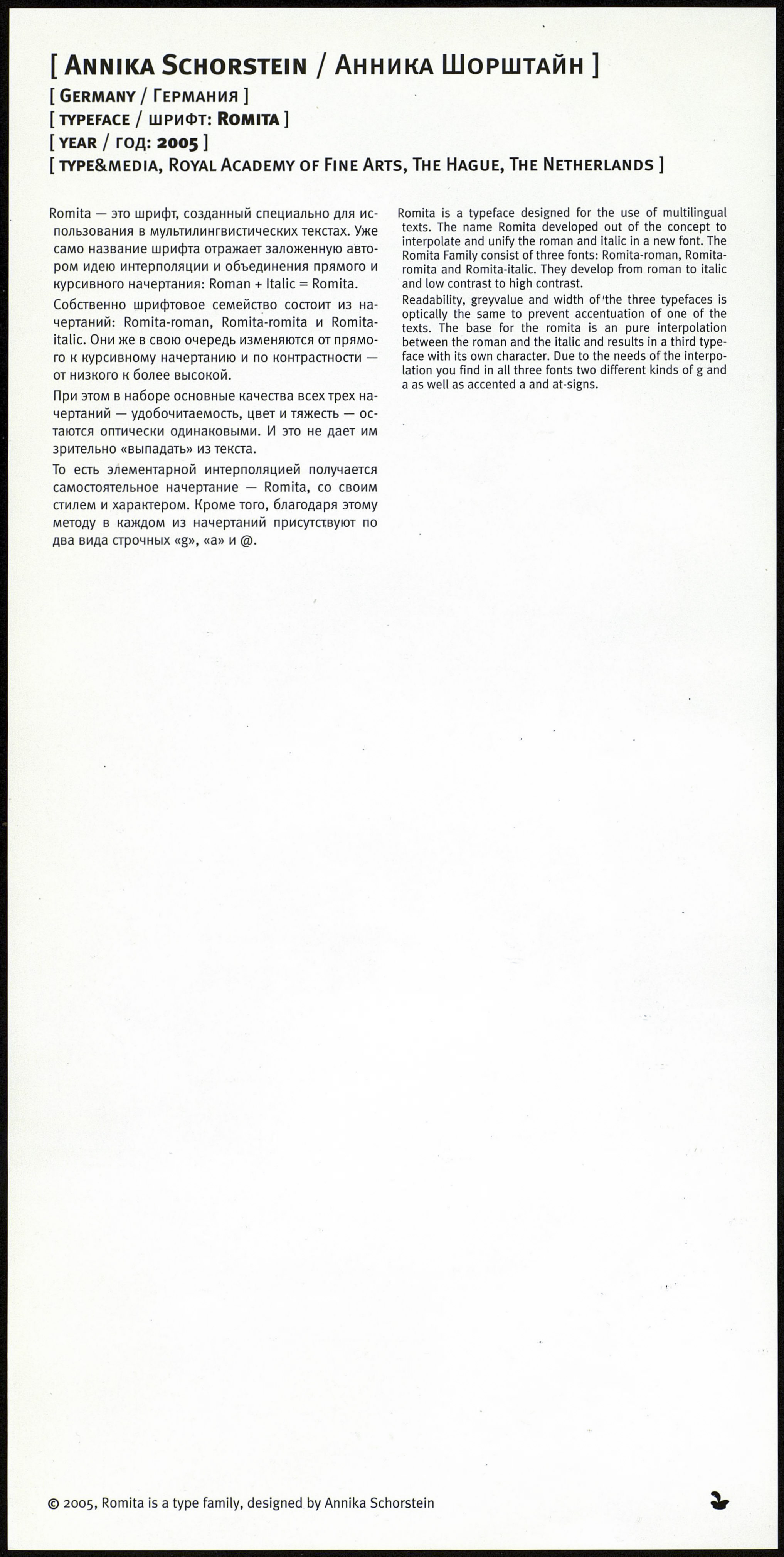 Romita
Eine Schrift fur mehrsprachige Texte
Wir leben m einer internationalen Weil. Wh sind umgeben von Informationen
komm en oui mHiWmn Ldndrm und sprechen verschiedene Sprachen.
Wir haben erkannt das Menschen sich viel wohler ¡Uhlen, urnn sie in Ihrer
eigenen Sprache lesen, lernen und interagieren können. Als Ergebnis ia Jas
erarbeit des postgraduierien
Das Ergebnis ist eine Textschrift, geslaltef für Jen Ce brauch von meh rspta.
chigen Texten. Der Nomo Romita entwre kehr sich aus dem Komept Horn an
und Italic ru interpolieren und in einer neuen Sehii/t eu vereinen. Die Romita
Familie bcstrht aus drei Schnitten; Rornita-mman, Rontila'tvmila und
Romita-italie. Ste entwickeln sieh von Roman lu Italic und von wenig ui viel
Kontrast Lesbarkrit.CiauweT1 und Watt der drei Sehnfien sind optisch
gleich, um der Retonung einer der rextetomheugm.
Die Basis für Romita ist cm,
aditali,
r u mit Ablenten und at-Zeichen enthalten.
Een lettertype voortekst in verschillende talen
We leven In ten internationale tvereld. We xijn omnngd door infoimabe en
we Irren omfegaan met merrdcrr talen. Menten komenuif verschilfende
Ianden en sprvken verschillende alen. We hehlten het gesccrpteeni dal
meinen het prêt tiger vinden oat te leien, te Irren en te commtmJcrrvn in htm
etgen taal Dit heeftaii resullijtdir de behorfieaan t
Ilei trsulaxt tseen Irrten
versehiUende alen. De nt
le сотЬгоетел ntrt ero a.
xenltekenienhetsl-trkenssx
A typeface for multilingual texts
TiJdensmljnwethiUgnfischontweiperkrijgikvxiktenukmmelhet
/cifra van teksten In verschillende alen, mur Ik heb под noon een lettettype
gesunden dal toldredsonde eisen rmerwschttngcn. Dir ргоЫеет
tomaie hrt unqjruppunl mor mÿn rindexsmenprojnt vorn de tweedefsse
opleiding Type 1nd Medio мл de KontnklijkeAcsdemie van Beeidende
hergrbniikin trfcxirn in
ООП uii hei Idee ont cm romrin
'foncDeRomilifimiltcbeitiit
uil dnr fonts: Romita-roman, Romita-romita en Romita-italic. Or letters суп
ontwcipm ran rnmtin tun fulic en vin Lug asir hoag conimi imbu-
hctd.gnpcninlen en btevdte van dcdrirtenrhfITende funis a optisch
headfle omuitspnngendesbvijkingen van ebn nnde foals te sstoekomen
n interno tion/1 Wbtld. VtV ore surrounded by inform jüon and we
1 to occoaimodotr vinous tuifuogei People come from different
id u»c dlffeient languages, \W hove accepted dut people feel
ran station boo never been so greot os it is
During my work oso graphic designer I hod to drol with the problem of
setting multilingual te««, but I never found 0 typeface that trolly full Ailed
the needs and espectatioos. That was the problem and the Idea of my Anal
profeti for the postgraduate course Type and Media at the Royal Academy
ofAninThc Hague.
s a teat typeface designed fot
if multilingual tests, the
«polite and unify the
'font The Roeniu family consist of three fonts;
omiu and Romita-italic. They develop from romai
tost to high contrail. Readability, grcyvalue and width
he three typefaces is optically the sar
on of one
The base for the romita is an pure Interpolation between the roman and the
Italic and rrsulu in a third typeface with Its own character. Due to the needs
of the Interpolationyou And In all three fonts two different kinds of g and a
as well as accented a characters andat signs.
a а aabcdefgghijklmnopqrstuvwxyzABCDEFGHIIKLMNOPQRSTUVWXYZfiflß
gg âàâââââàâââàçééêmmôdôôôSùùûüÿyiÂÂÀÂMçÉËÈÈÎiWÔÔÔÔÔSÜÙÛÙŸŸZ
(<>«») .,:•""","?'.€@@I234567890
a a aabede fgghijklmnopqrstuvwxy z ABCDEFG HIJKLMNOPQRSTUVWXYZ ft flß
gg ààâââàààââââçéèêëiiîïüôàôôôsùùûüÿÿzAÀÀÂÀÂÇÉËÈÊÎÏÎÎNÔÔÔÔÔSÜÙÛÙYŸZ
aa aabcdefgghijklmnopqrstuvwxyzABCDEFGHI|KLMNOPQRSTUVWXYZfiflß
§9
(о«»).,:;' ,"?!€@(Эі2345б7890
Romlu is a typeface designed by Annika Scborstein In 1005