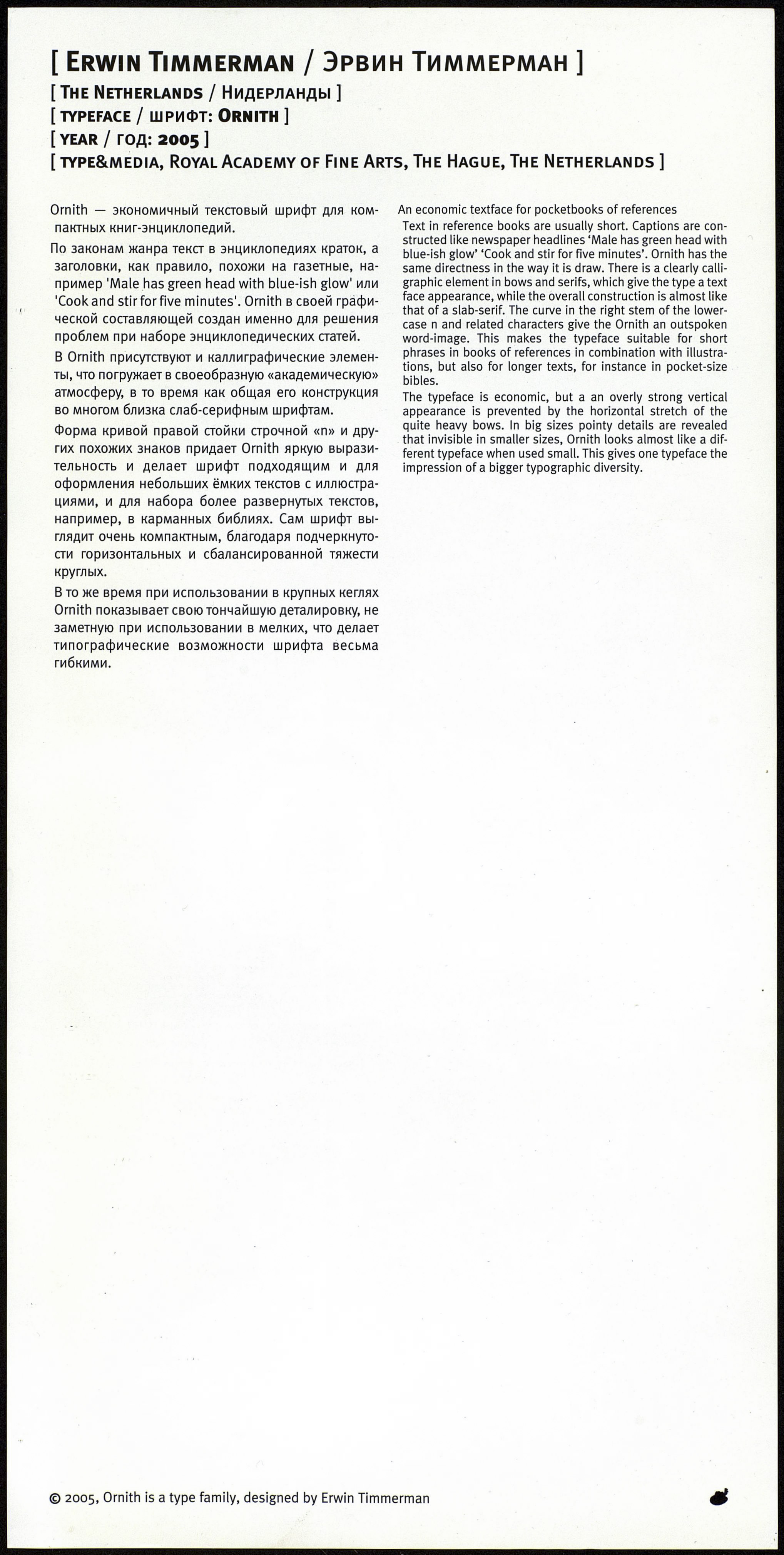 Erwin Timmerman t]m 2005
iinr
ln-rtra
a3gF/R?
п&з@дЪ
s]2eR5!
H6&B5fe
Ш economische tekstietter voor
naslagwerken op zakformaat
Tekst in naslagwerken is over het algemeen kort. Zinnen zijn
vaak geconstrueerd ais krantenkoppen. 'Mannetje groe ne kop wet
blauwe glans" 'Breng aan de kook en roervijf minuten'. De Omith
heeft in zijn tekening een zelfde soort directheid. Er is een
duidelijk kalligrafisch karakter in bogen en schreven, wat de
letter een tekstletter-uitstraling geeft, terwijl de constructie
bijna die van een Egyptiëne is. De curve in de rechtervoet van
de onderkast n en gerelateerde karakters geven de Ornith een
nadrukkelijk woordbeeld. Dit maakt dat de letter zieh leent voor
korte kreten in naslagwerken in combinatie met illustraties,
maar ook voor längere stukken tekst als het bljvoorbeeld gaat
om een zakbijbel. De letter is zuinig, maar een al te sterk
verticaal karakter is opgevangen door het horizontale karakter
van de vrij zware bogen. In grotere corpsen springen de puntige
details in het oog die in kleine corpsen wegvallen. Vergeleken
met grotere corpsen ziet de Ornith er in het klein bijna uit als
een andere letter. Dit maakt dat één letter de indruk van een
grotere typografische verscheidenheid geeft.
An economic textface
for pocketbooks of references
Text in reference books are usualy short. Captions are
constructed like newspaperheadlines 'Male has green head with
Ыие-ish glow' 'Cook and stir for five minutes.' Omith has the same
directness in the way it is drawn. There is a clearly caligraphic
element in bows and serifs, which give the type a text face
apearance, while the overall construction is almost like that of
a slab-serif. The curve in the right stem of the lowercase n and
related characters give the Omith an outspoken word-image.
This makes the typeface suitable for short phrases in books of
references in combination with illustrations, but also for longer
texts, for instance in pocktet-size bibles. The typeface is
economic, but a an overly strong vertical appearance is prevented
by the horizontal stretch of the quite heavy bows. In big sizes
pointy details are revealed that are invissible in smaller sizes.
In comparrison with big sizes, Omith looks almost like
a different typeface when used small.This gives one typeface
the impression of a bigger typographic diversity.
Regular
Black
Italic
SMALLCAPS