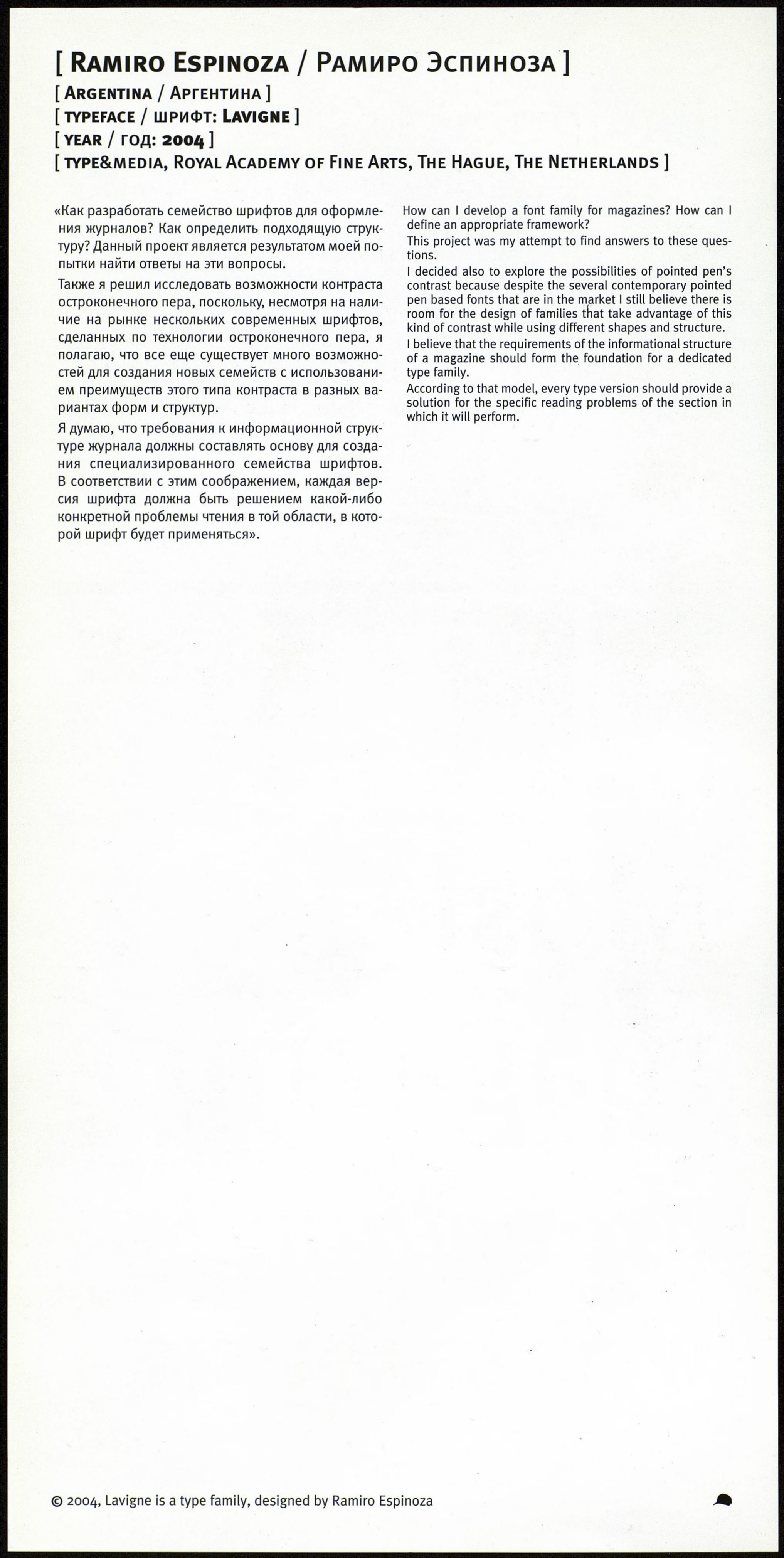 Lavigne
}How can I develop a font family for magazines?
How can I define an appropriate framework?
This project was my attempt to Find answers
to these questions.
I decided also to explore the possibilities of
pointed pen's contrast because despite the several
contemporary pointed pen based fonts that are in
the market I still believe there is room for the
design of families that take advantage of this kind
of contrast while using different
shapes and structure.
Magazines as systems
—
£ä*J
Я
*A family for magazines
0 Rose, thon art siet!. Э. Э. â П
visible worm that ЙЯЯа
►aegys
►gameh ► 12З45678 ► &&
► handgloves ► handgloves ►
► handgloves ► handgloves
•I beli evi: that the requirements
of the informational structure of
a magazine should form the
foundation for a dedicated type family.
According to that model, every type
version should provide a solution for
the specific reading problems of the
section in which it will perform.
Using Lavigne system
How to develop
typefaces for
magazines
from scratd^B
I want to live
life full-on'
Some specimens
Most
abcdefghijklmnopqrstuvwxyz
ABCDEFGHIJKLMNOPQRSTU
VWXYZoi2345678Q{[(@)]}^f§1
abcdefghijklmnopqrstuvwxyzABCDEFGHIJKLMNOPQRSTUVWXYZoi23456789{[(@)]}©'f§5
magazines
abcdefghijklmnopqrstuvwxyzABCDEFGHlJKLMNOPQRSTUVWXYZoi2345678g¡[((a))l}&f§J
are nothing hut
abcdefghijklmnopqrstuvwxyzABCDEFGHIJKLMNOPQRSTUVWXYZoi23456789{[(@)]!£?t§1
WEEKLY FETISHES
ABCDEFGHiJKLMNOPQRSTUVWXYzABCDEFGHIJKLMNOPQRSTUVWXYZoi23456789{[(@)]}e?f§}
abcdefghijklmnopqrstuvwxyzABCDEFGHIJKLMNOPQRSTUVWXYZoi23456789{[(@)]}©f§5
abcdefghijklmnopqrstuvwxyzABCDEFGHIJKLMNOPQRSTUVWXYZot23456789{[(@)]}ö>t§1