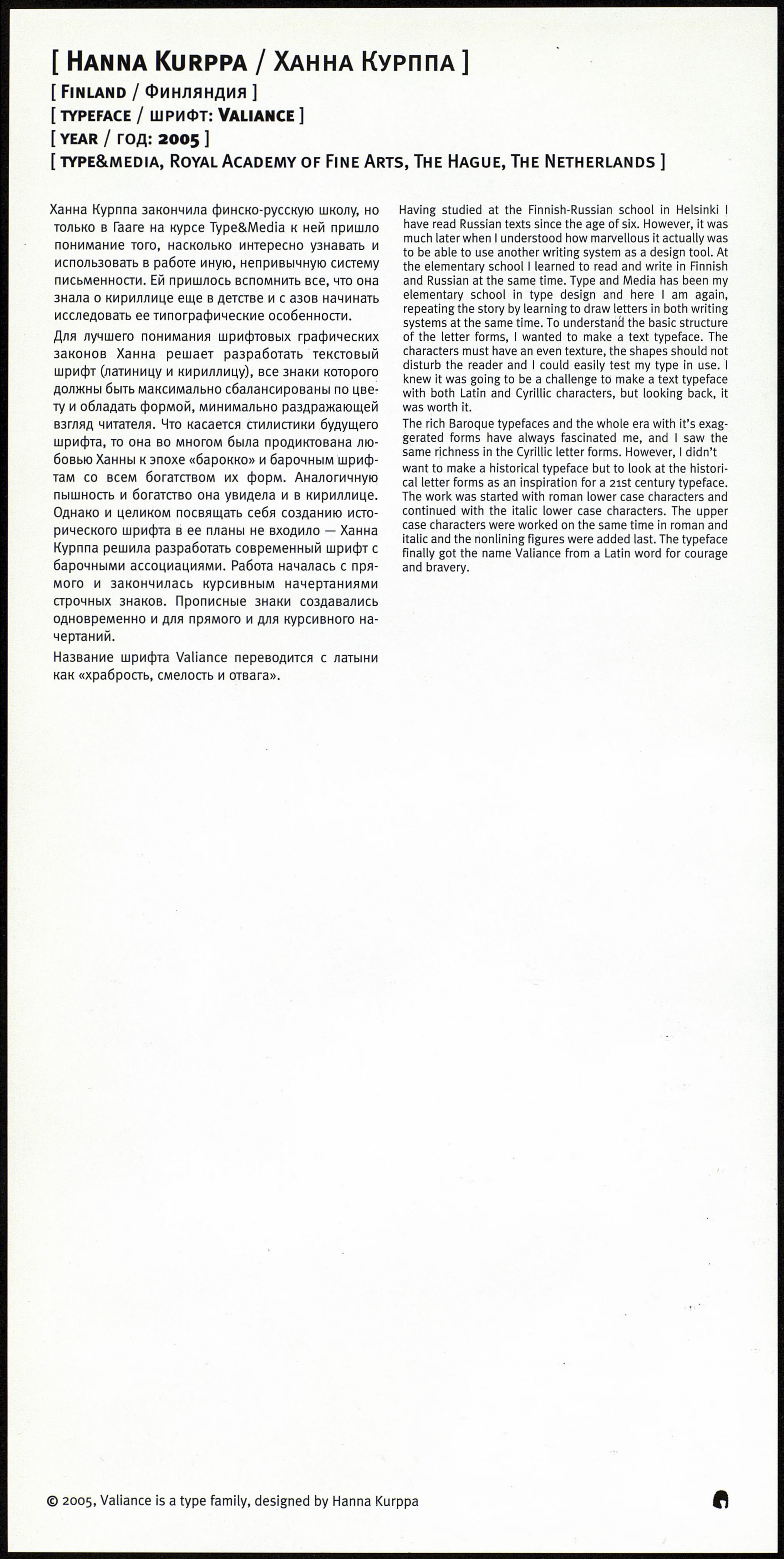 гхиклм
ноп рст
Ѵаііапсе
ш
ABCDEFCHIJKLMNOPQRSTUVWXYZ
abcdefghijklmnopqrstuvwxyz 1234567890
ABCDEFCHIJKLMNOPQRSTUVWXYZ
abcdefghijklmnopqrstuvwxyz 1234567890
АБВГДЕЖЗИЙКЛМНОПРСТУХФХЦЧШЩЪЫЬЭЮЯ
абигдсжзнйклмнопрстуфхцчшщъыъэюя
АБВГДЕЖЗИЙКЛМНОПРСТУХФХЦЧШШЪЫЬЭЮЯ
абвгдежіийклмиопрстуфхцчшцъыъзюя
OHamburgefonti ves 8с kir jaimet
OHamburgtfonlìves 6 kirjaimet
Валиаис - шрифт дня межхультурных проектов
Cyrillic character* of a font are often designed later
by an other designer,Therefore I was fàscinaied by
the idea of the simultaneous development ofLatin
and Cyrillic character*. The inconsistent Cyrillic
typographic hetitagc is an unlimited sourceof
Inspiration—if both character sets were designed at
the same time, would there be interaction between
the letter shape* in both way*? Valiance 1* designed
for multicultural projects, like annual reports,
bilingual brochures or educational material, when
foreign words need to be emphasized In a text or the
information needs to be set in two languages.
Hanna Kurppa,Type and Media *005