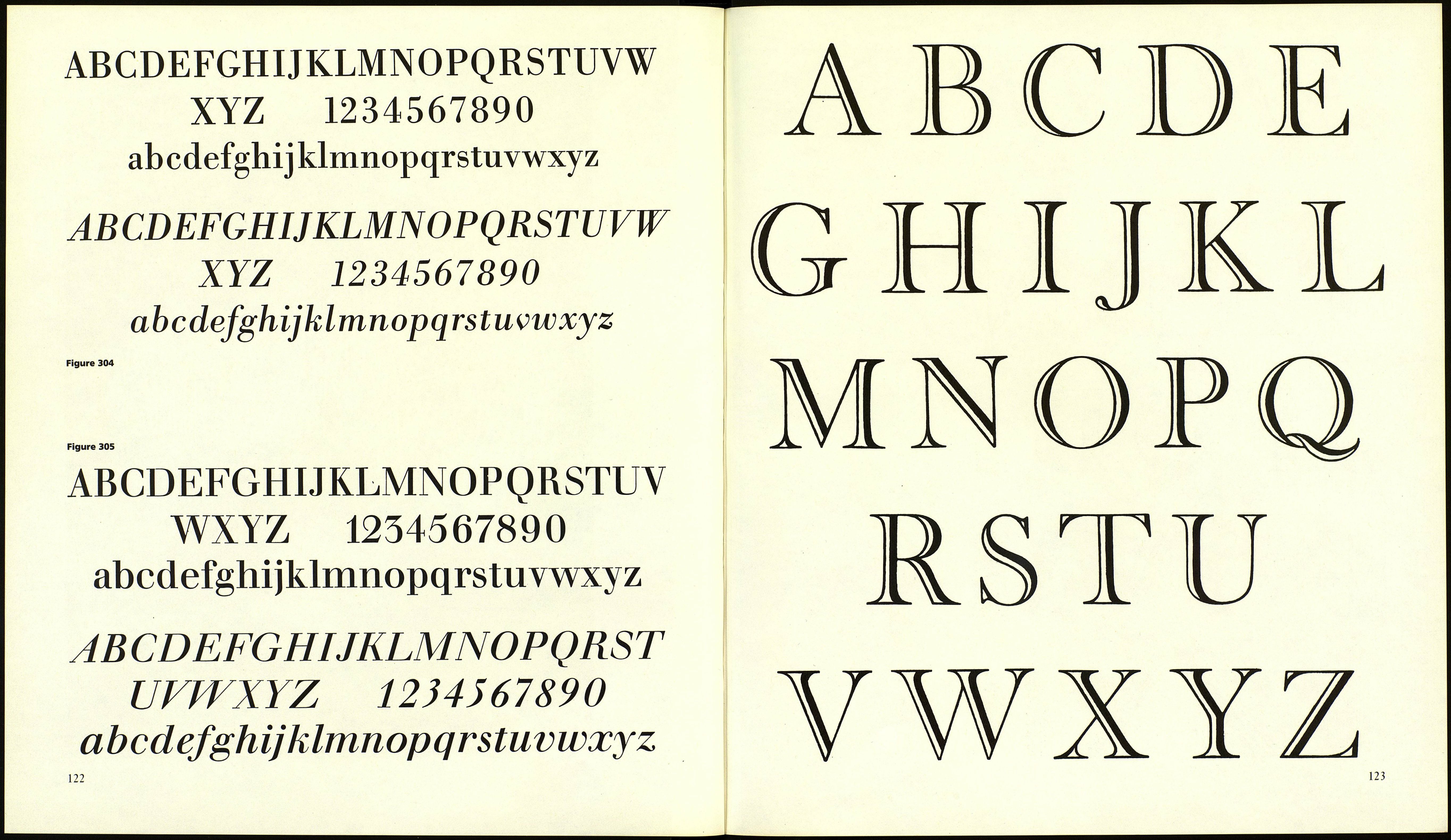 Neoclassical Roman
The aesthetic and rational spirit of neo-
classicism is embodied in the types of
Didot in France, Bodoni in Italy, and
Walbaum in Germany. They impress us
with precision and strength, but they are
less lively than those of the Renaissance
or baroque roman which the neoclassi-
cists stripped of any traces of the graver.
Characteristics include stark contrasts
between thick and thin strokes, capitals
of almost identical width, and horizontal
hairlines for serifs even on lowercase
letters.
An improved printing technique and
smooth paper were the prerequisites for
this development. Modern modifications
of the neoclassical roman are among
others: Amati, Corvinus, Figura, Perga-
mon, and Tiemann. Attempts were made
to use width proportions of the Renais¬
sance roman for an improved neoclassi¬
cal type: Diotima and Athenaeum. The
work is executed with an almost hori¬
zontal pen. A similar attempt is shown in
the baroque roman of Figure 302.
301 Didot roman capitals.
302 Roman alphabet in the baroque style.
Study by Harald Brodel.
303 Neoclassical capitals. Calligraphy by
Irmgard Horlbeck-Kappler.
On pages 122 and 123:
304 Bodoni roman and italic (36-point). Type
setting by Andersen Nexö, Leipzig.
305 Walbaum roman and italic (36-point).
Typesetting by Andersen Nexö, Leipzig.
306 Eighteenth-century decorative roman.
Caslon, Fry & Steele, Stephenson Blake & Co.,
Sheffield.
Figure 301
Figure 302
ABCDE
FGHIJK
LMNOPQ
RSTUV
WXYZ
ABCDE
FGHIJK
LMNOPQ
RSTUV
WXYZ
120
ICH SCHWERE BEIATOLLONDEMARZTIINDBEIASKLEPIOSBH HYGIEIAUND
LFN GCTTTFRN UNDGCPITINNEN
Р^7іі7Шда ANRUFE-PASS ICH NACH BESTEM VERMÖGEN LIND URTEIL
PESEN ЕГО UND DlESfc VERPFLICHTUNG erfüllen werde
ícu \X/EPDt DENDERMfCH DIESE KLIN5T LEHRTE • MEINEN ELTERN Gl FICHAC
МтЖпЕХІЕВад^ IHN-WENN ERNOT LEIDE,
wS>0№VERIMG -RaTSOIIAG UNDmi^î^^^Oroj FN
wSlÏÏ AN MEINE EIGENEN SEHNE LINDAN DU- MFl\T4?PiwfSU,'BELff»
wtLL i^h/\n » arlr vi ir лѵ с/Чі^іѴГ.-Л Ач ENES LEHRl.»«;
EINER FRAU EIN MITTEL ZURVFRMirÎÏÏL* ICH NIE
KEDHENENPEN LEBENS GEßttftKN]CHTtLNG
'ÜNE»MEINE KUNST bWÂh£f#we, che
HÄilSER ICH BETRETEN WERDf .,A.. WtLCHh
ICH EINTRETEN ZILM НЕцЖ .^MERШ L
MICH ENTHALTEN IEDFR J*^*№M
MICH ENTHALTEN JEDER Vr,"c ™
ZL1CHENT
IG'AUCtt
DER BEI LANPEILNG IM I EBEN пек ^x0b
HCEREWERPE ICH-SOV^iTMAriJÄgÖN8"
VERSCHWEIGEN UNO SOICHFSA^
WENN ICH DIESEN EID ERFlEELf UND NICHT VF.RLFTZEMCEGI
ruhmÄK^ erfolg zi/thi ияю INP
WENN ICH IHMABPrT?№n r cd ,,t" ,
so иш Ä^^M» «я«
1