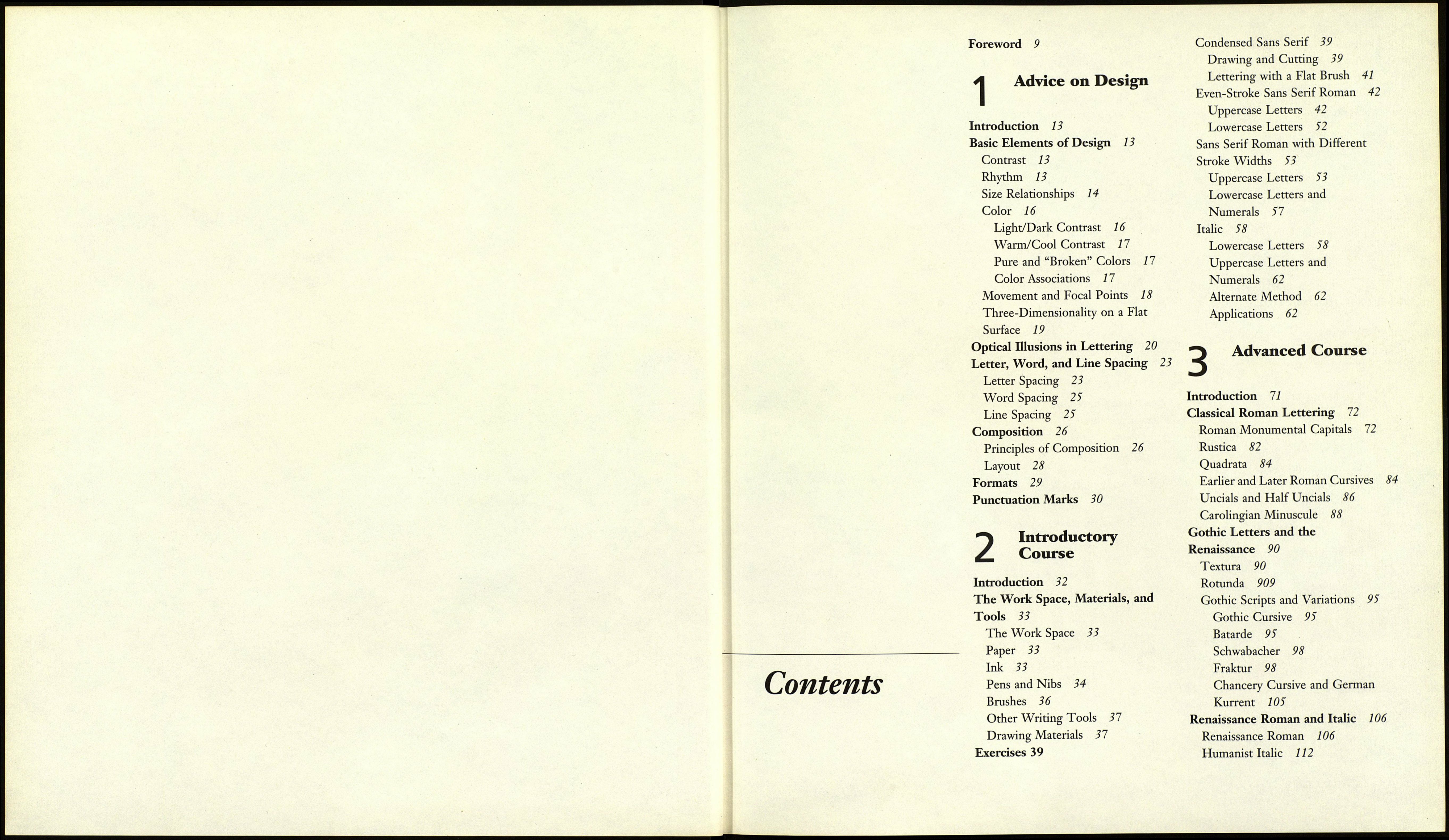 English translation by Ingrid Li
Typesetting by V & M Graphics, Inc.
Translation of Schrift und Schrieben, Sixth Edition
by Hildegard Korger
Copyright © 1986 Fachbuchverlag GmbH Leipzig
Translation copyright © 1992 by Design Press
First published in Great Britain in 1992 by
Lund Humphries Publishers Ltd
Park House
1 Russell Gardens
London NW11 9NN
British Library Cataloguing-in-Publication Data
First Edition, First Printing
Printed in the United States of America
A catalogue record for this book
is available from the British Library.
Reproduction or republication of the content in any
manner, without the express written permission of
the publisher, is prohibited. The publisher takes no
responsibility for the use of any of the materials or
methods described in this book, or for the products
thereof.
ISBN 0-85331-625-2
Library of Congress Cataloging-in-Publication Data
Korger, Hildegard.
[Schrift und Schreiben. English]
Handbook of type and lettering / Hildegard
Korger.
p. cm.
Translation of: Schrift und Schreiben.
Includes bibliographical references and index.
ISBN 0-8306-1834-1
1. Type and type-founding. 2. Lettering.
I. Title
Z250.K63 1991 91-19575
686.2'24-dc20 CIP
Design Press offers posters and The Cropper, a
device for cropping artwork, for sale. For informa¬
tion, contact Mail-order Department. Design Press
books are available at special discounts for bulk
purchases for sales promotions, fund raisers, or
premiums. For details contact Special Sales Manager.
Questions regarding the content of the book should
be addressed to:
Design Press
11 West 19th Street
New York, NY 10011
Design Press books are published by Design Press, an
imprint of TAB BOOKS. TAB BOOKS is a Division of
McGraw-Hill, Inc. The Design Press logo is a
trademark of TAB BOOKS.
Dedicated to my teacher,
Professor Albert Kapr