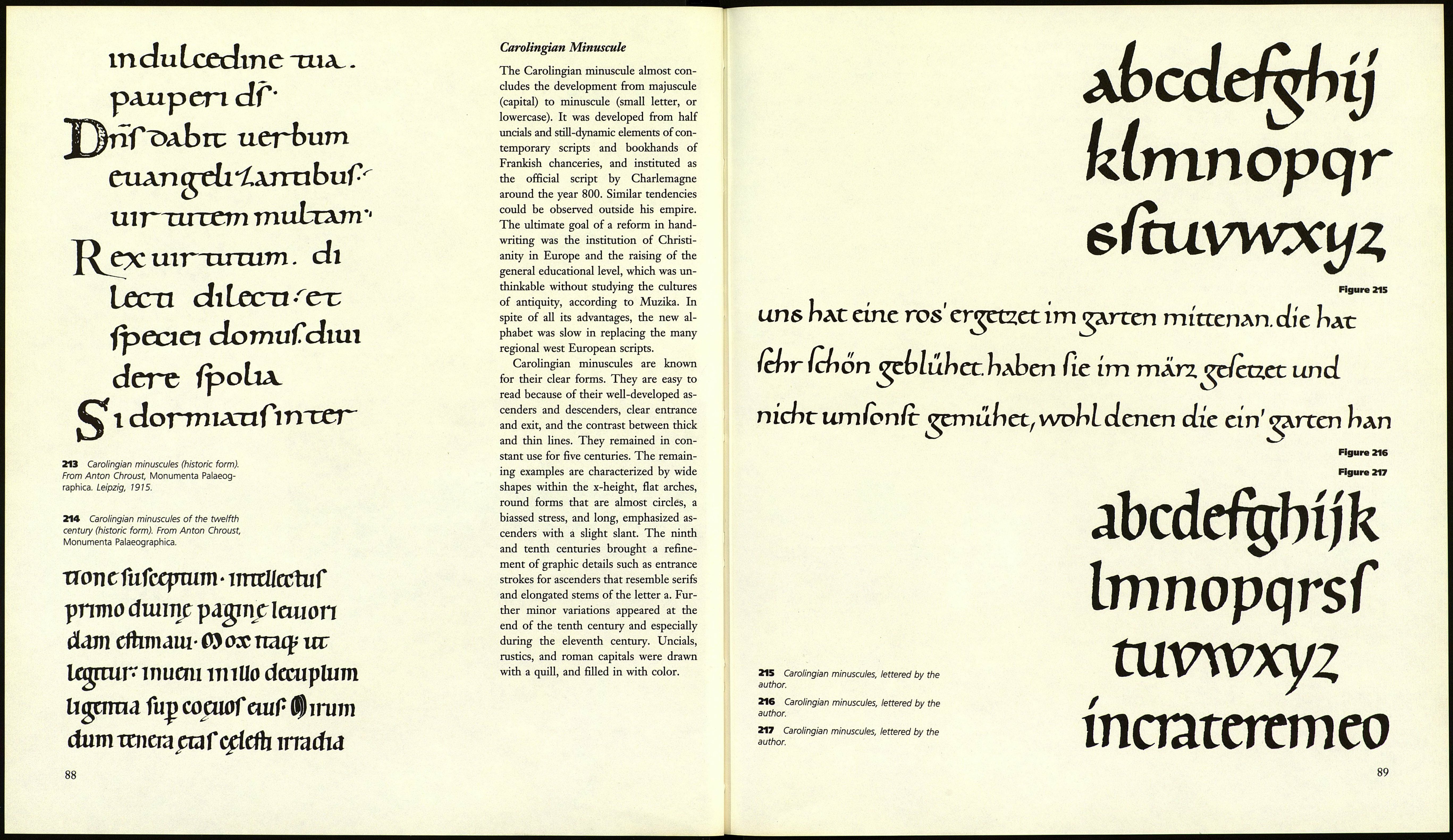 Uncials and Half Uncials
Uncials resulted from the development
of the early Roman cursive into a book-
hand. It contains elements of both the
cursive and the classical capitals.
Some examples suggest Greek uncials
as models; the A and the rounded M
especially seem to come directly from
Greek sources. Shafts of the D, F, H, L,
P, and R developed into ascenders or de¬
scenders. The substitution of curves for
straight lines can be attributed to Byzan¬
tine influences in culture and architec¬
ture. The final form of the letters was
made possible by the fact that parch¬
ment replaced papyrus and quill, which
in turn had replaced the stylus. All uncial
styles show a strong thick-thin contrast.
Up to the sixth century a flat angle of
the pen or a differently cut nib produced
an almost vertical stress. The shafts had
a blunt beginning and acquired slanted
and later horizontal entrance and exit
strokes over time. During the early
Middle Ages headings and first letters of
lines or paragraphs were created from
composite forms: outlines were drawn
first and filled in later.
Up to the ninth century half uncials
were in use together with uncials. The
half uncials were a bookhand developed
from elements of the Roman capitals,
and of the earlier and later Roman
scripts, the latter of which contributed a
large number of shapes. The later
Roman script also influenced the de¬
velopment of descenders and ascenders,
which typically are shaped like a club.
Strong differentiation between thick and
thin strokes is a similarity to uncials, and
so is the emphasis on rounded forms,
but the axis is slanted towards the
diagonal, giving a biassed stress.
Early medieval book and papal hands
are based on form elements of the earlier
Roman script. European national styles
like the West Gothic and the Mero¬
vingian show influences of half uncials,
whereas the Irish and Anglo-Saxon
styles seem to be variations of the half
uncials. All of these forms developed
characteristic eccentricities or decorative
elements to a point where further de¬
velopment was precluded.
203 Uncials (historic form).
204 Half uncials (historic form).
On page 87:
205 Uncials. Detail of a study by Harro
Schneider.
206 Uncials. Study by Albert Карг.
207 Half uncials. Detail of a study by the
author.
208 Half uncials. Detail of a study by Harro
Schneider.
209 Ductus.
210 Variation of uncials. Study by the author.
211 Variation of uncials. Study by the author.
212 Half uncials. Study by the author.
huiuscemoÖicjuoöxix^o^ooocRRc
coNSeHueRUMT'IsiuLlum^e^ÇTJOsc
Dol4BOReciL^s*TuDiuc\^q\iesuroeN'i
cesoxRixc\>pRoueRbiAlisseRo^o¿
rix scieisíTriKa>?^iscipLiNKepeRqu;
RecoHexsivLuTXRibuS^òebextousoeòeH
то cuv ci m i Ir» cebi colto i Nidi оЦо>сг l peci еог>
"iMOiOoriioorfcoropiverbetvicli с іыасіоцѵ
о r^e-porvcfcj о сеторо rvecLpcj doile^ccie4Lcít>
эеріГЬоросѵогосІеог^отхіго оіѵл^геые-ы e
П[хГсхрі&*асгЬи.ГріѵоІэо w 11 Іег^еысІ cito
a. ci CooLpi е-ысзіюсі Пэ evo пг>ссілГЪ^е-рсіСссЫсІ«
-ы ert^caLTcjLcxoLpolcL^ioLbi i Cclercerp ou-Pe-co
c4oq| cioLci Co-el Cecil potro L\Le*4 cncirocsPq
86
pCRALrCRNAS ÒieRUCO €
recnpoRucn successici
AÒyUUl SCORUCn pRACClBi
CORÒ1ACOAC ÒUXICOUS N
0№&Ѣ
Figure 209
ЛБС
Depp
H1JK
Imno
quoque iscaco pLACtCAc r)OS
Abcber obi kLcnNOpQRts
cinstiçcsuiRTneveRstucur
lasst uns etiles; Lcbenbíc>c
liORTi xuscxrnrri enmare« ♦ ich
i гесогч>аып bebjefacra priore
Ыі nomtNH сит /e cozjraxc efíh i
iKJcram viLafîerr) fix>em ыес jx>í
Figure 210
«шсоер
QbKl
MNOptQ
RSU
Figure 211
Figure 212
abcbepçhi
jkLmnopqR
StU\?W7X£Z
87