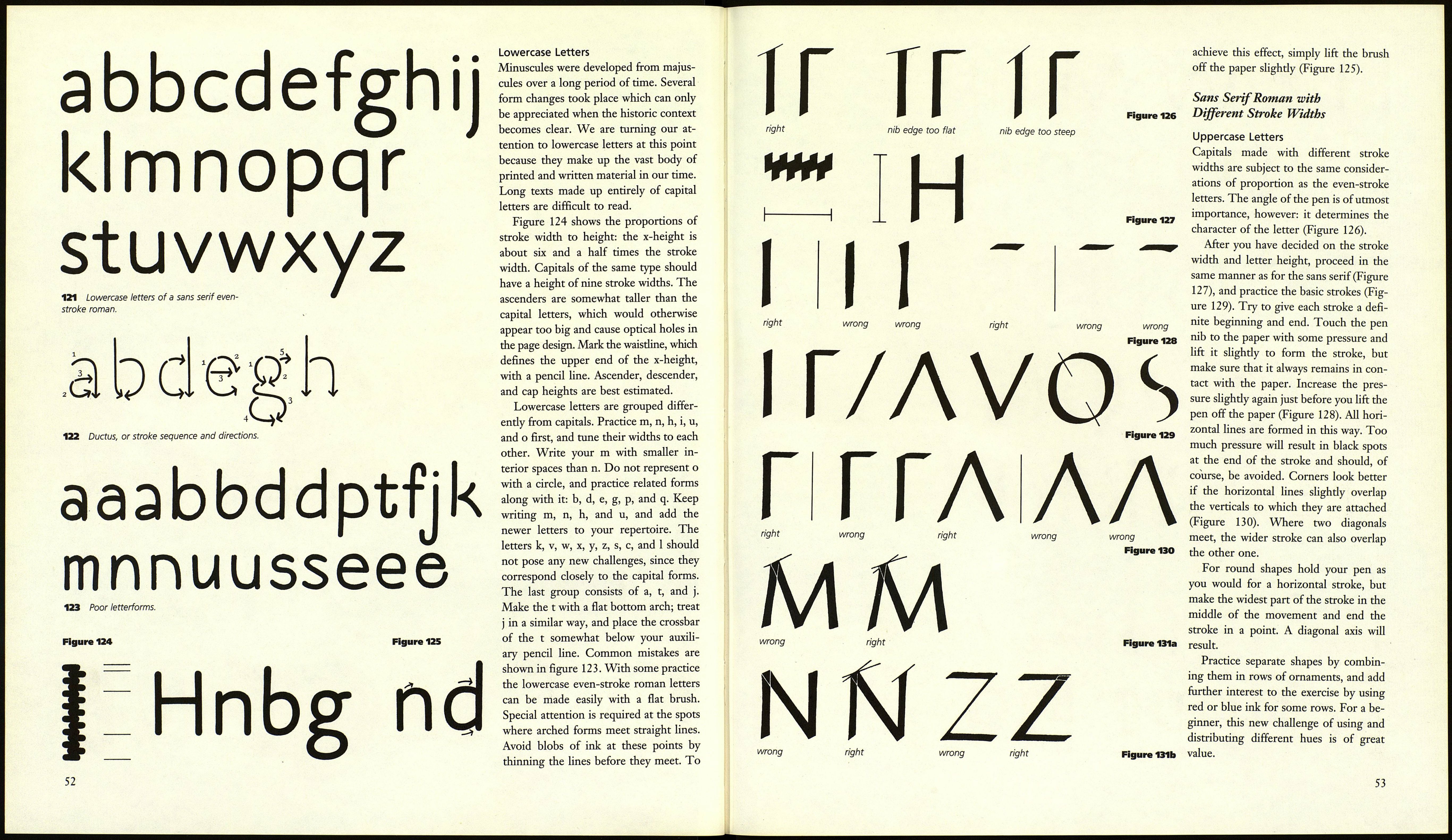 ѲбВІНіН fH
Figure 112
Figure 113
F FF
E ЕБЕ
Z ZZ
N N
К KK
V VW
X XX
Y Y
M MM
WWW
С CC
G GG
GC
D DD
BIBBB
A AAA 0 00
AA O0
RKRK
sLsss
U UU
P PPP
] IJ
Figure 114
poorly proportioned interior spaces. Fig¬
ure 114 shows some of the most common
mistakes.
Check the way you hold your pen. If
you make errors in writing, do not try to
correct them; let them stand and mea¬
sure your improvement against them.
Some letters are so difficult to write that
you will need considerably more time to
master them than others, but resist the
temptation to fill lines and pages with an
endless repetition of the same form. Do
not add alphabet to alphabet in series
or in vertical alignment of the same let¬
ters. Write words, and pay attention to
groupings of letters and the spaces
50
between them (see Spacing, page 23).
When you are comfortable with one
group, proceed to the next, then mix the
letters; rearrange them into other words
and later into running text. Finally,
practice the letters in various stroke
widths (1:8,1:7,1:6). Only the light and
medium weights will look good; if the
strokes are too bold for the size, you
have no leeway to counteract optical
illusions.
Lettering with a Brush and Other Tools. If
you practice lettering not merely as a
hobby but with more serious intentions,
you should become familiar with the use
of a brush. Letter on wrapping paper, on
paper samples, or on any other cheap
material. Rough surfaces resist the pull
of the brush and create interesting ef¬
fects. Letter on a variety of papers and
on surfaces that are primed with paint.
As before, it is best to work on a slanted
table: the working surface should be
propped up at an angle of at least 30
degrees.
Strokes up to lA inch (6 millimeters)
wide can be made without the aid of a
mahlstick. The section on Brushes, page
36, describes the right way to handle a
brush. It is very important that you wipe
the brush on all sides after you dip it. Do
•
not push down while you write, and keep
the ends of all crossbars nice and round
and of equal thickness. The rounded
ends can be corrected with a flat brush
if absolutely necessary.
Stroke widths of more than 3Л inch
(2 centimeters) can be executed with a
pointed brush, but the result is often
aesthetically disappointing. For large
letters, flat brushes usually yield better
results.
Liner or script brushes with their
longer hair belly can be used for large
letters, but their use requires a great deal
of practice, since it is easy to twist them
out of shape at round sections of the
letters. Use bristle brushes for letters
Figure 115
that approach 3Л inch (2 centimeters) in
width. Grip the tool near the ferrule and
guide it with a movement from your
shoulder and your elbow. Neither your
lower arm nor your wrist should rest on
the paper: only your pinky can be braced
against the surface. Use a mahlstick for
making straight lines, if you wish (Fig¬
ures 90-92). Hold the edge of the brush
horizontally for vertical lines and verti¬
cally for horizontal lines; for cursives,
turn the brush (Figure 115).
Practice using a flat brush to make a
condensed sans serif (see Condensed
Sans Serif, page 39). Here interior
spaces are small and technical difficulties
manageable.
Even-stroke roman letters acquire a
new and interesting aspect when they
are made with different instruments.
Figure 116 shows letters made with a
watercolor brush; the letters in Figure
117 were drawn with a felt-tip marker,
and those in Figure 118 with a wooden
stick. Letters cut in wood have a distinct
character (see Figure 423, on page 205).
Yet another effect is achieved with posi¬
tive images cut in linoleum, attached to
wood blocks, and used as stamps. And
letters can be cut or ripped from the
background material, as shown in Fig¬
ures 119 and 120. These suggestions are
intended only to inspire the beginner to
his or her own attempts.
116
Watercolor brush.
117 Felt-tip pen.
118 Wooden stick.
119
Cut from paper
without a pattern.
120
Torn from paper.
AESD
DMGR
DHGM
51