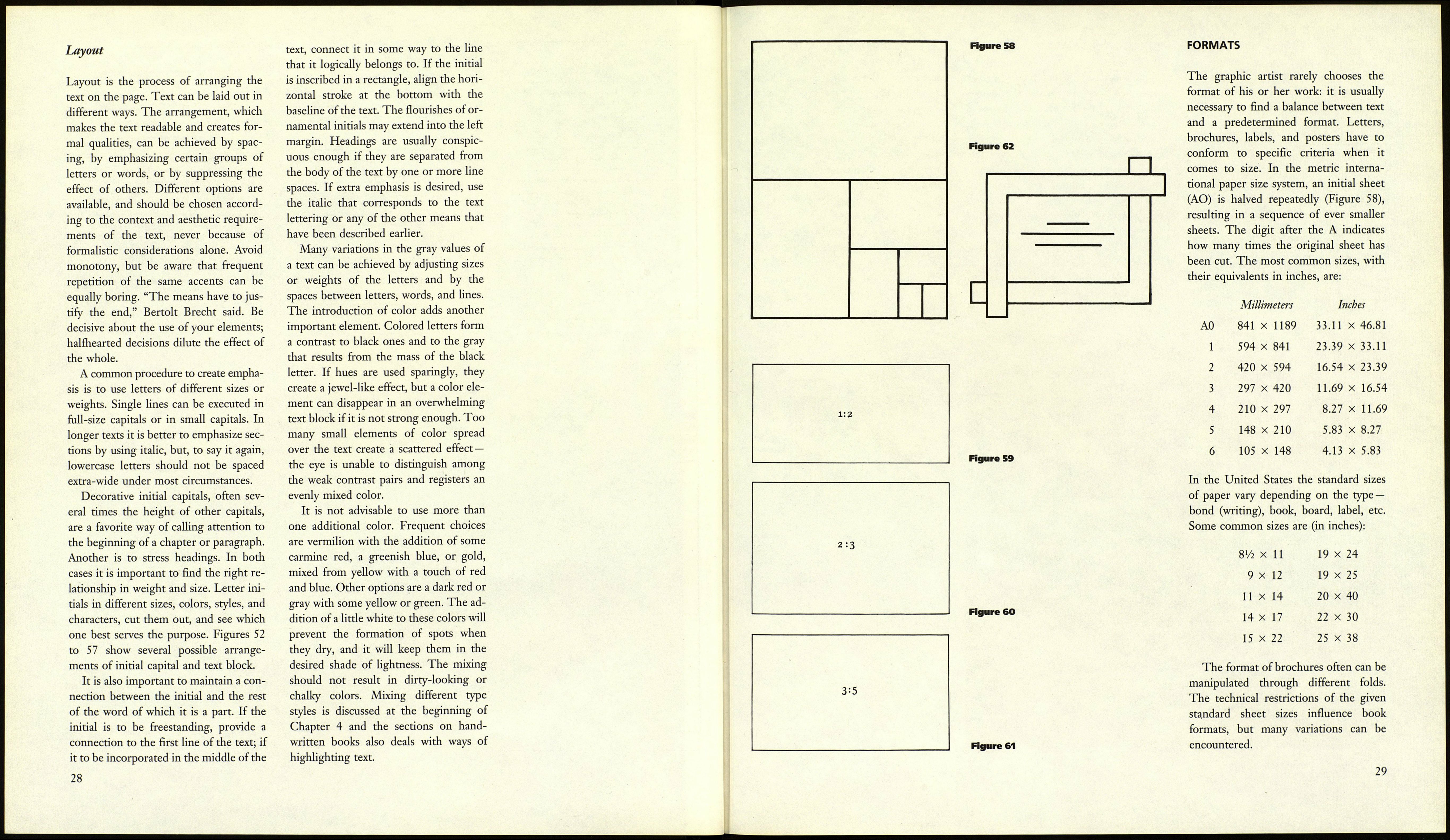 lines are difficult to follow and may tire
the reader. In an English text eight to
ten words or forty to fifty characters per
line seem to produce the right length
for one line. Keep the lines separated
enough to preserve the ribbon effect,
but close enough to achieve an even
value of gray for the entire text. Con¬
sider both horizontal and vertical dimen¬
sions of the text block and the relation
of its gray effect to the rest of the page.
Open line spacing calls for wide margins
at the top and the bottom of the page,
close line spacing can be balanced with
narrow margins. The examples in Fig¬
ures 48 to 51 show how important the
correct line spacing is for the legibility
of a text.
To find just the right spacing, letter
several lines, cut them apart, and move
them around on paper until you like
what you see. (The edges of the cut
strips may cause irritating shadow lines.)
Sometimes a minute variation is all that
is needed. A good way to educate one's
taste is to study the works of masters.
COMPOSITION
The aim of composition is to create har¬
mony among elements that are in oppo¬
sition to each other. Such opposites can
be empty/full, whole/fragmented, light/
dark, or different sizes and positions.
Empty parts of the page and the inner
areas of letters are more than just back¬
ground; they are as important as the
letters themselves. These negative spaces
are design elements in their own right.
The contrast between the letters and the
surrounding space is not only necessary;
it is crucial.
Principles of Composition
Never try to force a text into a preexist¬
ing compositional scheme. Every project
deserves a fresh start according to its
purpose and the materials at hand.
Layouts can be symmetrical or asym¬
metrical. Symmetry causes a static, monu¬
mental, and ceremonial appearance, and
can even be stiff and artificial. All these
impressions are triggered by the all-
important central axis of a symmetrical
arrangement, which contradicts not only
the natural text flow from left to right
but also the asymmetrical anatomy of
most letters, which is the result of this
movement. To place a line exacdy in the
middle of a page requires a great deal of
work. Try to give weight to the upper
part of the text block and avoid any
appearance of three-dimensionality that
could result from different line lengths.
It is often very difficult to combine
the optimal design of a document or in¬
scription with a logical text distribution.
If words have to be hyphenated or if
optical emphasis falls on unimportant
words, it is best to abandon symmetry
and opt for a flush-left arrangement.
Even tides and headings may resist
symmetry.
Asymmetrical arrangements result from
organic movement. They are richer in
contrasts and therefore more expressive.
Experience in dealing with problems of
spacing, sequence, and rhythm are essen¬
tial for successful composition.
26
52 Sketch for placement of an initial capital.
53 Sketch for placement of an Initial capital.
54 Sketch for placement of an initial capital.
55 Page with handlettered initial capital from
the illustrated book, Peter Vischer. Dresden:
Verlag der Kunst, 1969. Designed by Horst
Schuster.
56 Page with handlettered initial capital by
Imre Reiner. From Imre and Hedwig Reiner,
Lettering in Book Art. St. Gall, 1948.
57 Page with woodcut initial capital by Gert
Wunderlich. From the illustrated volume Sac¬
hsenhausen, Berlin: Kongress Verlag, 1962.
Eine Inschrift n
berg michet das
3M LHOR DER ST SEBALP KIRCHE
ZU NÜRNBERG STEHT EIN ERZ¬
GEGOSSENES GEHÄUSE. ES BIRGT,
WIE IN EINER MONSTRANZ
EMPORGEHOBEN UND HINTER
PFEILERN UND SÄULEN ZUR SCHAU
GESTELLT. DEN SILBERBESCHLA.
GENEN SARG MIT DEN GEBEINEN
DES HEILIGEN SEBALUUS.
■leistet -Petter Vischer pvrger гѵ Numi
i Weit к mit seinen Sunncn un wurd folbracht im
n Goi dem Allmechngen zu lob vnd Sine
Scbold dem Himmelfursie tv Eren mil hiliYfrumer leut und dem
allrnosen beult. Et tu das weltbekannte Hauptwerk Pelei
Viseheti, dis Scbaldusgrab, das größte Werk des deutschen En-
gustes, gerühmt von Anfang an und bis zur Gegenwart bewundert;
ei gab seinem Nimen fasi legendären Klang - und doch wissen
wir nicht, ob ei ihm Erfüllung oder dagischen Vellichi bedeutet
hat. Mit achrund zwanzig Jihren hatte er es entworfen anders, als
es |еш dasteht , als fast Scchzigjihrigcr sih er es vollendet. In¬
iwischen waren seine Söhne großgeworden, sie sind nach Italien
gereist und haben sich gebildet, sie sind als junge Künstler wieder
gekommen und haben das Werk des Valen, sein Lebenswerk,
verwindelt. Zuletzt ist aus dem himmelsircbenden, dreitürmigen
Gespinst von Pfeilern und Fialen, das wie eus gotisch-spitzes Bau¬
werk im gotischen Raum der Kirche emporwachsen sollte, cm
gedrungener, phintistiseh geschmückter Baldachin geworden, der
von Schneeken und Delphinen fongctrigen wird. Mittelalter
liches mischt sich nun mit Renaissancchaftcm, Deutsches mit
Italienischem,Christliches mii Annkcni.die sinnenfrohe, heidnische
UOIQUF. tes sourcils méchants
Тс donnent un air étrange
Qui n'est pas celui d'un ange.
Sorcière aux yeux alléchants.
Je t'adore, 6 ma frivole,
Ma terrible passion!
Avec la dévotion
Du prétrt pour son idole.
Le désert et la forêt
Embaument tes tresses rudes.
Ta tête a les attitudes
De l'énigme et du secret.
Sur ta chair le parfum rade
Comme autour d'un encensoir ;
Tu charmes comme le soir,
Nymphe ténébreuse et chaude.
ENSEMBLE. NOUS FERONS TRIOMPHER LA PAIX ET L'HUMANITE
trnand Irou... ..Crjlg.r« (entrai dl la t.gi dn Campi« Л ІШМІЩ, aniitn •
«Ж du CC llrtllltljmi - К tpvbl.au t Papula!™ ut І1ІЦІІІ|ГТІ«І|"І Dia* Dit
.. dl Sachitnhou.tn. . Frani.: Нал t г Vidal. prtl.d.nl dl l'Amical* Л. S,.< h,."r,ov.
Grkl Imiim Kiraïun, combatían! <•• la rttiilanci anli'uicilU. - II* li*: U
•rto Tttrolinl. m.mor. du Wnal italien, prti.danl d. I■ Ani«-alien d« rWi
nti-falciiltt - "..publiqu* > -Л,.., i. Papula!.> d> Yeugoilati* : Marion Vi.(da, m*
r* du Co....u unirai d« 111.....n dti iomh.iiKi.4i peut Is lil.l..,(..,.. »allenai*
27