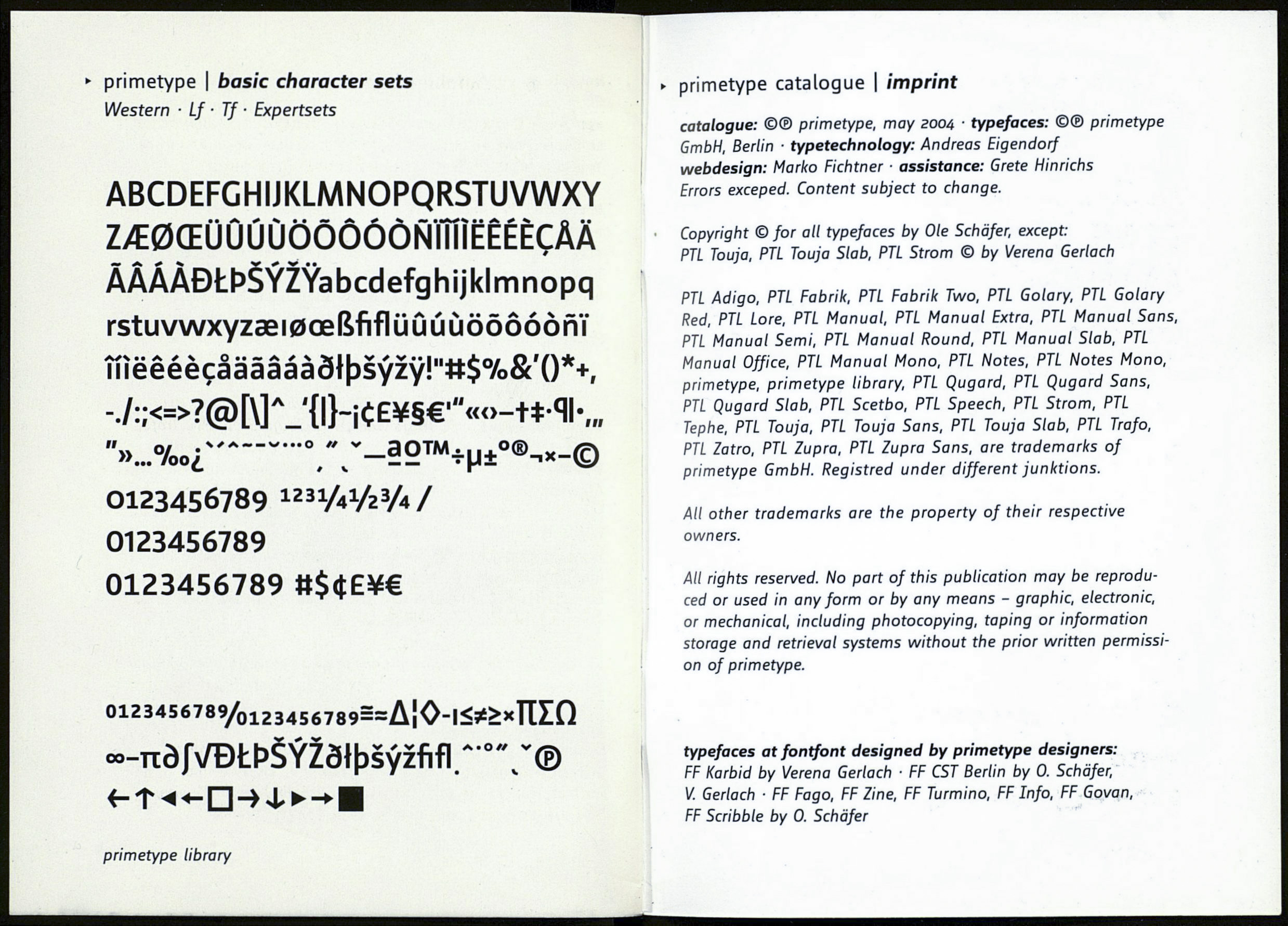 ► primetype | basic character sets
Western ■ Lf ■ Tf ■ Expertsets
ABCDEFGHIJKLMNOPQRSTUVWXY
Z£0ŒUUUUOOOOONIIIIEEEEÇÂA
AÂAÀDttéYZYabcdefghijklmnopq
rstuvwxyzaei0reßfiflüuuuööoooni'
îiiëêéèçâaââaàÔi[)syzy!"tt$%&,()*+,
-./:;<=>?@[\]А_'{І}-іСЕ¥§€'"«<>-+ФЯК"
"»...%o¿.....-° "/_аотм,м±о®^х_@
0123456789 1231/лѴг3А /
0123456789
0123456789 й$4Е¥€
«.-nòfVDtt>SYZÒl()syzfifi;0///®
primetype library
► primetype catalogue | imprint
catalogue: ©® primetype, may 2004 • typefaces: ©® primetype
GmbH, Berlin ■ typetechnology: Andreas Eigendorf
webdesign: Marko Fichtner ■ assistance: Grete Hinrichs
Errors exceped. Content subject to change.
Copyright © for all typefaces by Ole Schäfer, except:
PTL Touja, PTL Touja Slab, PTL Strom © by Verena Gerlach
PTL Adigo, PTL Fabrik, PTL Fabrik Two, PTL Golary, PTL Golary
Red, PTL Lore, PTL Manual, PTL Manual Extra, PTL Manual Sans,
PTL Manual Semi, PTL Manual Round, PTL Manual Slab, PTL
Manual Office, PTL Manual Mono, PTL Notes, PTL Notes Mono,
primetype, primetype library, PTL Qugard, PTL Qugard Sans,
PTL Qugard Slab, PTL Scetbo, PTL Speech, PTL Strom, PTL
Tephe, PTL Touja, PTL Touja Sans, PTL Touja Slab, PTL Trafo,
PTL latro, PTL Zupra, PTL Zupra Sans, are trademarks of
primetype GmbH. Registred under different junktions.
All other trademarks are the property of their respective
owners.
All rights reserved. No part of this publication may be reprodu¬
ced or used in any form or by any means - graphic, electronic,
or mechanical, including photocopying, taping or information
storage and retrieval systems without the prior written permissi¬
on of primetype.
typefaces atfontfont designed by primetype designers:
FF Karbid by Verena Gerlach ■ FF CST Berlin by 0. Schäfer,
V. Gerlach ■ FF Fago, FF line, FF Turmino, FF Info, FF Govan,
FF Scribble by 0. Schäfer