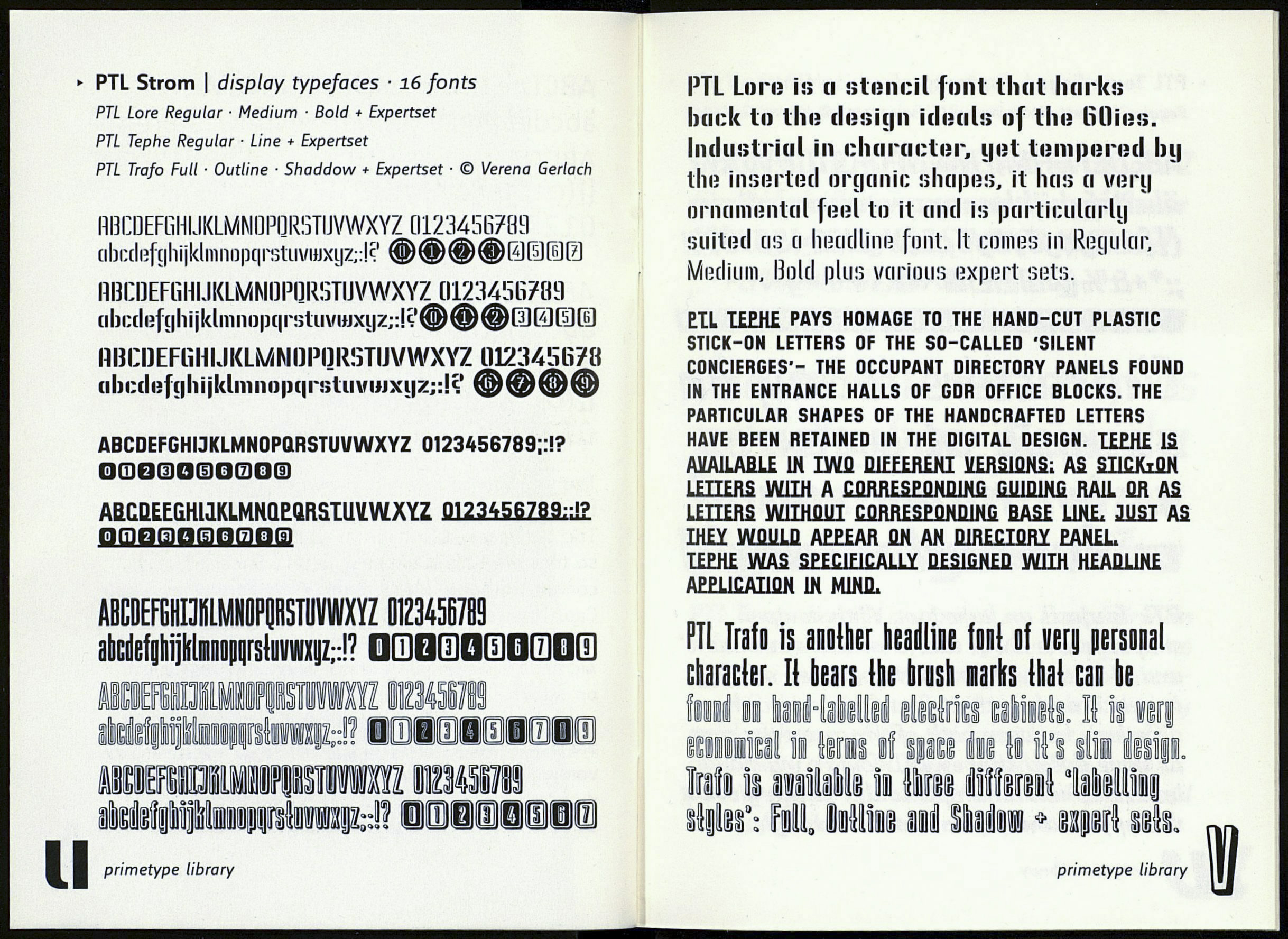 PTL Strom I display typefaces ■ 16 fonts
PJL Lore Regular ■ Medium ■ Bold + Expertset
PTL Tephe Regular ■ Line * Expertset
PTL Trafo Full ■ Outline ■ Shaddow + Expertset ■ © Verena Gerlach
HBCDER3HIJKLMN0PQRSTUVWXYZ 0123456789
tihi:cliìfc|hijkliiini)|][|r:3tiivujxi|z;:!q' ®@@®0Ш0
HBCDEFGHUKLMM0PQRSTUVWXYZ012345B7fl9
(іІ)(:сІі!|ч|ІііікІтпп|)(|П5Іііѵшхі|2;:!с'©@@ШИС30
HHi:i]EFlìHIJI(LMMI)PI]R!ÌTIJVWXYZm2:M5lì7o
abcdefghijklmnopqnittivujxyz;:!? @©@@
ABCDEFGHIJKLMNOPQRSTUVWXYZ 0123456789;:!?
ошошошошош
ABCQEEGHiaKLM№EQ.RSlllV.WXYZ
ОШВШВЁЮГДРЁ)
ABCDEFEHI3ffLMN0PDRST1IVWXYZ D1Z345B7B9
abcdefghìikLmnapqrsiuvwxyz;:!?
il
a zaus e db m
imajü? ■ШІІІІІШІШ
шшштшшшщтшмш mam
атШшЁтшщш or ~ ~
primetype library
PTL Loro is ci stmicil font tlidt інігісі
hack t» thiì design ideals of this lidies.
Industrial in character« yet tempered bu
the inserted organic shapes, it lue; a very
orna m tìnta I fuel In it and is particularly
suited as a headline font. It comes in Regular,
Medium, Hold plus various expert sets.
EIL TEEHE PAYS HOMAGE TO THE HAND-CUT PLASTIC
STICK-ON LETTERS OF THE SO-CALLED 'SILENT
CONCIERGES'- THE OCCUPANT DIRECTORY PANELS FOUND
IN THE ENTRANCE HALLS OF GDR OFFICE BLOCKS. THE
PARTICULAR SHAPES OF THE HANDCRAFTED LETTERS
HAVE BEEN RETAINED IN THE DIGITAL DESIGN. TEERE IS
AÏAlLAflii IN IWfl Ш£ШШ MERSlflNS; AS SIlGKiflN
LfllERS WEH A Штіи1££ШШШ GJUDJKG RAIL QR AS
LEIIERS W1IHÜUI CjmESEQNDJNS fiASE LINE. iUSI AS
ІНЕУ. WOHLS AEEEAR UN AN UIRECIÛRÏ EANEL
IE£H£ WAS ЗЕШЕШАІН SES1SNES WIIH NEADJJNE
AEEL1CAI1ÜN IN M1NQ.
PTL Trafo is another headline foni of very personal
character. It bears the brush marks that can be
111 ii tairtHM eletirics saisis, I is щ
ніиійі i Ins if щи In Si Hi Л desili.
Mi fi »lilis ì tei iteiift ЪкШщ
%ЩЫ: Fill ¡¡Ulis io! lililí * ищи mit
primetype library
30
3�185959842801064982���562