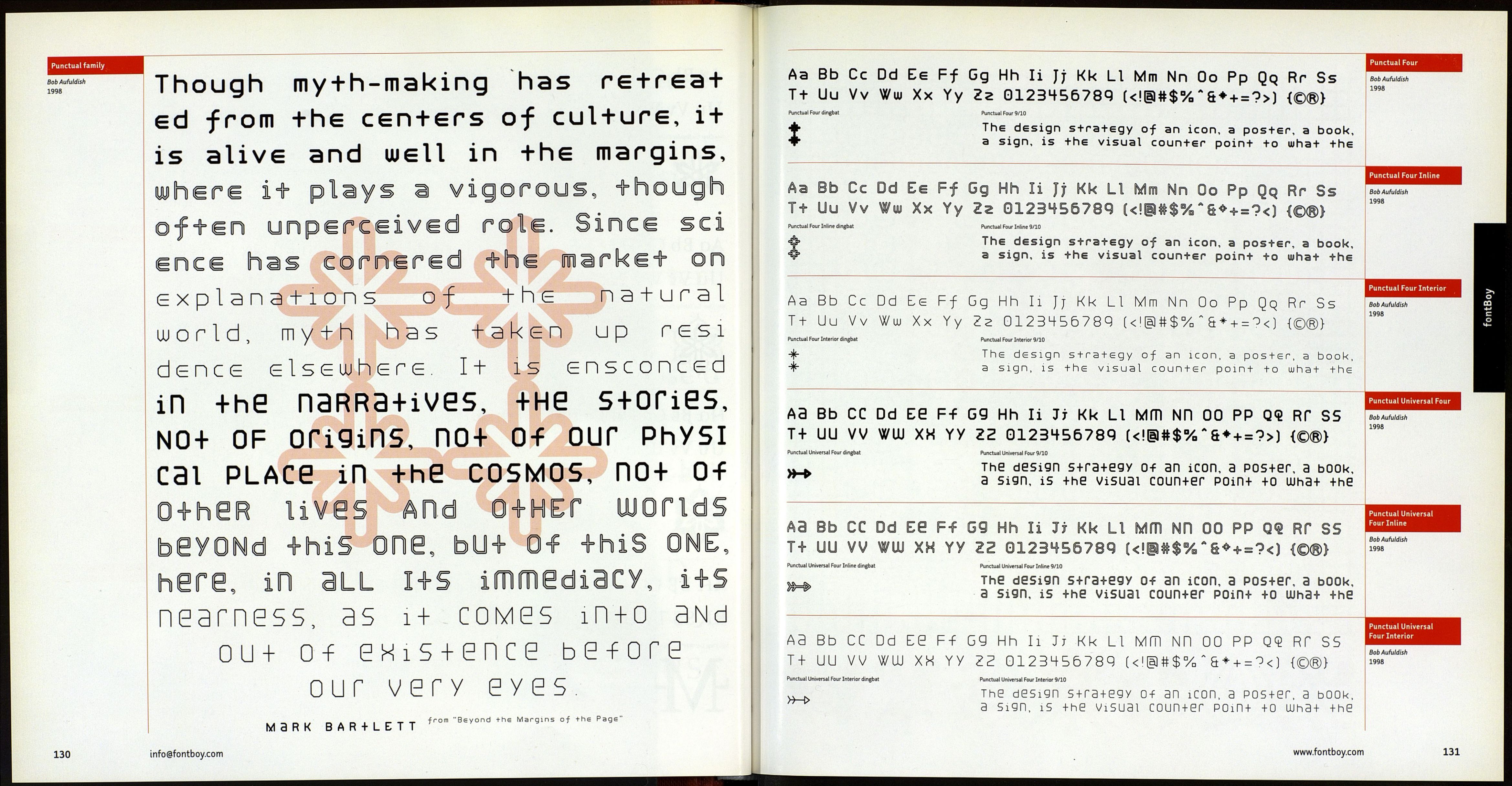 Clear Era family
Bob Aufuldish
1995-99
Wherever we are in the world, we must
forge a correspondence between
something written and something visual,
and from these signals, plot our
course. We moy choose the type of ter
roin we wish to navigate, whether
watery or earthly. And we may choose a
direct or Indirect itinerary. But at
each point there is a correspondance bet
meen ujord and image.
THEy РѲКЛ £ACH 0THER, AND
FCDRJÏ1 ©UR R££ATI©NSHÏP
ТѲ WH ATGVERJS ©THERJTHAN US.
MAE.K BARTLETT
from "Beyond the Margins of the Page"
128
info@fontboy.com
Aa Bb Cc Dd Ее Ff Gg Hh Ii Jj Kk LI Mm Nn Oo Pp Qq Rr Ss Tt
Uu Vv Ww Xx Yy Zz oi 23456789 (<!©#$%A&*+=?>) {©®}
New Clear Era Regular
New Clear Era Regular dingbat
New Clear Era Regular 9/11
The design strategy of an icon, a poster, a book, a sign, is the visual
counterpoint to what the writer calls rhetoric. Graphic design is visual
rhetoric meant to persuade, to convince, to move, to mobilize, to affect
behavior. It manipulates the graphic to focus a message in a shifting
Aa Bb Cc Dd fie Ff Gg Hñ li Jj Kk £l Mm Nn Qo Pp Q^q Rr Sá Tt
Uu Vv WwXx Yy Zz 0133456789 (<!©#$%"&*+=?>) {©®}
Clear Era Display One dingbat
New Clear Era Display One 9/11
The design Strategy of an icon, о pester, a book, a Sign, is the visual
counterpoint to what the writer calls rhetoric. Graphic design is visual
rhetoric meant to perSuade, to convince, to move, to mobilize, to affect
behavior. It manipulates the graphic to focuS a message in a Shifting
Aa Bb Cc Dd Ее Ff gg Hñ Rj\ Kk Li Ulm Nn Ѳо Pp Qq Rj Ss Tt
Uu Vv Шш Kx IJy Zz 0123456789 (<!<£)#$% "£*+=?>) {©®}
New Clear Era Display Two dingbat
New Clear Era Display Two 9/11
The design strategy of an ican, a poster, a book, a sign, is the visual
counterpoint ta ujhat the ujriter calls rhetoric, graphic design is visual
rhetoric meant to persuade, ta convince, to move, ta mobilize, to affect
behavior. It manipulates the graphic ta focus a message in a shifting
AA BB CC DD £E FF CQ HH II Jj KK LL МШ NN ѲѲ PP QQ,
RRJ5S TT UU YVWUJ XX YIJ ZZ 0123456789 (<!@#$%~&*?>)
New Clear Era "Mile" monetary symbol
M
New Clear Era Display Caps 9/11
THE DESIGN STRATEgy OF AN ICON, A POSTER, А ВФФК, A
SigN, IS THE VISUAL COUNTERPOINT ТѲ UJHAT THE UJRITER.
CALLS RHETORIC. GRAPHIC DESigN IS VISUAL RJTETORjC
IÏ1EANT Tffi PERSUADE, ТѲ CONVÌNCE, TO UlffiVE, Tffi UIOBI
Bob Aufuldish
1995-99
New Clear Era Display One
Bob Aufuldish
1995-99
New Clear Era Display Two
Bob Aufuldish
1995-99
; Clear Era Display Caps
Bob Aufuldish
1995-99
www.fontboy.com
129