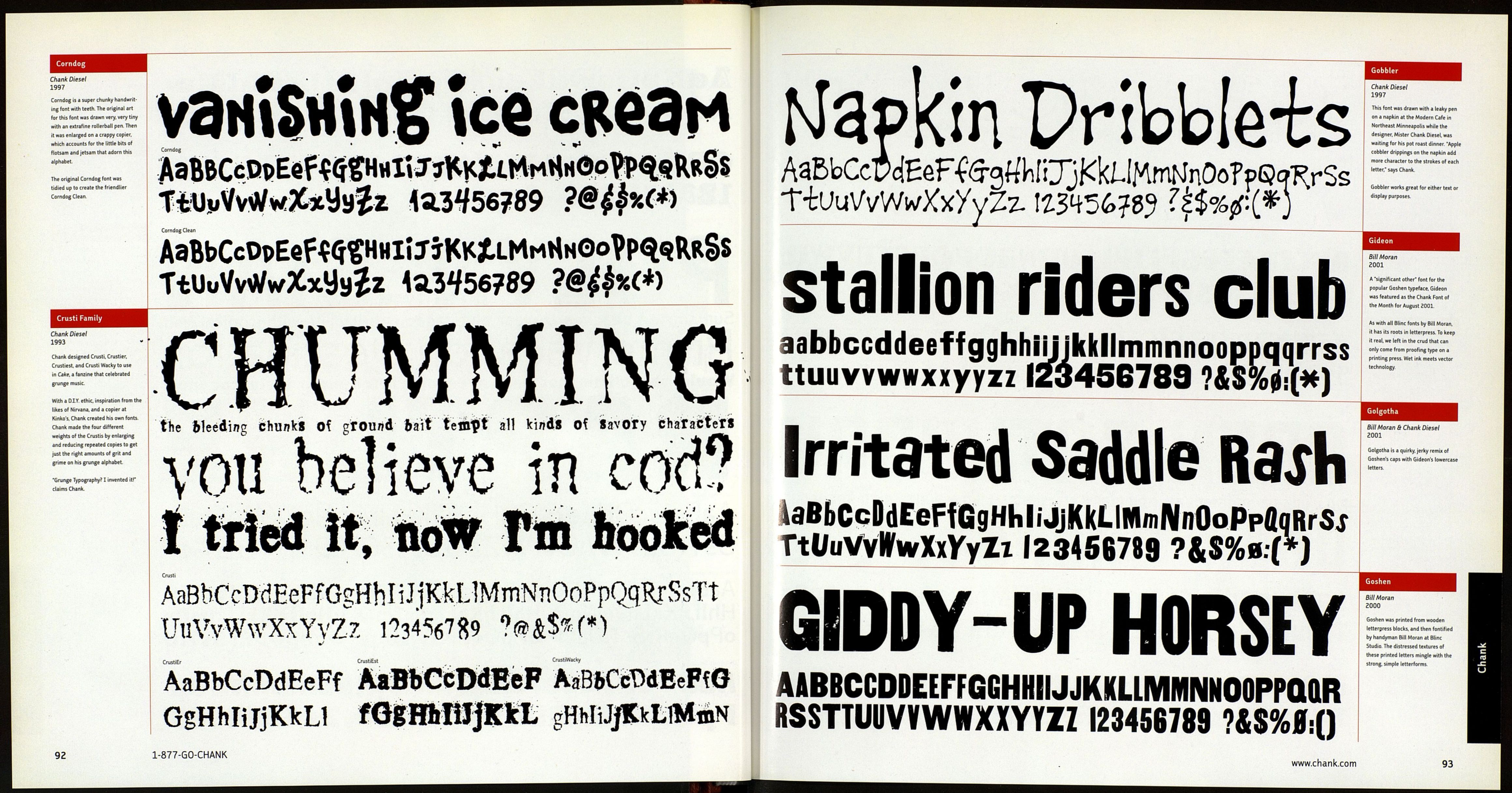 Churchward Design5U
Joseph Churchward
1970
ГЛВДѴѵШшМ иШж il
Churchward Heading
Joseph Churchward
2000
In 2001. New Zealand type designer
Joseph Churchward partnered with
Chank to release Churchward Type
Volume One. the first collection of
Churchward type ever released
digitally Churchwards typefaces
had been out of circulation since the
1980s, when typesetting technologies
went digital Churchwards notable
type designs of the '70s were distrib¬
uted by Berthold of Germany and
used in photo lette ring machines.
Churchward's type designs vary from
functional to ornamental and traditional
to cutting edge. His work is influenced
by conventional type techniques. New
Zealand native island art. and his rich
ethnic heritage in Chinese. Tongan.
Scottish, English, and Samoan cultures
His portfolio includes more than 300
original typefaces, created over the
past thirty years
"It wasn't easy choosing merely 15
fonts from such a fruitful collection of
exquisite craftsmanship.' said Chank.
"The fonts we compiled for this initial
release come together as a snapshot
of the innovation and diversity of Mr.
Churchward's talents in typography*
with that much flexibility, you might expect a person to soap
summer women ransom
WINTER MEN, ALL HANDSOME £ JACKETED BURLY
security measures seem futi e
Hooliganism continues unabated
Churchward Heading Extra light
Churchward Heading Light
Churchward Heading Medium
AaBbGcDdEeHBgHhliJj
nODPpQqRrSsTtUuVvWwXxYyZz MmNnOoPpQqRrSsTtUuVvW
Churchward Heading Eitrabold
Churchward Heading Ultrabold
Churchward Heading Superbold
AaBbCcDdEeFfGg AaBbCcDdEe AaBhCcDd
HhliJjKkLIMmNn FfGgHhliJjHh EeFfCtjHhli
90
1-877-GO-CHANK
123956789 & П?1ЕЗ
Churchward Maori Bold
Joseph Churchward
1998
Joseph Churchward
1999
POLYNESIAN
Sun-soaked beaches & clear blue lagoons brimming with tropical fish.
Prime Vacation Destination
Would you climb that palm tree and fetch me a tasty coconut?
RAPTURE
urchward Samoa Light
AaBbCcDdEeFfGgHhIUjKkLIMmNnOoPpQqRr
SsTtUuVvWwXxYyZz 123456789 ?@&$%0()
hurchward Samoa Regular Churchward Samoa Medium Churchward Samoa Bold
AaBbCcDdEeFfGg AaBbCcDdEeFfGg AaBbCcDdEeFfG
HhliJjKkLIMmNnO HhliJjKkLIIVImNnO gHhliJjKkLIIVImNn
oPpQqRrSsTtUuVv oPpQqRrSsTtUuV OoPpQqRrSsTtU
hurchward Samoa Extrabold
AaBbCcDdEeFfGgHhliJjKkLIMmNnOo
PpQqRrSsTtUuVvWwXxVyZz 1234567
intricate penciling to get the right
shape, then it gets put onto board.
penciled again, and then inked and
retouched. Lastly, Churchward sends
quality copies to The Chank Company,
where the designs are scanned, redrawn
digitally, spaced and kerned.
Three generations of type designers
worked on the Churchward Type Volume
One project, including Chank, 33;
David Buck, a 24-yearold New
Zealand type designer training with
The Chank Company; and Churchward,
born in 1933.
www.chank.com 91
A$$.:++/+.��
495519028409�5
7�0965391856
5237095�