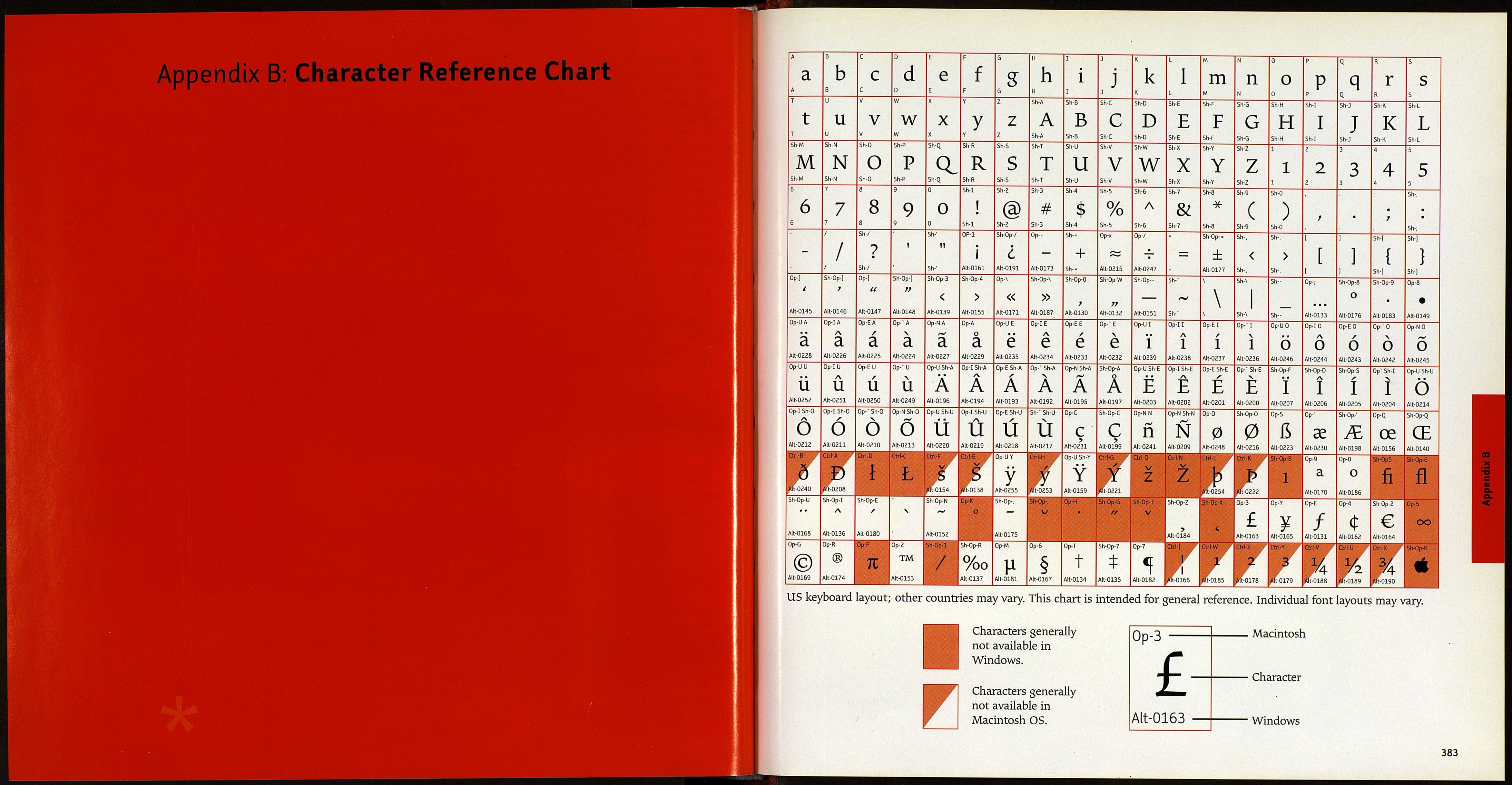 with the small cap alphabet of
a given typeface.
Small Caps An alternative alpha¬
bet of capital letters that are
approximately the same height
as the x-height of a typeface.
Small caps are common in
Roman types. Although many
graphics applications can gener¬
ate their own small caps, true
small caps, with correctiy drawn
proportions and weights are
usually found only in expert sets.
Spacing The space, or the way
space is arranged, between
characters, words, and lines
of type.
Spur A type of finishing stroke
found on some letterforms in
certain typefaces, such as 'G'
and 'b.'
Square Serif See slab serif.
Stem The main vertical stroke
or the main oblique stroke of
a character. 'L and V are
examples of letterforms with
stems. An 'O' has no stem,
while the letter T is made up
of a stem and serifs only.
Stress The emphasis on the
stroke of a letter; typically
vertical, stresses may also be
horizontal or diagonal.
Stroke The main line or curve
which makes up a character.
Stroke Essential Straight or
curved lines.
Style The variations of a given
typeface. A wide range of
variants are available to type
designers, including bold,
condensed, italic, extended,
oblique, roman and many
others.
Swash Capitals Uppercase
letters that take up extra space
or contain added flourishes.
Swash caps are usually cursive,
and are generally designed to
complement italic types.
Tabular Figures Numerals
designed with a uniform set-
width, intended for aligning
tabular data.
Tail A character's downward
project, such as found in the
letter 'Q/ or the short, diagonal
stroke that rests on the baseline
in letters such as 'K' and 'R.'
Teardrop Terminal A teardrop-
shaped swelling at the end of
the arm in characters such as
'a/ 'c/ 'f and 'y.' Typically found
in typefaces from the Late
Renaissance, Baroque and
Neoclassical periods, examples
include Jannon, Caslon,
Baskerville and Galliard.
Terminal The free-hanging
stroke of letters such as 'a/ 'c/
T and 'y/ often given decorative
treatment. See also ball terminal,
beak terminal, half-serif terminal,
teardrop terminal, and fauci.
Text The main body of printed
material, also known as copy.
Text Face Typefaces specifically
designed for readability, text
faces are typically serif types set
between 9 and 12 points. Times
and Goudy Oldstyle are examples
of classic text faces. Also known
as bookface.
Text Figures See old style figures.
Textura A class of blackletter types.
Thick Space A unit of measure¬
ment equaling one-third of
an em.
Thin Space A unit of measure¬
ment equaling one-fifth of
an em.
Tied Letters See ligated and
ligature.
Tracking See letterspacing.
Transitional Serif A class of serif
types first introduced in the late
18th century by John Baskerville,
the Reale styles combine features
from both Old Style and Modern
faces. ITC Bookman and ITC
Caslon 224 are examples of
transitional serifs.
Tricameral Three alphabets
joined. A typical Roman font
can be considered tricameral,
having an upper case, a lower
case, and small caps. See also
bicameral and unicameral.
TrueType An outline font format
developed by Apple Computer.
Intended for use with Mac OS
7, TrueType was also adopted by
Microsoft Corporation for use
with Windows. TrueType fonts
can be used for both screen
display and printing, eliminating
the need for separate screen
and printer fonts.
Type Typewritten or printed let¬
terforms and other characters.
Type Foundry Literally, a place
for the manufacture of type.
Historically, a type founder may
have designed type, cut punches,
made the matrices and cast the
metal type. Eventually, each of
these operations became
separate crafts performed by
specialists. Although punchcut-
ting and casting type may no
longer be involved, in modern
terminology, a designer or
company that creates and/or
distributes digital typefaces may
also be called a type foundry.
Typeface Sometimes named after
its designer, a typeface is a col¬
lection of all the characters of a
single design, regardless of style
or size. A typeface typically con¬
sists of letters and figures (the
alphanumerics), punctuation,
and commonly used accents
and symbols.
Typographic Color See color.
Typography The study and
process of producing typefaces;
and how to select, arrange and
use type in general. Tradition¬
ally, typography referred to the
use of metal types used in
letterpress. In modern termi¬
nology, typography includes
onscreen display and printed
output.
U&lc Denotes upper and lower
case, U&lc is the traditional
form for setting text in the
bicameral Latin, Greek and
Cyrillic alphabets.
Uncial A calligraphic typestyle
with large, rounded letterforms,
combining elements of both
upper and lowercase letters.
The term is derived from the
Latin uncus, or crooked.
Unicameral An alphabet having
only one case, such as the
Hebrew alphabet and some
Roman titling faces. See also
bicameral and tricameral.
Uppercase Originally called
majuscules, these are the large
letters of a typeface. Majuscules
were traditionally stored in the
upper section of a printer's
typecase, and it eventually
became common practice to use
the term uppercase to describe
these characters. Also referred
to as caps or capitals.
Upright Standing vertically or
straight upward; in typography,
the term typically refers to a
roman face or regular sans
seriftype.
Versai A large initial cap which
is typically elevated or dropped
in text.
Vertex Where the stems of a
character meet at its lowest
joint.
Weight The darkness or black¬
ness of a typeface, not relating
to its size; the measurement of
a stroke's width. There are
many weight variants available,
including thin, light, demibold
and ultrabold. Many typeface
families have multiple weights.
White Space The blank sections
of a page where text and
graphics are not printed.
Whiteletter The typographical
counterpart to Romanesque in
architecture, whiteletter
describes the light roman and
italic letterforms typically
favored by scribes and typogra¬
phers in 15th and 16th century
Italy. Compare to the generally
darker blackletter styles in use in
Northern Europe at the time.
Word Spacing In a line of text, the
amount of space between words.
When type is set unjustified,
the word space is typically of a
fixed size. When setting justi¬
fied text, the word space must
fluctuate, enabling the text to
align at more than one margin.
x-height The distance between
the baseline and the midline of
an alphabet, approximately the
height of the lowercase 'x.' The
measurement is based on the 'x'
because it typically rests squarely
on the baseline, and has no
ascenders or descenders.