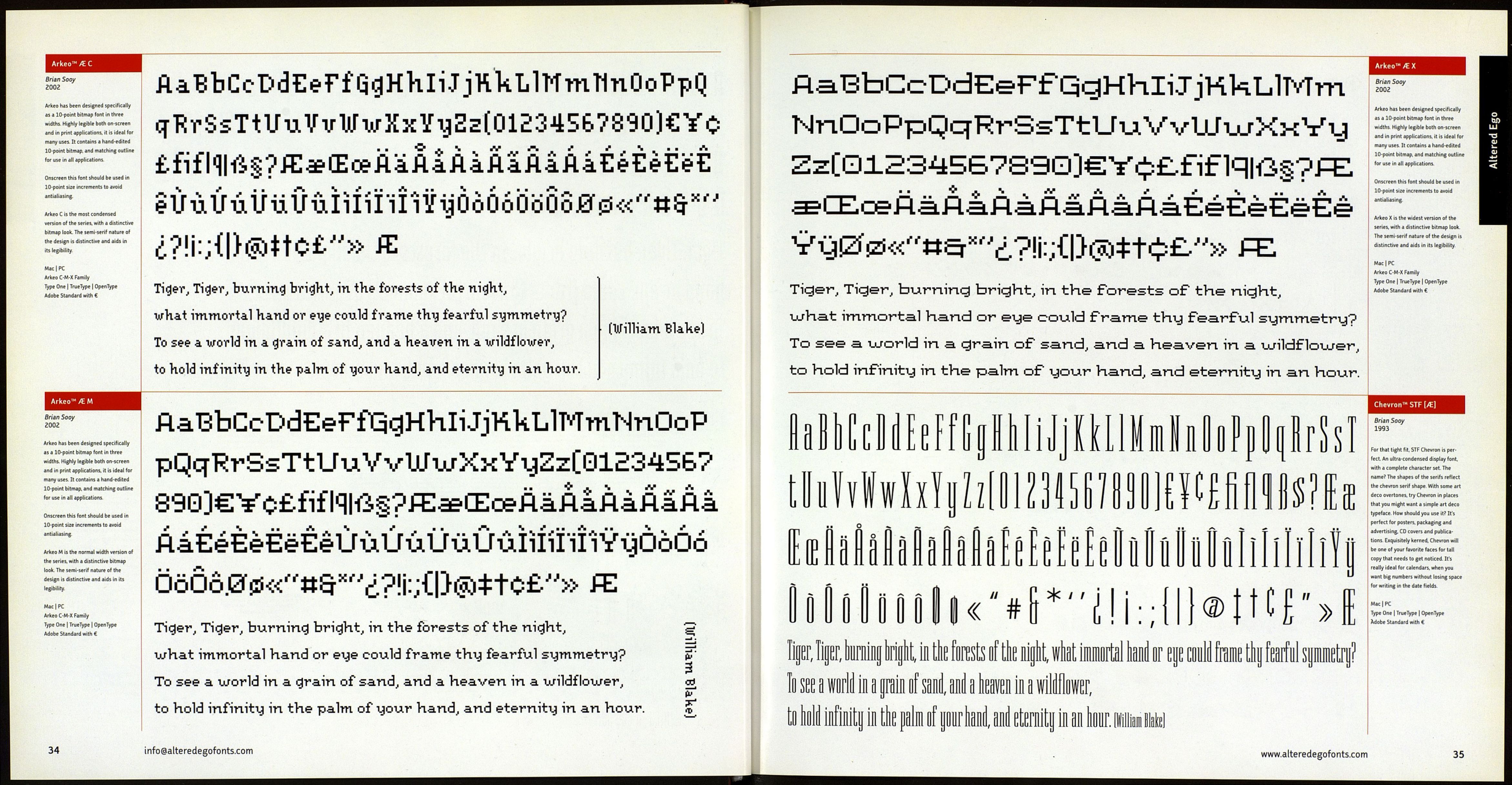 A NEW NAME FROM AN OLD FRIEND. FONTS EXCLUSIVELY
DESIGNED BY BRIAN SOOY, WITH THE BEST YET TO COME.
FONTS THAT PROVIDE SOLUTIONS TO DESIGN PROBLEMS.
ORIGINAL DESIGNS, EXQUISITELY KERNED AND SPACED.
MULTIPLE MASTERS, DINGBAT, TEXT AND DISPLAY FONTS.
PREVIEW ONLINE AT WWW.ALTEREDEGOFONTS.COM
CALL US FOR TYPOGRAPHIC COMMISSIONS AND CONSULTING.
Mac I PC
Type One I TrueType I OpenType
Adobe Standard with €
http://www.alteredegofonts.com
info@alteredegofonts.com
440.322.5142 Telephone
1.877.HEY.SOOY Toll-Free
ALL/
HaBhCcDrlEBFfGgHhliJiKhUJTlmflnDGPpDqRrSsTtUuUu
ШшНн¥вгг[ШЗЧ56?ВЯ0)ШьррШ7іЕ'іе'ІЕш
flaflaflàflaflaflaÉBÈÈËËÊBUuuuUuuaïiIiïïIïVy
DdOuOdDdBb« "* Б * " ¿ 7! i : ; ÍIÏ Й Í + с t " » JE
Tiger, Тідвг, burning bright, in the forests ofthe night, uihat immortal
hand Dr eye could frame thy fearful symmetry? мн™ вш
To see a uiorld in a grain of sand, and a heauen in a uiildflouier,
to hold infinity in the palm of your hand, and eternity in an hour.
olyte1" O. [STF]
-4ÍJ. >«• V
ОФФФФ&&ОДФФФШ
«»>€<* -»><*>
*••** + *••••
• •••••*••••
t**********
• ••••*•••••
*•**••••*•••
=«=
• •••••••••*•••
*••••••*•••••
• •••••••••*•••
• ••••••••••••
• •••*•••••••••
Brian Sooy
1998
An elegantly refined typeface with а
subtle wedge serif, the character
shapes of Acolyte set a rhythm of light
and dark like windows in a cathedral.
Acolyte will illuminate your designs
with a display typeface reminiscent of
European twentieth-century letter-
forms. Its distinctive letterforms are
slightly chiseled and angular with
curves in just the right places.
Mac | PC
Type One | TrueType | OpenType
Adobe Standard with €
American Spirit™ STF [/E]
Brian Sooy
2001
American Spirit'" STF is a glorious
collection of contemporary patriotic
symbols: US Flags (traditional and
contemporary), a variety of stars, eagles,
torches, and combinations of them all.
Designed for print and web. this collec¬
tion is useful for embellishing your
designs with a subtle (or not-so-subtle)
patriotic touch.
The flags have been designed for easy
ungrouping in a drawing program, in
order to colorize the union and stripes.
And as a special feature, American
Spirit1" splits the flags into two
characters (the union and the stripes)
that can be separately colored and
will kern together based on the
character chosen.
"Suggestions fordoing this are
included in every package. This
versatile collection also contains a
special contemporary version of the
US Flag, with rounded corners on the
union and stripes, and a five-pointed
asterisk-like shape as the stars. [This
allows the stars to appear as stars at
smaller sizes.)
Mac | PC
Type One | TrueType | OpenType
www.alteredegofonts.com
33